UCI Indoor Cycling World Championships kick off on Friday: all you need to know
Missing the summer racing? Well, there's lots of bicycle competition going on this weekend...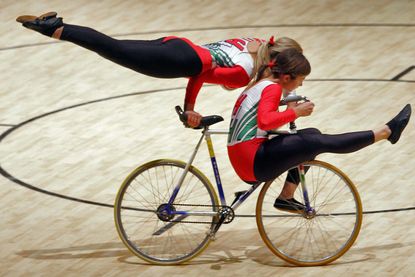 (Image credit: AFP/Getty Images)
If you're missing the wealth of competitive cycling that dominates the summer months, then never fear. This weekend, the UCI Indoor Cycling World Championships take place in Liège
The Indoor Cycling World Championships include Cycle Ball, and Artistic Cycling - the latter makes for a particularly inspiring spectacle as riders perform incredible gymnastics aboard fixed gear bicycles.
Events begin on Friday November 23, and conclude on Sunday November 25, all within the Countryhall Liège.
If you've not got your ticket yet, the UCI will be live streaming the events via its YouTube channel, and there's a full programme to check out here.
https://www.youtube.com/watch?v=kKSjomKOO3A&index=11&list=PL7NFlV830crO14_fh0qeVmMFM7gkwy9Pa
Artistic cycling routines last around five minutes, during which riders will perform about 30 different figures, each of which has a 'value' in points. Mistakes see points docked.
The first championships was held in 1956 and riders compete in five different disciplines: single women, single men, pair women, mixed pair and Act4 open, where four riders take part.
"Artistic cycling is very difficult. Because you have to perform on a bike, you have to be graceful, but it needs power, coordination," says Marianne Kern, UCI Artistic Cycling Commissionaire.
The second sport included within the event is based on goals scored, a lot like other popular team sports.
Cycle Ball teams consist of two players - a goal keeper, and an outfield player, and games consist of two halves - each seven minutes long.
The playing field is two by two metres and the solid ball is filled with horsehair.
Riders, or players, use their bodies or the wheels of the bike to manipulate the ball around the field, or prevent it from hitting the net in the goal keepers case.
The events begin with qualifiers, leading to a final. Cycle Ball held its first championship in 1930, and there's no gender classification - but we can't find any ready evidence of women taking part, yet.
UCI Technical Delegate, Hubert Schneider commented: "You need quite a lot of power, it's speedy - and it's a fight, man against man."
Both Cycle Ball and Artistic Cycling athletes compete in World Cup events through the year, of which there were nine and four in each sport respectively for 2018.
UCI Indoor Cycling World Championships, 2017 winners
The events held in Dornbirn, Austria, were dominated by one nation:
Artistic Cycling, ACT4
Céline Burlet, Flavia Zuber, Jennifer Schmid, Melanie Schmid (Switzerland)
Artistic Cycling, pair women
Julia Thürmer and Nadja Thürmer (Germany)
Artistic Cycling, pair mixed
Max Hanselmann and Serafin Schefold (Germany)
Artistic Cycling, single men
Lukas Kohl (Germany)
Artistic Cycling, single women
Milena Slupina (Germany)
Cycle Ball
Bernd Mlady and Gerhard Mlady (Germany)
Thank you for reading 20 articles this month* Join now for unlimited access
Enjoy your first month for just £1 / $1 / €1
*Read 5 free articles per month without a subscription
Join now for unlimited access
Try first month for just £1 / $1 / €1