UCI launches amateur world cycling series for 2011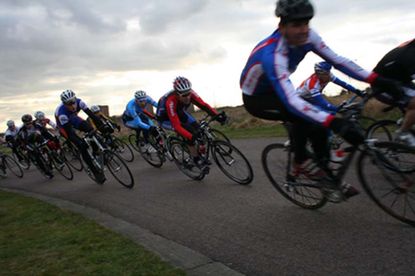 Cycling's international governing body, the Union Cycliste Internationale (UCI), announced on Friday that it will introduce a new race series and world championship for amateur riders starting in 2011.
The UCI World Cycling Tour (UWCT) - not to be confused with the UCI's top-level professional WorldTour - will comprise up to 15 UCI approved races around the world for amateur riders. It's part of the UCI's commitment to open up cycling events for all riders, and not just top-level sponsored athletes.
The top 10 per cent of each age group in the qualifiers will earn the right to compete in the UWCT final, where the winning rider in each age category will become world champion and wear the corresponding rainbow jersey.
The UCWT final will replace the existing Masters Road World Championships.
The UCI's Cycling for All, Masters and Sustainable Development Coordinator, Ms Andrea Marcellini Mendonça said: "If we look at cycling as a pyramid, professional racing is at the very top and occupies a very small portion.
"Everything that comes below this is the amateur side of the sport and involves impressive numbers of riders. These enthusiasts are part of the UCI family and it's time for them to race for a World Champion title."
No dates or venues for the UWCT have yet been announced, but the UCI has said that it is accepting applications from "regions willing to organise a high standard cycling event that will attract riders from all over the world".
The UCI will undoubtedly have to draw up strict guidelines on the definition of 'amateur' to prevent semi-professionals from entering, and also put into place an anti-doping programme for the events.
Related links
2011 UCI World Calendar
Tour of Beijing joins 2011 World Tour calendar
Subscribe to Cycling Weekly: The perfect Christmas gift>>
Thank you for reading 20 articles this month* Join now for unlimited access
Enjoy your first month for just £1 / $1 / €1
*Read 5 free articles per month without a subscription
Join now for unlimited access
Try first month for just £1 / $1 / €1