Ullrich to hear fate from CAS on Thursday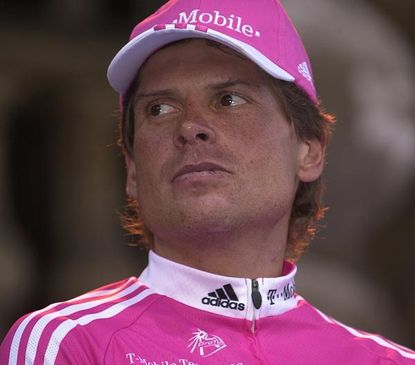 German 1997 Tour de France winner Jan Ullrich is due to be delivered a ruling from the Court of Arbitration for Sport on Thursday on whether the Swiss Olympic committee should have closed the file relating to his alleged involvement with the Operacion Puerto doping investigation.
Swiss Olympic decided not to pursue the investigation into Ullrich's links with the organised doping ring centred on the Madrid clinic of Dr Eufemiano Fuentes. Although German, Ullrich held a Swiss racing licence - but this was withdrawn in 2010, prompting Swiss Olympic to close the file on the grounds that it no longer had jurisdiction in the case.
The Union Cycliste Internationale (UCI) had appealed to CAS against the decision to close the case. A decision was due at the end of November but was delayed until this Thursday. If the UCI's appeal is successful, the investigation may re-open into whether Ullrich was linked to Puerto.
Ullrich was previously suspended from competition for six months for taking amphetamines in 2002. If he is found guilty of a doping infringement, he will be banned from cycling for life.
Ullrich was barred from riding in the 2006 Tour de France, was sacked by his T-Mobile team and subsequently retired from cycling. German sources reported in April 2007 that DNA from Ullrich had been matched to blood bags found in Fuentes' clinic. In 2008, it was reported that Ullrich had paid his way out of a fraud investigation undertaken by German prosecutors.
He recently re-emerged as a cyclo-sportive rider, taking part in the Gran Fondo Colnago in Miami, USA, in November.
The German enjoyed a successful cycling career, including winning the 1997 Tour de France, 2000 Olympic road race, 1999 Vuelta a Espana, 2004 & 2006 Tour de Suisse and 1999 & 2001 World time trial titles.
Ullrich has always maintained that he has never taken performance-enhancing substances.
It's been a busy week for CAS after it delivered the verdict on the long-running Alberto Contador clenbuterol case on Monday. The Spaniard was banned for two years and was stripped of his 2010 Tour de France and 2011 Giro d'Italia titles.
Related links
Jan Ullrich returns
April 2008: Ullrich buys his way out of trouble
April 2007: DNA tests confirm Ullrich link to Operaction Puerto
July 2006: T-Mobile sack Ullrich and Sevilla
Thank you for reading 5 articles this month* Join now for unlimited access
Enjoy your first month for just £1 / $1 / €1
*Read 5 free articles per month without a subscription
Join now for unlimited access
Try first month for just £1 / $1 / €1