WADA appeals against Contador acquittal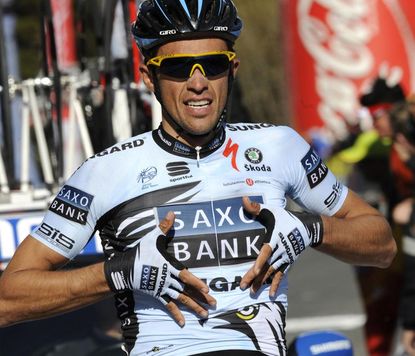 The World Anti-Doping Agency (WADA) has lodged an appeal with the Court of Arbitration for Sport against the decision of the Spanish Cycling Federation (RFEC) to clear Alberto Contador of charges relating to his positive test for clenbuterol during the 2010 Tour de France.
WADA's appeal is separate to the appeal filed by the Union Cycliste Internationale (UCI) to CAS last week.
In a brief statement issued on Tuesday, WADA said:
"The World Anti-Doping Agency (WADA) has filed today a declaration to appeal to the Court of Arbitration for Sport (CAS) in Lausanne against the Spanish Cycling Federation's (RFEC) decision in the case of Alberto Contador.
"Mr Contador was acquitted following a positive test for clenbuterol during an in-competition test carried out on July 21, 2010.
"Following its policy, WADA will refrain from commenting further in order to protect the integrity of the process."
Contador failed a test for clenbuterol on the Tour's second rest day in Pau on July 21. He claimed that the banned substance was ingested via a tainted steak brought to France from Spain by a friend.
Contador was subsequently suspended from competition by the UCI pending investigation by RFEC, who cleared Contador in mid-February allowing him to return to racing.
The Spaniard won the Volta a Catalunya stage race - a UCI World Tour event - last week.
Given the complexity of the case, it is unlikely that CAS will reach a verdict until after this year's Tour de France in July.
Related links
UCI to appeal to CAS in Contador case
Contador now cleared of clenbuterol charges
Spanish media claims Contador could avoid ban
Contador could use 'Gasquet's Kiss' theory to back case
Contador says he will fight on despite provisional ban
UCI awaits final Spanish decision in Contador case
Contador tests positive for clenbuterol
Thank you for reading 5 articles this month* Join now for unlimited access
Enjoy your first month for just £1 / $1 / €1
*Read 5 free articles per month without a subscription
Join now for unlimited access
Try first month for just £1 / $1 / €1