WADA disputes Contador's contaminated meat theory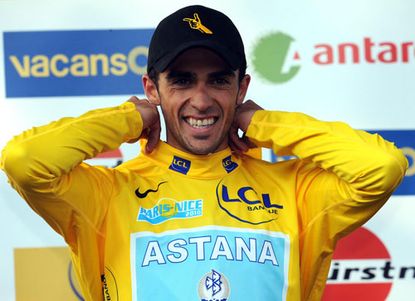 The World Anti-Doping Agency (WADA) has produced a report for the Union Cycliste Internationale (UCI) and Spanish Cycling Federation (RFEC) strongly disputing the theory that Alberto Contador's Tour de France clenbuterol positive arose from 'tainted meat'.
Tour winner Contador tested positve for clenbuterol during the race and immediately suggested that he must have ingested the substance by eating tainted meat brought by a friend from Spain to France.
According to an article in Spanish paper El Pais, which claims to have seen a copy of the report, WADA tested meat from both the butcher and abattoir in Irun from which Contador's meat originated and found that none contained clenbuterol.
The report also states that a 2008 European Union study found that only one of 300,000 meat samples tested across Europe returned a positive test for clenbuterol, adding weight to the argument that it is highly unlikely that Contador's clenbuterol came from tainted meat.
In the past, Clenbuterol has been administered to livestock by unscrupulous farmers to accelerate growth of animals, but its use has been banned across Europe for over 10 years. In humans, as it does in farm animals, clenbuterol helps to increase the ratio of muscle to fat and has been used by body builders and athletes to trim back excess weight prior to competition without affecting muscle mass.
WADA's report was prepared for the RFEC for use in assessing Contador's case before deciding on whether he should be suspensed from competition for failing the test in July. A copy was passed to the UCI before being sent to the Spanish federation.
Contador's legal team quickly issued a statement dismissing the El Pais report, and saying that the WADA report states that it could not be determined whether the meat was tainted or not rather than dismissing the theory outright.
Either way, the report is now in the hands of RFEC, who must decide the fate of Contador in the coming weeks.
Related links
Contador welcomes disciplinary hearing into clenbuterol case
Contador strengthens defence team in clenbuterol case
What next for Contador?
Spain's sports minister urges patience in Contador case
Saxo Bank to continue team sponsorship with or without Contador
Riis has a plan B is Contador is banned
How does clenbuterol testing work
Contador considers quitting cycling due to doping scandal
Tension rises over Contador's clenbuterol case
Contador case splits experts' opinions
Alberto Contador: The clenbuterol, the beef excuse and traces of plastic
Spanish authorities investigate source of Contador's mystery meat
McQuaid quiet on Contador case but says Spain can do more
Did Contador have a transfusion during the Tour?
Contador points finger at imported meat for clenbuterol positive
Contador tests positive for clenbuterol says governing body
Subscribe to Cycling Weekly: The perfect Christmas gift>>
Thank you for reading 20 articles this month* Join now for unlimited access
Enjoy your first month for just £1 / $1 / €1
*Read 5 free articles per month without a subscription
Join now for unlimited access
Try first month for just £1 / $1 / €1