Winter Week: That's right, we're 'celebrating' the wet, cold months
We're singing the praises of winter riding, from 13-18th November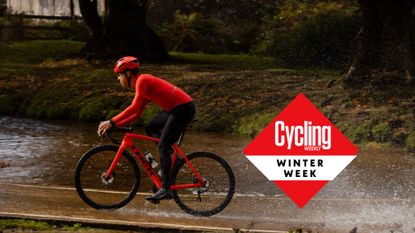 (Image credit: Future)
Sorry, 'celebrating' winter - you say? Yes, you read that correctly.
Winter riding gets a bad rep - and we understand, cold fingers and toes aren't something to sing about, and neither are soggy shoes and grimy drivetrains. However, the saying "winter miles make for summer smiles" is an oldie because it's a goodie - rides logged over winter will pay dividends once the sunnier months return. And, there's something rather awesome about wrapping up and facing the weather, ideally with a group of friends and the promise of a hot coffee with added smugness to boot.
This week - from Monday 13 to Sunday 19 November - we'll be publishing a host of content designed specifically to help you tackle the winter months with confidence. We've got everything from buying advice, to training advice, and inspirational stories to keep you motivated.
Winter riding buying advice
"There's no such thing as bad weather, only bad clothing"... to be honest, that one is only partially true - bad weather quite obviously does exist. However, cycling clothing brands have come a long way in terms of helping riders to get out in some of the very worst conditions.
Our expert tech writers have reviewed hundreds of kit items, in a bid to uncover the absolute best in terms of winter layers. To help you get up and out in the very best weather defensive kit cycling has to offer, check out these guides:
Winter riding riding and training motivation
Kit will get you half way there - but a little planning, training advice and motivation goes a long way.
Here's a look at the training and fitness advice we'll be brining you this week:
Monday: New cyclist? Eight tips for staying motivated over winter
Tuesday: Suffering from numb feet or hands when cycling? Here's how to combat the cold
Wednesday: 20 hacks to beat the cold and keep riding through the winter
Thursday: Five best hacks to get your bike ready
Friday: What I wish I'd known before my first season of winter riding
Saturday: Winter fueling: how to match your cycling nutrition to the demands of cold weather riding
Sunday: Seven benefits of riding outdoors - which you'll miss out on if you train inside all winter
Thank you for reading 20 articles this month* Join now for unlimited access
Enjoy your first month for just £1 / $1 / €1
*Read 5 free articles per month without a subscription
Join now for unlimited access
Try first month for just £1 / $1 / €1