100%'s East and Westcraft sunglasses shake up cycling style
The Westcraft glasses in particular question the boxy aesthetic that's been fashionable in recent years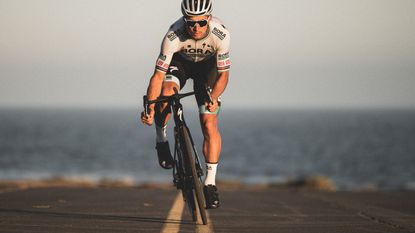 (Image credit: 100%)
100% has launched two new cycling sunglasses styles - shaking up the 'bigger is always better' mentality with some more rounded shapes.
The brand, whose S3, S2, and Speedcraft XS glasses have all achieved excellent reviews at Cycling Weekly, making them one of the best cycling sunglasses manufacturers in our view, has launched its new 'Eastcraft' and 'Westcraft' glasses.
100% says that these new styles aim to offer "equal parts elegance and performance," blending "high fashion" with "ultimate sports performance."
The styling, especially on the Westcraft glasses, is much rounder than the glasses we're used to seeing, with trends tending towards large boxy shapes in recent years of cycling fashion.
Image 1 of 2
The Eastcraft, comparatively, is squarer and a little more traditional. Both pairs are available in men's and women's fit, increasing the chance of getting a firm hold on the face.
Both pairs of glasses offer a cylindrical lens, to increase both peripheral vision and protection. There's a range of lens colour options available, for assorted light conditions.
The lenses offer 100% UV protection, and as you'd expect use a hydrophobic and Oleophobic lens treatment, which repels water, dirt and oil to keep your vision clear.
Image 1 of 2
A 'v-latch' sits at the top of the lens, this locks and unlocks, to allow you to swap