Canyon launches Grizl gravel bike with huge clearances for rougher terrain
This burlier bike further blurs the boundaries between mountain bikes and gravel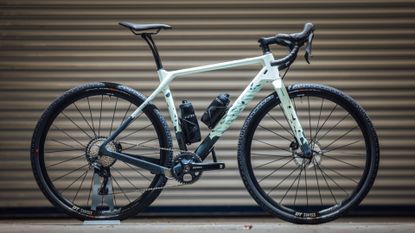 (Image credit: Dan Gould)
Canyon's new gravel bike is called the Grizl and it bridges the gap between gravel and mountain biking, fleshing out Canyon's offerings across the off-road spectrum.
The headline updates are: it's got clearance for bigger tyres (50mm), it has many mounts for better adventuring and it's got a redesigned geometry compared to Canyon's original Grail gravel bike to best complement its intended riding style.
There's also much speculation to be enjoyed regarding suspension compatibility and why there aren't currently any SRAM equipped models in the range.
We'll be digging into the detail on the frame, wheels, groupsets and speculation about the future of this brand-new platform.
The frame
Clearances
The main feature of the frame has got to be the wider tyre clearances. Canyon's original gravel bike, the Grail, was always at the skinnier end of the spectrum allowing a maximum width of 42mm tyres.
The Grizl, on the other hand, can take tyres up to 50mm, although 45mm Schwalbe Bites come specced as standard.
Image 1 of 2
But this doesn't mean that the Grizl is by any means superseding the Grail. Rather, the Grail is just optimised and suited for a different kind of terrain – think more unpaved roads as opposed to British bridleways.
So, in order of increasing "gnar", Canyon's range now goes Endurace, Grail, Grizl. Then, if you want any greater off-road capability, the next step would be swapping the curly bars for the flat and plumping for the Exceed hardtail mountain bike.
Mounting points
There's a lot of crossover between gravel bikes and bikepacking. It's not just that broken roads have an almost inextricable link to adventure – even if you are planning on sticking to the tarmac, the wider tyres and consequential greater comfort will always be a welcome addition.
To facilitate this, you get the standard bottle mounts on the inside of the frame – as well as set on the top tube for securing a bag, and underneath the down tube for holding a tool keg or an extra bottle of water.