Chris King enthusiasts, rejoice: Matte Mango is back
The rich orange color will now be part of the brand's standard 2024 color options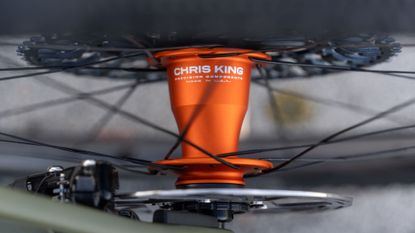 (Image credit: Chris King Precision Components)
Chris King Precision Components has long been respected for its durable and reliable components. In addition to performance, the brand has always had a keen eye for personal flair, too, with beautiful anodized products to match your bike (or kitchen!).
The Oregon-based company announced that fan-favorite "Matte Mango" is returning to its vibrant lineup of colors for 2024. Other color options include black, matte black, two-tone black gold, midnight, matte turquoise, red, silver, gold, and 3D violet.
Whether you want to add a splash of color to your hubs, stem or cranks, Chris King makes it possible.
Despite being a favorite, Matte Mango has been on hiatus for 18 months. The brand notes that anodizing metals is a particularly tricky process, which can lead to the need to take extra time and care in putting certain colorways into the market.
"Consistent, high-quality anodizing isn't easy. Without constant monitoring and attention to detail, anodizing can vary from batch to batch, and from material to material. We take great care to ensure that every customer gets a headset, bottom bracket, and hubs that closely match," states King Sales Manager, Greg Hudson.
"In 2022, we were struggling to consistently get our Matte Mango within tolerance, which caused production delays and increased our lead-times. Instead of shipping mismatched components to discerning customers who expect the very best, we removed Matte Mango from the assortment. Now, we're excited to welcome one of our favorite colors back."
Chris King was one of the first cycling component companies to offer anodized components in the 1980s and have since offered a variety of colors that have oscillated in and out of rotation on the market. 3D violet is another color that returned this year - a reintroduction that took since 1988 to bring to fruition.
Chris King has done more than just add colorways to its collection in 2023. Earlier this year, the brand released a set of aero carbon wheels whose rims can be fully recycled and are made with sustainable manufacturing practices.
Chris King himself got his start in the California "hippy" bike scene where reducing waste and recycling were hot topics. His past as a surgical tools machinist sparked the idea of taking the long-lasting ball bearings from surgical tools and introducing them into cycling components, all while limiting waste and the need to constantly replace worn-out bike parts.
The company continues to live that philosophy, and the resurgence of Matte Mango is just one way Chris King Precision Components is staying true to its roots.
"The King color palette always wants to grow. We've always believed that just making the best bearings, the best components, wasn't enough. They need to look as good as they perform, and ensuring that our components are finished and anodized to the highest quality in various colors to match any bike build is equally important," Hudson says.
"Matte Mango was hugely popular when we took it offline to improve its tone and consistency, so we expect it to be hugely popular again."
Thank you for reading 20 articles this month* Join now for unlimited access
Enjoy your first month for just £1 / $1 / €1
*Read 5 free articles per month without a subscription
Join now for unlimited access
Try first month for just £1 / $1 / €1