Giro and Canyon-SRAM celebrate 7-year partnership with limited edition Aries Spherical helmet
Giro's lightest, airiest and safest helmet is now available in the bold Canyon-SRAM colors, and it looks great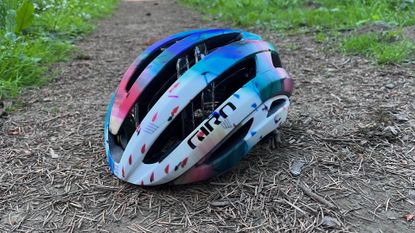 (Image credit: Anne-Marije Rook)
To celebrate its seven-year sponsorship of the Canyon-SRAM women's racing team, Giro Sport Design today launched a limited edition Aries Spherical helmet in the standout Canyon-SRAM team colors.
Calling the team "one of the most iconic teams in all of professional cycling," Giro Vice President, Warren Gravely, says he's proud to sponsor the women's WordTour team.
"The Tour de France Femmes avec Zwift has become one of the most compelling races on the calendar, and the enthusiasm of Women's Pro Tour cycling is at a fever pitch," he remarks.
Born from the former Velocio-SRAM team in 2016, Canyon-SRAM has been home to the likes of Pauline Ferrand Prevot, Kasia Niewiadoma, Lisa Brennauer, Tiffany Cromwell, Chloe Dygert and siblings Alice and Hannah Barnes. Since its partnership with virtual cycling platform Zwift, the team has offered one of its roster spots each year to the winner of the Zwift Academy, an annual virtual event that serves as both a global training program as well as a worldwide talent ID competition.
Over the years, the team has become known for its branding and bold team kits as much as its on-the-bike performance. This year is no different with a busy, multi-colored design that's at once chaotic and aesthetically pleasing. The design carries onto the team helmet, which you can now own as well.
The team helmet is the all-new Giro's Aries Spherical helmet that debuted in January of this year. The Aries is claimed to be the brand's lightest and airiest helmet in the Mips' Spherical Technology line yet but also the safest with a #1 safety rating from the esteemed Virginia Tech University.
This new wind-tunnel tested, WorldTour-level lid unseats the Aether Spherical as Giro's top road offering in terms of performance, innovation as well as price point. Compared to the Aether, the Aries is 2.3% cooler (or, better ventilated), 4% more aerodynamic and 5% lighter.
In our review of the Aries helmet, we praised the lid for its comfortable, lightweight protection, superior safety ratings and no-fuss, performance-oriented package.
The limited edition Canyon-SRAM Racing Aries Spherical costs no more than the non-branded helmet, but it will set you back $300 US / €320 / £289.99. All Giro Aries Spherical helmets are available from Giro retailers worldwide or direct from the Giro website.
Thank you for reading 20 articles this month* Join now for unlimited access
Enjoy your first month for just £1 / $1 / €1
*Read 5 free articles per month without a subscription
Join now for unlimited access
Try first month for just £1 / $1 / €1