Has NASA just invented a puncture-proof tyre that will last the life of your bike?
Airless wire mesh tyres originally invented for the Mars Rover are being developed for bikes and are hitting the market this year - and they could be the last ones you ever buy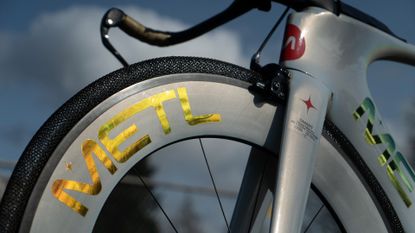 (Image credit: SMART Tire Company)
A NASA-affiliated company set up to develop a new category of tyre could be one small step closer to a giant leap for the future of transportation.
The SMART Tire Company was formed with the aim of commercialising an airless alloy tyre called METL (Martensite Elasticized Tubular Loading) that was originally invented for space exploration. SMART is an acronym for Shape Memory Alloy Radial Technology.
After seven years of development at the NASA Glenn Laboratory, the company says it is expecting to launch its first METL tyre in Q2 of 2023.
"Starting with the extreme capabilities of this Mars-grade technology, we've developed new, patented tyres designed for cycling, automotive, trucking and aerospace applications," the US brand claims.
SMART's approach appears to be the polar opposite of existing puncture-proof tyre manufacturers such as Tannus, whose solid tyres are made of a micro closed cell polymer resin (MCP) manipulated to make a solid foam-like material.
The innovation by the NASA Glenn Research Center comprises a "non-pneumatic, compliant tyre utilizing shape memory alloys (mainly nickel-titanium alloy NiTinol) as load bearing components."
Shape memory alloys deform and then spring back to their original shape. The science says they are capable of undergoing "phase transitions at the molecular level with significant reversible strain (up to 10%), an order of magnitude more than ordinary materials, before undergoing permanent deformation."
Commonly used elastic-plastic materials such as spring steels and composites can only be subjected to strains of around 0.3-0.5% before suffering plastic deformation, according to SMART.
Which means the use of a nickel-titanium shape memory alloy ought to produce a tyre that is elastic like rubber yet strong like titanium - and obviously doesn't need air and therefore can't flat.
SMART claims the use of memory metals provides enhanced control over the effective stiffness as a function of the deformation, giving increased design versatility. For instance, it says, the tyre can be made to soften with increased deflection, reducing the amount of energy transferred to the vehicle or bicycle during high deformation events.
The company says the final product will be integrated with "a special poly-rubber material for the longest-lasting tread and grip for all weather conditions."
Although the tyre doesn't actually need sidewalls since it has its own load-bearing elements, the poly-rubber tread/coating will cover the walls for aesthetics and also to keep debris out of the tyre. The coatings aren't shown in the press pictures supplied by SMART in this story - just the alloy 'skeleton'.
However, despite the METL tyre's claimed longevity and durability, it seems clear that it could have sizeable disadvantages compared to pneumatic tyres: firstly it won't be possible to adjust pressure for rider weight or terrain. The company says the first prototype was designed to simulate a 700c tyre at 100psi and that the third prototype is a gravel tyre.
Additionally SMART hasn't provided any rolling resistance data - surely an oversight since the entire focus of increasingly wider pneumatic bicycle tyres has been on this.
We don't know exactly how much the METL tyre with its poly-rubber tread will weigh, but SMART says its tyres are "comparable with many mainstream alternatives when it comes to weight. This includes gravel and mountain bikes, e-bikes, automotive tyres and truck tyres."
And there's also no detail on rim compatibility. When the original METL tyre was unveiled in 2021, the company was reportedly working to make it eventually backwards compatible with a standard clincher rim, though the prototype was mounted on a tubular rim.
And once the poly-rubber tread on the alloy carcass wears out, how and by whom will it be replaced? SMART says: "The SMART tyre can last the life of your vehicle/bicycle, but eventually the rubber-like tread will wear down and can be re-treaded within our recycle system."
And finally, last year the cost of a pair was estimated to be around $2,000, but since then SMART says it "identified several R&D goals related to dropping our material costs by up to 90%". Now it says the price of the METL tyres will be comparable to a high performance or racing tyre at $100-$150. This is due primarily to the high cost of NiTinol, it says.
SMART says it has the commuter, road, gravel, mountain bike and e-bike markets in mind, and says the METL tyre is a "high-value product for the modern bike enthusiast and pro level cyclist."
In 2021 US bike brand Felt announced it was partnering with SMART. Eric Sakalowsky, Felt's VP Global Marketing and E-Commerce, was quoted as saying: "The SMART Tire Company's tyre solution shows an exciting new frontier, and we're excited to offer our bikes to support their testing."
But at the moment it seems as though the e-bike market will be the best fit for it, where a tyre's toughness rather than its performance is the priority.
SMART says it expects to launch its METL product in Q2 of 2023 and that the first product will be the bicycle tyre despite the company announcing partnerships with Kia and Hyundai and being recognised for two different CES 2023 Innovation Awards for vehicle tech and sustainability.
SMART hasn't turned its back on space exploration, either. It claims it has created the ultimate lunar tyre, capable of carrying multiple astronauts plus cargo across the south pole of the moon as part of NASA's Artemis Program (the manned return to the moon). Additionally, it says it has already been contracted by some of the largest private aerospace companies in the world, to aid in their efforts toward the exploration and commercialisation of space.
Back here on earth we'll wait to see how its bicycle tyre programme unfolds. And if you want to invest in the technology you can do so via its website. Of a $4,920,000 target $432,455 has been raised so far.
If you're after a reliable tyre and don't want to wait for SMART to come to market, make sure you check out our buyer's guide to the best puncture-proof tyres for cycling.
Thank you for reading 20 articles this month* Join now for unlimited access
Enjoy your first month for just £1 / $1 / €1
*Read 5 free articles per month without a subscription
Join now for unlimited access
Try first month for just £1 / $1 / €1