Mavic bounces back from bankruptcy with new wheels and shoes
The 135-year-old company has found new life in the U.S. and recently released new gravel shoes and wheelsets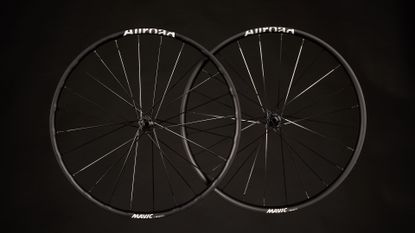 (Image credit: Mavic)
Storied French cycling brand Mavic is making a valiant return to the United States this year after filing for bankruptcy three years ago. The brand's new U.S. hub is in Waterbury, Vermont.
Despite bankruptcy and internal reorganizations, Mavic did continue to operate in recent years, just on a very small scale. Now, the company has returned to form by releasing two cycling shoe models and two gravel wheelsets.
On the wheels front, Mavic has designed two gravel-specific wheelsets: the Allroad SL and the Allroad S.
Both wheelsets feature an aluminum rim with 25mm internal width, are tubeless compatible (with tires ranging between 30 - 64mm) and boast Fore drilling for a stiffer and more airtight rim — so secure, in fact, that Mavic claims no rim tape is needed.
Both sets also feature Mavic's proprietary Infinity Hub, one spoke length between front and rear wheels, and an Instant Drive 360 double ratchet freewheel. The two sets can accommodate a 12mm thru axle or be converted to quick release.
The Allroad SL features an ISM 4D rim to shave weight and Black Shield rim finish for extra protection against dings from debris. In all, the Allroad SL weighs 1655g and retails for $889.
The Allroad S is made of a Maxal alloy and weighs in at 1790g and retails for $530.
The first pair of shoes are gravel-specific - the Cosmic Boa SPD. The pair features a Boa fit system, walking outsole, and are made in Italy. A size 8.5 (U.S. men's) weighs 280g and sizes 5.5-13 are available. Retailing for $156, the shoes are more affordable than some other popular gravel shoes that retail well into the high $200s.
The Cosmic Boa SPD also features a nylon and fiberglass sole (with a 50 stiffness index rating), technical rubber outsole for "high-abrasion resistance," low profile lugs to assist with foot positioning, and is compatible with all SPD pedals.
Mavic also released its mountain bike-specific Crossmax Boa shoes, which also feature the Boa fit system and retail for $156. In addition, the shoes have a 50 stiffness index rating and "overmolded TPU lugs" to help generate traction off the bike even when it's wet outside. A two-bolt cleat pattern fits all major mountain bike pedals. A size 8.5 (U.S. men's) weighs 300g and sizes 3.5-13 are available.
Thank you for reading 20 articles this month* Join now for unlimited access
Enjoy your first month for just £1 / $1 / €1
*Read 5 free articles per month without a subscription
Join now for unlimited access
Try first month for just £1 / $1 / €1