Meet The Joker, a brake-less, chain-less crit racing bike
New York City-based Priority Bicycles launches a fixed, 70T belt-drive criterium and track racing machine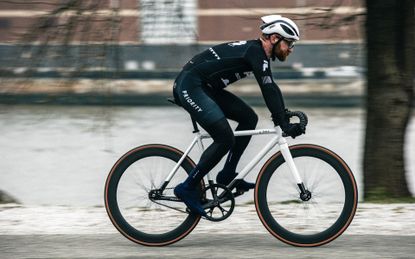 (Image credit: Priority Bicycles)
Priority Bicycles is a New York City-based, independent bicycle brand dedicated to making simple yet high-quality bikes that are low-maintenance performers for everyday riders — adults and children, racers and commuters, roadies and dirt-riders alike.
Relying on a Gates Carbon Drive system and rust-proof parts, the bikes are engineered to withstand daily use without any mechanical know-how.
The company's newest release is a purebred racer and a belt-drive-equipped answer to traditional chaindrive racing bikes.
Released today in a very limited quantity of just 100 bikes, The Joker is meant to "break the mold of what a racing bike is supposed to be," the company states.
The 16-pound package consists of a double-butted 6061 alloy frame and carbon fork, wheels, stem, compact bars and seat post. There's a Gates Carbon Drive system with a ginormous 70T front cog and the bike rolls on 60mm deep carbon rims wrapped in Goodyear's Eagle F1 performance tires and with a fixed-gear hub.
The Joker was specifically created for the newly formed Priority Racing Team, a group of New York City fixed-gear crit racers. In addition to winning bike races, the team aims to showcase that belt-drive equipped bikes are fun, innovative and, of course, fast. Not to mention low-maintenance: with an occasional wash down, belts can last up to 50,000 kilometres before needing to be replaced.
The Joker is a progression of the brand's ACE single-speed bicycle, which was race-inspired but not race-ready. After much research, development and real-world testing, The Joker is said to be a speedy machine with an aggressive geometry that can stand up to the torque and speed of racing conditions.
For both track and criterium racing, the bike's geometry and dropouts were designed to change gear ratios with ease. The rear sprocket uses a Gates strap wrench and bottom bracket tool to remove the lockring in order to swap cogs. Depending on experience, changing out the rear cog will take a rider around 3 to 5 minutes. The rear cog range goes from 19T to 22T with 19T intended track speed, 21T for crit racing and 22T for training or general riding. The front ring is swapped in the same way one would change a regular chainring: the removal and reattachment of five bolts.
With the Joker, Priority Bicycles may be dipping their proverbial toes in competitive cycling, but that's not an avenue they're targeting per se.
"Priority doesn't have a plan for road performance outside of the Joker," a brand spokesperson told Cycling Weekly.
"The Apollo model [with an internally geared belt drive] has been used in gravel races like the Mid-South in [Oklahoma] where pure geared efficiency at speed isn't the #1 need for success."
Priority Bicycles does see a big opportunity for pairing belt drives with internal gearing in the mixed-use space and are continuing to work closely with Gates Carbon Drive on further development.
Image 1 of 6
The first batch of the 100 Joker bicycles is currently for sale via the Priority Bicycles website for $1,399.00. The Joker comes in three sizes: Sm/Med (51.7cm), Large (53cm) and X-Large (57cm).
Thank you for reading 10 articles this month* Join now for unlimited access
Enjoy your first month for just £1 / $1 / €1
*Read 5 free articles per month without a subscription
Join now for unlimited access
Try first month for just £1 / $1 / €1
Cycling Weekly's North American Editor, Anne-Marije Rook is old school. She holds a degree in journalism and started out as a newspaper reporter — in print! She can even be seen bringing a pen and notepad to the press conference.
Originally from The Netherlands, she grew up a bike commuter and didn't find bike racing until her early twenties when living in Seattle, Washington. Strengthened by the many miles spent darting around Seattle's hilly streets on a steel single speed, Rook's progression in the sport was a quick one. As she competed at the elite level, her journalism career followed, and soon she became a full-time cycling journalist. She's now been a cycling journalist for 11 years.