New Orbea Gain e-road bike boasts "massive" battery range and a "natural ride" feel
The Gain claims to deliver a synergy between the rider's efforts and the motor assistance to make you "forget you're riding an e-bike"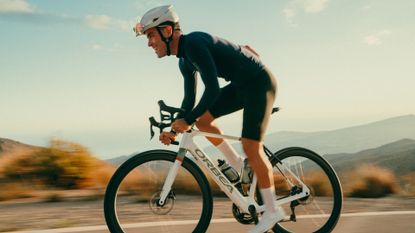 (Image credit: Orbea)
Orbea has released the next generation of its Gain e-road bike, with the line-up featuring six carbon and five aluminum models.
The new Gain is built around Orbea's 'Enough Power' concept, which it says combines "power, range and interface" to help create "the most natural e-road bike riding experience."
Although Orbea is aiming to position the Gain up there with the best electric bikes, at the same time it wants to make you "forget you're riding an e-bike". To this end it has opted to use Mahle's rear hub motor, with the X20 used on the carbon models and the heavier X35+ used on the aluminum bikes.
Both motors have been specifically tuned to improve battery life and aid a natural pedalling feel. Orbea won't go into the specifics of this process, saying only that it "involved changes to the firmware to fine tune how the motor responds to the X20 ́s torque and cadence sensors".
For the X20 this means 55Nm of torque (and 40Nm for the X35+), with the motor optimised in the 75-95 rpm cadence range so that it mirrors the rider's output. In short, if you pedal harder the motor responds with more power. As is required by law, the cutoff is 25kph in Europe and 20mph in North America.
Achieving a natural riding experience isn't just about how the power is delivered however. It's also about how it sounds. Orbea says its tuned motors are "virtually inaudible when riding". Combined with its low weight - the X20 weighs just 1,399 grams - frictionless pedalling and stiff frameset, means the Gain, according to Orbea, rides and feels just like a regular road bike when the motor isn't in use.
The choice of the hub motor is interesting, given the recent popularity of TQ's bottom bracket HPR-50 motor, used on slick-looking e-road bikes from Trek, Scott and BMC. Orbea's decision to opt for the Mahle motor it seems was governed, in parts at least, by a desire to keep the bottom bracket area as stiff as possible, replicating its regular road bikes. Presumably this is another component of its desire to make the Gain feel as natural as possible.
The Mahle rear hub motor is powered by a 350WH battery that's concealed neatly in the frame's down tube and accessed via the bottom bracket area. It's a noticeable upgrade from the previous Gain bikes, 100 extra watt hours to be precise. Orbea says the increased battery size doesn't mean a heavier bike, thanks to weight savings made elsewhere.
Lower power consumption and more reliance on the rider's legs adds up to what Orbea describes as "massive" range and "one of the longest" in the e-road bike category. It says that using the first of the three assistance modes it's possible to climb 4,000 metres on a single charge, based on a rider weighing "around 70kg". On the second mode this figure drops to 3,000 metres, and is then halved again on the third, most powerful, mode.
These are certainly impressive claims. Even in the third mode it would be enough to get you up the western side of the Col du Tourmalet, perhaps with a little room to spare. There's also the option of a 171Wh Range Extender just in case you fancy tackling the Pyrenean Circle of Death. This adds another 20% to the range but also an additional 1.1kg in weight. However, with the top-tier carbon M10i bike weighing just 11.5kg, it's likely to still be appealing to those who want to ride all day.
Orbea's desire to offer as natural riding experience as possible aboard the Gain extends into the bike's interface. The Mahle Top Tube Control Center, located unsurprisingly on the frame's top tube, is designed to be unobtrusive so as not to distract from the enjoyment of the ride.
Orbea says that everything you need - assistance mode, status of the battery and the integrated lights - is available at a glance. It's also ANT+ and Bluetooth compatible, so you can pair it with your cycling computer. However, if you require additional data the option of adding Mahle's Pulsar One computer is there. It's all operated via Mahle's shifters, with the buttons placed on the bars allowing the rider to switch assistance modes safely.
For an e-road bike to feel like your regular road bike it needs the right frame and geometry. Orbea has opted for two frames, carbon monocoque and 6061 Hydroform aluminium. Both feature a full carbon fork, integrated cable routing and a press fit bottom bracket. While the carbon frames - marked by an M in the model name - use thru-axles front and rear, the aluminium models, whose model names proceed with an H for 'hydro', use a QR axle on the rear. Other differences include the carbon frame's integrated seat clamp with built-in rear light.
As for the geometry, Orbea calls it "pure road". Looking at the numbers and this somewhat vague description becomes clearer. Both the Gain M and H appear to fit into the endurance category, with stack and reach numbers that are a little taller and shorter respectively than your typical race bike - for a size medium this means a stack height of 569mm and a reach of 386mm, which increases to 575mm and 388mm on the H framesets.
Orbea has kept the chainstays fairly short on the carbon models at 415mm, which should see it find a balance between stability and responsiveness. For the alumimium bikes this is lengthened to 420mm.
Tyre clearance is generous, with Orbea claiming a maximum tyre width of 40mm. Like the recently released Trek Domane+, which also has clearances of 40mm, this should make tackling rougher paved roads and gravel trails a cinch.
As for frame size options, both the M range and H range are offered across six sizes, ranging from XS to XXL.
Each range also offers plenty of choice when it comes to component specification. The carbon Gain line-up features the M10i, which is equipped with 12-speed Shimano Dura-Ace Di2 and carbon wheels, as well as the M21e 1x, which adopts a gravel stance using SRAM Force 1 eTap AXS and Pirelli Cinturato gravel tyres. The 'entry level' carbon model, the M30, comes with mechanical Shimano 105 and alloy hoops
The aluminium framed Gains see Shimano 105 Di2 used on the top-tier D30i and Shimano GRX RX600 on the D30i 1x, which also uses Schwalbe G-One Bite gravel ttres. In the Hydro range there's also the D50 and D40, which are designed to make the Gain accessible at a lower price point and use Shimano's Tiagra and Claris groupsets to help make this possible.
Prices for the Gain start at $3,450 / £2,899 for the Tiagra-equipped D50 and go up to $11,500 / £9,299 for the M10i.
For more information visit orbea.com
Thank you for reading 10 articles this month* Join now for unlimited access
Enjoy your first month for just £1 / $1 / €1
*Read 5 free articles per month without a subscription
Join now for unlimited access
Try first month for just £1 / $1 / €1
Luke Friend has worked as a writer, editor and copywriter for twenty five years. Across books, magazines and websites, he's covered a broad range of topics for a range of clients including Major League Baseball, the National Trust and the NHS. He has an MA in Professional Writing from Falmouth University and is a qualified bicycle mechanic. He has been a cycling enthusiast from an early age, partly due to watching the Tour de France on TV. He's a keen follower of bike racing to this day as well as a regular road and gravel rider.