SRAM v Princeton 'humpback whale wheel' lawsuit goes to jury trial
Judge orders that lay people must decide whether or not Princeton CarbonWorks infringed Zipp's 'biomimicry' patents, as claimed by Zipp owner SRAM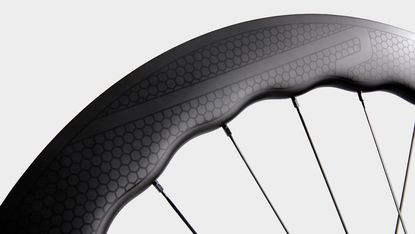 (Image credit: Princeton Carbonworks)
Two years after SRAM accused US wheel brand Princeton CarbonWorks of infringement on two of its patents relating to the wavy rim design of the Zipp 454 NSW, the case is heading to court.
In advance of a two-week jury trial beginning on February 13, the judge has granted each side some wins and some losses, as reported by Bicycle Retailer and Industry News.
SRAM/Zipp's sawtooth profile was designed by celebrated engineer Dimitris Katsanis - whose UK Metron company most recently 3D printed Filippo Ganna's Hour Record Pinarello frame - using the 'emerging science of biomimicry' and was said to be based on humpback whale fins.
Even though the Princeton rim design has symmetrical 'humps' rather than a sawtooth profile and is claimed to have been four years in development, SRAM wants tripled damages for wilful infringement and for Princeton to be ordered to deliver up for destruction any remaining inventory.
Meanwhile Princeton has filed a countersuit questioning the validity of SRAM's patent.
Bicycle Retailer reports that US District Judge Roy K. Altman granted SRAM's request to put a stop to one of Princeton's possible defences: a so-called Section 112. This is based on showing that the language of a patent is inadequate to define its scope.
Altman said that in pre-trial responses Princeton had failed to address Section 112 and had thus waived that potential defence - which means a partial win for SRAM.
Next Altman said that Princeton could continue a defence that asserted that SRAM's patent was invalid because of prior art. "We think a reasonable jury could side with Princeton," Altman said - equal to a partial win for Princeton.
The next round went to SRAM as the judge denied Princeton's argument that its wheel design doesn't infringe on SRAM's patent because the Princeton wheels lack the "convex exterior profile" described in the patent.
Altman considered testimony from both SRAM and Princeton's expert witnesses, ordering that it would be a case for a jury to decide. He denied Princeton's motion to exclude testimony from two SRAM witnesses.
"This case presents us with a proverbial battle of experts," Altman wrote. "The task of resolving [factual] disputes rests squarely with a jury of laymen, not a panel of [unelected] judges."
Unbranded Princeton wheels were spotted being used by Ineos in the 2020 Tour de France - somewhat surprising considering Ineos is one of Shimano's sponsored WorldTour teams - suggesting the team had tested them and found them to be the fastest option. That was the Wake 6560, which retails at $3,000-$4,100 per set. Princeton's latest and most outrageous-looking wheel is the Mach 7570 TS tri-spoke, which takes the wavy shape to a new level and costs $2,750 per wheel.
Meanwhile Zipp's humpback design features in its three high-end NSW wheels, the 353 NSW, the 454 NSW and the latest 858 NSW, which retails at $1,775 for the front wheel and $2,225 for the rear. Movistar uses Zipp wheels in the WorldTour this year.
And don't forget to check out our own buyer's guide to the best road bike wheels.
Thank you for reading 20 articles this month* Join now for unlimited access
Enjoy your first month for just £1 / $1 / €1
*Read 5 free articles per month without a subscription
Join now for unlimited access
Try first month for just £1 / $1 / €1