From drawing to Giro d'Italia in 2 months: How SunGod reinvented Geraint Thomas' iconic sunglasses
The glasses, GTs, have been seen on the Welshman's face throughout his impressive Giro d'Italia run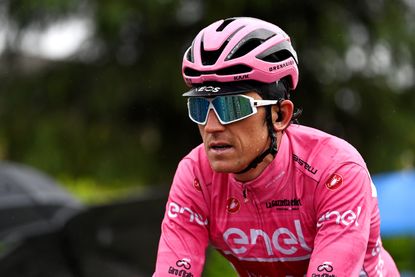 (Image credit: Getty Images)
When it was announced that Ineos Grenadiers would be ending its partnership with Oakley at the end of the 2022 season, there was only one question: what will Geraint Thomas do without his beloved Racing Jackets?
The British WorldTour team swapped out the American behemoth brand for the smaller, newer SunGod, a fresh eyewear brand to work with, at the beginning of the year. However, that meant Thomas could no longer wear the iconic white Oakleys that have adorned his face throughout his whole career.
The Racing Jackets had become synonymous with the Welshman, who wore them to Tour de France victory in 2018, but also pretty much everything else that he had done in his road career with Team Sky/Ineos/Ineos Grenadiers. Who could forget the storm when he lost his beloved glasses in a crash at the 2015 Tour? Or when another pair went missing at the 2019 Tour de Suisse.
There was even a Twitter account set up to monitor what eyewear was going on Thomas' face.
What made the white glasses so special were their exclusivity, the fact that Thomas was the only rider in the peloton still wearing the design that was launched 1998 . While other riders blended into one, you could always count on being able to spot Thomas.
SunGod, then, had a big task on its hands when taking over responsibility for the British team's cycling sunglasses. The company had the performance side sorted, glasses fit for Tom Pidcock, Filippo Ganna or Tao Geoghegan Hart, with its extant Pace collection: Airas, Ultras, Vulcans or Velans for every face shape.
However, Thomas required something different, a pair to replace those iconic Oakleys; glasses that would continue to help him stand out in the bunch, and also, crucially, be only worn by him.
"We weren't sure how much he loved his old glasses in terms of the fit or the design or what they were," Ed Watkiss, SunGod's head of product, explains.
"It turned out it was the media building it up. It was also good to know what he liked about it was that they were exclusive. Because they were so old, no one else had them. Because they were so old, no one else in the peloton was wearing them. It meant he was recognisable straight away.
"We knew we needed to make something which was SunGod, was Geraint, and was visible. I'm not a fan of the white frames, but this project was all about him. He was quite happy to depart from his Oakleys, and happy to go for something slightly bigger, something more of a statement of now.
"Early on, we were trying some pretty aggressive stuff, but we felt we were going too far away from what we and he wanted."
The next problem came with its execution. The glasses - known as the GTs in prototype form - had to be ready for the team presentation ahead of this year's Giro d'Italia. The Welshman was targeting pink, and wanted to have his own pair of sunglasses for the battle for the maglia rosa.
"Normally, it would take nine months to develop a product before we're first testing them - my dream would be to have more than a year - here, we started drawing in the second week of January," Watkiss says.
"We had a design meeting in Monaco at the end of February, and we got a pair to Geraint the Thursday before the Giro started, for the team presentation."
After that first meeting, at which Watkiss worked out what would and wouldn't work for Thomas, time was tight.
"I had three weeks to design it and get sign off, and start developing it," he continues. "We use 3D printing a lot, to develop each stage. We didn't worry too much about the details at the start, as once we had it existing we could work on it more easily. We had to get something to him for the Giro."
Such was the rush that at the start of the race Thomas was wearing a 3D-printed pair - the new technology helping with the short turnaround.
On the first rest day, the pair were switched for a fully moulded production sample with polycarbonate lenses, while glasses featuring 8KO nylon lenses were handed over as the Giro passed through Verbier, where SunGod is based.
The good news is that Thomas appears to like the glasses, even if SunGod is not expecting them to be the most popular glasses it has ever produced.
David Rogal's, the brand's head of partnerships and strategy, labels them "pretty divisive".
"If one person in every cycling club in England got them and everyone else went 'what the f*** are those', that would be good," he continues. "It's part of the conversation, getting people talking."
To maintain the exclusivity, there are about three pairs in the whole world. Even when they are formally launched for pre-ordering this summer, Thomas will be the only person in the peloton wearing them. Initially, the glasses will also only be available in the colourway that Thomas has them in.
"For the designer, it's quite anxiety-inducing," Watkiss says. "I started a project, without a drawing, and I knew that there were people out there who would hate the project.
"There would be Oakley fanboys, people who loved Geraint's glasses of old. We did exactly what he wanted, we worked alongside him. He said he found his Jawbreakers comfortable, but the only other reason was that they were exclusive."
Thomas is now five stages away from winning the Giro, which is a pretty good first attempt for any brand. For the GTs' sake, SunGod is hoping that he can pull it off, and if he doesn't, it isn't for lack of vision.
Thank you for reading 20 articles this month* Join now for unlimited access
Enjoy your first month for just £1 / $1 / €1
*Read 5 free articles per month without a subscription
Join now for unlimited access
Try first month for just £1 / $1 / €1