Global backers in talks over new British WorldTour team
Former management of Ribble Weldtite courting interest in new project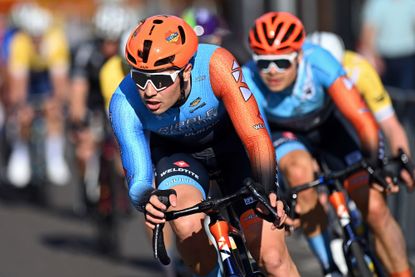 (Image credit: SW Pix)
Get The Leadout Newsletter
The latest race content, interviews, features, reviews and expert buying guides, direct to your inbox!
Thank you for signing up to The Pick. You will receive a verification email shortly.
There was a problem. Please refresh the page and try again.
Global investors are in talks with the management of the now defunct British Ribble Weldtite team to build a new squad capable of reaching the WorldTour level within a few years.
The British team's former management, Tom Timothy and Jack Rees, are in discussions with multiple potential investors in order to help them reach their ambition of becoming the second only UK WorldTour outfit within the next three years alongside the highly successful Ineos Grenadiers squad.
Speaking exclusively to Cycling Weekly, former Ribble Weldtite general manager Timothy explained that they want 'North East Pro Cycling' to maintain strong British roots with a new team, similar to the identity they built with Ribble Weldtite, but with one eye to a future at the very top level, something that the duo were unable to achieve with their previous project.
"As a team, even from a decade ago we always tried to build an identity around a place that is really important to us. It's also something that our sport has lacked a little bit," Timothy said. "If you look at football for example it's something that really helps to tie things into an area.
"When we started out as a small regional club, we always used the name 'North East Pro Cycling' as our holding name in the background while we negotiated sponsorship and new deals. We've now resurrected it," he added. "It gives us that identity and description from the start, people clearly see that we are a UK-based team and it will instantly help frame all the conversations we're now having."
Expanding on their new plans, Timothy explained that both himself and Rees feel that while there is a "gulf" between the WorldTour and the Continental level that Ribble Weldtite were operating at, the ProTeam level is unsustainable long term.
"The level that we were previously operating on was great for British brands, and helping British brands access a British market. Then the top level is of course, great for a global performance level and exposure. Then that bit in the middle is really tricky," Timothy pointed out.
"Effectively we saw that middle ground as unsustainable, unless you're a Belgian or French team that has a calendar that works within that [because a lot of the racing is there]."

Timothy and Rees also previously met with potential sponsors in Amsterdam.
"We're now having conversations with a variety of large global partners, and we're looking at a three-year programme through 2024, '25, '26 to reach the highest echelons of the WorldTour," Timothy said. "Now we've always been a British team backed by British brands, but as part of our push to reach a global scale, this obviously means that we'll continue to talk to global partners.

"Nothing is fully confirmed yet but we have several interested partners from various regions around the world."
He added: "I think it's fair to say that we know British sport as a whole is becoming more popular among global investors. However, one of the things that we want to make sure of is that any investment or partners we work with are beneficial to the sport as a whole. We see cycling as a way of giving things back, it's more than just riding a bike."
MIDDLE EASTERN INVESTMENT DECLINED
Two-years ago when the pair travelled to Amsterdam to meet with sponsors, the talks did not progress further because, Timothy explained, they didn't match those values.
He said: "We decided to decline their offer, even though it would have been a fairly large Middle Eastern investment.
"At the time, it just wasn't right. That's why I'm saying that the global partners we're currently speaking to need to align with us trying to build any sort of sponsorship into wider societal progress," he added. "For example, wherever the potential partners are, we'd want to work with local cycling clubs and build some community outreach so that we can develop that."
Timothy was quick to reiterate that even if their grand plan comes off, their new WorldTour team would still look to participate in the British scene. That includes being able to provide young, talented British riders with the opportunity to develop their careers.
"Myself and Jack are very aware of the demands of the domestic scene. Look at the Lincoln Grand Prix for instance, a fantastic race and extremely difficult to win. Arguably just as difficult as maybe a 1.1 race in Belgium or somewhere," he said.
"We have the awareness that actually the British scene has some great riders in it, and people deserve their opportunities. That's something we'd love to continue, helping British riders get the most out of what they're capable of."
My View - Tom Thewlis
Jack Rees and Tom Timothy's ambition for a second British WorldTour team within three years is certainly attention grabbing. It is hard not to admire it.
Forming and developing another British squad capable of reaching the WorldTour within a small time frame would create a huge buzz around the British scene and could rejuvenate it in a way which it urgently requires.
Races are being cut back, and we're now down to just three continental teams. Bringing in big investors would certainly give British riders hope that the WorldTour is more accessible and wouldn't necessitate a move to Europe. However, whether they are able to actually secure the type of large-scale financial backing they describe is another story.
As I put to Rees, why would potential foreign investors care about a team that doesn't yet exist? The selling points of the project are high, but without a visible starting block in place, whether they will be able to achieve them is another matter altogether.
There are other, arguably more concrete opportunities for investment in cycling that would seem to stand a greater chance of succeeding. Although it is worth remembering all the best and most successful projects start from the ground up.
It's hard to imagine another British team of the scale of Ineos Grenadiers, but if Rees and Timothy can pull this off, they may just bring around a buzz in the British scene capable of matching 2012 and all of the success that brought with it.
NEW WORLD TOUR SQUAD WOULD CREATE BUZZ AROUND BRITISH RACING
At the end of 2022, British Cycling announced that the national road series was to be cut back to just four major races, therefore shrinking an already small top flight UK domestic scene even further. However, Timothy believes that a new WorldTour team would help create a buzz around British racing once more.
"That's certainly what we would be hoping for," Timothy said. "Certainly similar to the buzz that there was around what was once Team Sky. We've seen kids going up to their riders asking for autographs, and then engaging with people. They really worked to bring the community in."
"It's also worth stating that with the British riders that we'd have, and as a British-based team, we'd certainly be trying to get the riders training on British roads as well," he added. "So we hope that would tie into transport and the societal side of things so that we help people actually feel happy and safe to get out on their bikes."

Rees and Timothy's ambition, however, faces one stumbling block. As things stand, they have no riders under contract or support staff therefore attracting large scale global interest is a gargantuan task. This is something which Rees does not see as a turn off to investors, and he believes that what both him and Timothy are able to achieve comes as "a real surprise" to many.
"In terms of new investors, we have had good previous interest before," Rees told CW. "I think we have always been very transparent about what we were operating on and what we are able to achieve, which comes as a real surprise to many!"
Timothy concluded that he feels he and Rees have a proven track record of forming positive partnerships and helping brands grow.
"We are really set on forming ethical partnerships, particularly having seen the fallout from things like British Cycling partnering with Shell," Timothy said. "That's why we will continue to talk to a range of potential global partners, all with the capability to take us to the WorldTour within the next three years."

This article appeared in Cycling Weekly magazine on 12 January. Subscribe now and don't miss an issue in 2023
Thank you for reading 20 articles this month* Join now for unlimited access
Enjoy your first month for just £1 / $1 / €1
*Read 5 free articles per month without a subscription
Join now for unlimited access
Try first month for just £1 / $1 / €1
Get The Leadout Newsletter
The latest race content, interviews, features, reviews and expert buying guides, direct to your inbox!
Tom is a News and Features Writer at Cycling Weekly, and previously worked in communications at Oxford Brookes University. He has reported from a wide range of races and events including the Tour de France and World Championships.