Brian Cookson says British Cycling has been 'damaged' by outsiders with 'no real knowledge' of cycling
Former president of UK cycling governing body says current leadership has 'no empathy' with people who 'make cycling happen'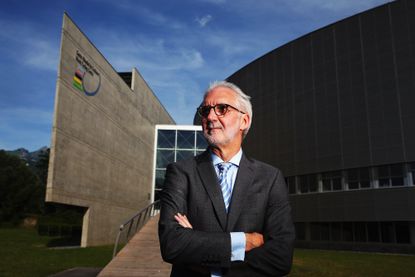 (Image credit: Getty Images)
Brian Cookson, the former UCI and British Cycling president has said that he feels the national governing body for cycling has been continually "damaged by outsiders" in what he describes as a "brain drain" and "hollowing out of the organisation" in recent years.
In 2022, British Cycling endured an annus horribilis with a set of controversies that were capped by CEO Brian Facer stepping down-blighting the organisation and its work.
A temporary replacement was found for Facer in the form of Danielle Every. However Every swiftly announced she will move on from the role to pastures news rather than put her hat in the ring to take over longer term.
Writing in a blog post on his website, Cookson said that he feels the problems with BC start at the highest level. Furthermore, he believes that the organisation's biggest issue is the lack of cycling knowledge among its senior leadership team.
"The problem, in my view, starts at the top. The widespread view, which I share, is that British Cycling has been damaged by people who have been parachuted into the organisation with no real knowledge of, or commitment to, the sport and pastime, and have no empathy with the people who participate and make cycling happen," Cookson said.
"In my view, the continued "brain drain" and hollowing-out of the organisation since 2016 has been little short of disastrous, and the impact is clearly beginning to show, for instance in the dramatic fall in the number of cycling events scheduled for 2023, which I understand is 28% down on 2022, across all disciplines," he added.
In the biggest cutback that Cookson drew attention to, British Cycling announced in December that the calendar for the men's and women's National Road series, the highest standard of racing in the UK, will shrink to just four races this year, the Rapha Lincoln Grand Prix, Lancaster Grand Prix, Ryedale Grasscrete Grand Prix and the Beaumont Trophy.
The former president explained that the reduction in events across all cycling disciplines this year is causing "widespread demoralisation" among the volunteers that enable them to take place.
'COMMITMENT IS SERIOUSLY FAILING'
He said: "These events are of course largely organised by volunteers in cycling clubs of all types around the country, and it is here where the demoralisation of those people and their commitment to British Cycling is most obviously and seriously failing."
Cookson's blog post marks the second public statement from the former president calling for the overhaul of British Cycling's leadership.
In November, in response to Facer leaving his position, Cookson told Cycling Weekly that current British Cycling chair Frank Slevin needed to "take responsibility" for the controversies that surrounded the organisation last year.
At the beginning of 2022, British Cycling sparked controversy by blocking trans riders from competing. In response to the backlash, it has since committed to a deadline of Spring 2023 to publish its new transgender inclusion policy.
As well as the issues around trans riders competing, it issued guidance in September saying cyclists should not ride their bikes on the day of the Queen's funeral before swiftly u-turning.
The difficult year was then rounded off by British Cycling announcing an eight year partnership with oil and gas giant Shell.
A decision which was widely condemned by environmentalists.
Cookson previously explained to Cycling Weekly that conversations with various people in cycling revealed to him that many are "unhappy with the way that British Cycling has been managed and governed" in recent years which was reflected in the membership.
"I do think that it seems inexplicable to me that the chairman and the board were unaware of the implications of the things that have happened and that have been so controversial," he said. "I think that some heads have to roll."
When approached by Cycling Weekly, a spokesperson for British Cycling said they would not be issuing a response to Cookson's comments.
Thank you for reading 10 articles this month* Join now for unlimited access
Enjoy your first month for just £1 / $1 / €1
*Read 5 free articles per month without a subscription
Join now for unlimited access
Try first month for just £1 / $1 / €1
Tom is a News and Features Writer at Cycling Weekly, and previously worked in communications at Oxford Brookes University. Alongside his day job, prior to starting with the team, he wrote a variety of different pieces as a contributor to a cycling website, Casquettes and Bidons, which included interviews with up and coming British riders.