Ice baths, prescribed burns, mandatory tattoos: Santa Cruz hosted the most raucous World Championships of the year
The shenanigans of the 2023 Single Speed Cyclocross World Championships in words and photos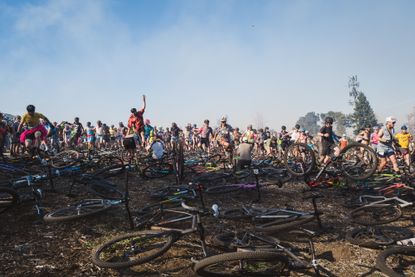 (Image credit: Kevin Saborit-Guasch)
I was soaking wet and laughing, standing in my red and blue flame boxing shorts, huge leather belt, netted shirt and temporary neck tattoos, my hair crusted into the shape of my helmet from a heavy poof of flour I had ridden through as I'd launched off a soaked ramp following a 20-foot-long ice bath pit.. Above me men in leopard suits launched over the flyover and two locals loaded doughnut holes onto sticks for handups. This was the 2023 Single Speed Cyclocross World Championships (SSCXWC) in Santa Cruz, California, and people were ready to rumble.
Team Rock Lobster organized the event, attracting a huge community, and sending a few hundred cyclists home feeling bruised, exhausted and absolutely revved up on the joy of cyclocross partying.
There is no official single speed category at the UCI Cyclocross World Championships, so a rowdy system has filled in the gap. Held since 2007, each year a new city vies for a chance to host the race, which is a hilarious balance of competitive high- level racing and strongly encouraged drinking and costumes.
Winning the rights to host is typically decided by a non-race related event after the official racing is wrapped up. For example, Santa Cruz won the rights to host this year's race after a passionate bike polo tournament during the 2022 SSCXWC hosted in Durango, Colorado.
The Santa Cruz-based Rock Lobster team rallied behind organizer Brendan Lehman, bringing out a massive community effort to host the planning-intensive race weekend, which included a fun ride on Friday; an evening of number pickup and the beginning of the encouraged drinking, an all-day (up to 50-mile) alley cat scavenger hunt on Saturday; and a circus-themed gala, an everyone- welcome race, three championship races and an after-party on Sunday.
The chaos of the weekend peaked at the championship races on Sunday, but to toe the start line, riders were tasked with collecting tokens during Saturday's alley cat race. One token for hitting a can with a slingshot, one token for riding to the top of some notably steep singletrack and then finding a puzzle piece of the cats-in-sweaters puzzle, or one token for successfully riding through a sand pit. On Saturday night, tokens were tallied and the 135 riders who'd collected the most tokens made it to the championship race.
Notably, all women and non-binary athletes who wanted to race in their championships were able to do so. The token collecting did matter significantly more for the men's race. While most women and non-binary riders did still rally behind a huge ride and fun day of collecting tokens, they didn't carry the same fervor for qualifying.
The Rock Lobster team made a concerted effort to lower the barrier to entry for women and non-binary riders - a necessary move in building equity or equality in the sport. Rock Lobster offered incentives for men to refer women or non-binary riders to enter, and eventually lowered the $155 entry to just $25 for any women or non-binary contenders. This led to a field of some 50 racers.
On Sunday, riders began arriving at the venue, located a full 20 miles above town, around 10 a.m.. The Everyone's a Winner Lifestyle Parade was slated to start at 11 a.m. At 10:15 cars stopped entering the venue and it grew eerily quiet. The Cal Fire team had just informed the organizers that they were doing a prescribed burn, a necessary part of forest management near urban areas, in the land touching the venue. Cars and hundreds of cyclists began entering the venue again thirty minutes later, just as the smoke started to loom.
The Lifestyle Parade commenced for all the riders who had not qualified for the championship race. Riders dressed in cow suits, tiny speedos, or sparkly alien dresses ran down the hill to find their bikes in a classic Le Mans start fueled by yelling and a brass band playing straight into the megaphone speakers.
Smoke from the prescribed burn took over the venue and some riders donned masks while most people shrugged and continued, undeterred.
The course was technical, with steep descents, loamy berms and at least five separate run- ups. One section boasted an optional course shortcut if riders took a shot of tequila - which they ran out of faster than anticipated. After a flyover, the spectator energy reached a peak at the water pit, where people dressed as bananas took full dunks in the grimy water with cheers from the crowd.
The championship races followed, in which bike builder Li King won the non-binary championships, after holding a lead for most of the race thanks to their ripping Le Mans start. King rode a steel bike they had recently finished building, "I'm so stoked to be designing the bikes that feel how I think they should ride and then they go and win races."
King is the organizer behind King Factory Racing - a team of other queer and trans cyclists in the bay area who all ride bikes made by King themselves. Grinning, King emphasized that the queer community within cycling is growing and they would love to see more queer and trans cyclists at these events.
Caroline Dezendorf, a Rock Lobster racer, won the women's race in commanding fashion. Sporting a sparkly vest, Dezendorf took off, riding nearby King during the shared race time and slowly pulled ahead to take the win amongst the women contenders. Dezendorf dodged the swinging beer cans and rode with her community in mind, boosted by raucous cheers and a cold hotdog hand-up.
Dezendorf said, "The energy of the event was incredible! Brining so many people together to celebrate cyclocross and its wonderful community. This is the best part of bikes. Everyone together, having a good time!"
Dezendorf noted that the women's/non-binary race was cut down to a 35 minute race, just three laps of the rowdy course, while the men rode six full laps.
"I think everything about the weekend was well executed and I'm appreciative of everything that everyone on Team Rock Lobster did to make it happen. But next year let's please make sure that both the men's and women's/non-binary races are treated as the main events," she said. "Maybe it's worth alternating year to year to have the women's race after the men's race so that both can be featured as the main event."
Off-road pro Tobin Ortenblad (Santa Cruz htSQD) took the win of the men's race after flying through the course alongside Lance Haidet (L39ion of Los Angeles). Haidet took an extended dunk in the ice bath on the final lap thanks to some particularly rowdy spectators as Ortenbald pulled away to cross the finish line first.
Ortenbald's mother, Deana Slater attended the event, cheering through the debauchery. "It's so much fun, absolutely wacky, crazy, and enough seriousness to make it a real race," she commented.
In addition to shoving fellow riders into the water pit, riders also sprinted behind each other on foot, pushing each other up the hills. On Saturday, riders grouped up with locals who showed off the web of Santa Cruz trails and happily nudged people towards more fun singletrack. Riders found joy at the circus dance party, the long day of token gathering, or in group costume antics. As always, the joy of our collective passion for cycling allowed people to share in a weekend based on having fun.
After finishing, King, Dezendorf and Ortenbald were whisked away to a tattoo shop in Santa Cruz for the iconic prize: a tattoo of the race logo declaring their championship status, a mandatory tradition at any SSCXWC race.
Next year the race moves to Madison, Wisconsin where we will need significantly more warm layers but will come ready for another rip-roaring weekend of releasing our inhibitions in search of a tattoo or just another weekend of tipping the party to race scale towards the party side yet again.
Thank you for reading 20 articles this month* Join now for unlimited access
Enjoy your first month for just £1 / $1 / €1
*Read 5 free articles per month without a subscription
Join now for unlimited access
Try first month for just £1 / $1 / €1