'I'm angry and disheartened' - Arnaud Démare left out of Tour de France by Groupama-FDJ
David Gaudu and Thibaut Pinot will head up French team at home Grand Tour, Démare to leave FDJ at end of season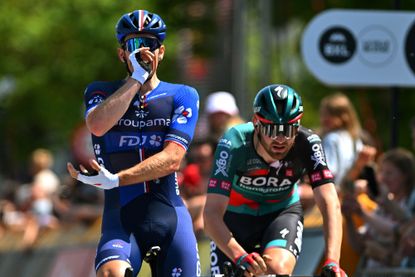 (Image credit: Getty Images)
French sprinter Arnaud Démare was left devastated after being snubbed by Groupama-FDJ for the team's Tour de France squad for the second year in a row, and confirmed he will leave the team at the end of the season.

In an interview with L'Equipe at the Tour de Suisse, Démare voiced frustration at missing out and said he had been made aware of his omission by general manager Marc Madiot last week. He also confirmed that he would be leaving Groupama-FDJ at the end of the season after being deemed surplus to requirements by Madiot.

"I'm angry and disheartened because I worked for this, and I made concessions this winter knowing that I would only have one teammate with me for the sprints," Démare said.

"Normally, when they tell me I'm not doing the Tour, it's in December, and you don't speak of preparation. This time, I was on the Tour," he added. "My close ones had booked holidays around the Tour, my wife had reserved hotel rooms to come on the rest days. I don't know what I'm going to do [instead]. I don't know. I'll look at the results but I'm going to feel sick watching stages finish in sprints."

Thibaut Pinot has been given a place in the team's lineup in support of their general classification hope David Gaudu, although Démare has been forced to sit out once more.
According to reports, Démare had been initially pencilled in as a possibility for Tour selection over the winter. However, that idea then created a stir within the team with Gaudu revealing that he was against it.

In an online chat room conversation - which was leaked in January - Gaudu explained that he and the sprinter did not see eye to eye.

"He knows I don't want him at the Tour," Gaudu wrote. "I've already told him."

Gaudu would eventually issue an apology for his comments.
The 31-year-old sprinter has previously made five appearances at the French Grand Tour, winning two stages in the process. He explained to L'Equipe that he had also been informed he would not be retained at the end of the year by Madiot at a race earlier in the season.

"This was the second hard blow," Démare said. "At the Boucles de la Mayenne, [Madiot] announced that it was the end with the Groupama. Not in so many words, but I understood that it was all over. He told me: 'We can't keep you.' And that's it."

Démare has spent his entire career with Groupama and admitted he had been left stunned by the news from Madiot.

"I wanted to have the choice [to continue]. It was perhaps already a message last year when they took apart my lead-out train," he added. "I could feel there was less enthusiasm for sprinting but I thought that they'd give me the choice, that I mattered in their eyes.

"I was part of the foundation of the team. We did exceptional things together," he said. "We made sporting memories and life memories. It is my life. To sweep away 12 years like that..."
In an announcement earlier this week confirming the first five riders of the team's Tour selection, Madiot said that FDJ will travel to the start in Bilbao with Gaudu set to lead the team's general classification charge. Meanwhile Pinot will make his tenth and final Tour appearance before retirement with the goal of targeting stage wins on the mountainous route.

Madiot also confirmed that Valentin Madouas, Kevin Geniets and Stefan Küng will all travel, with the remaining three riders to be announced closer to the Grand Départ.

He explained that leaving Démare out hadn't been a straightforward decision.

"It was a difficult selection to make, especially the decision not to select Arnaud Démare. I can understand his disappointment," Madiot said. "I have affinities with the riders, but the interests of the team have to come first. It's a sporting choice. I'm here to decide which team I think is the most competitive. There are strengths and weaknesses. I take responsibility for those choices."
Thank you for reading 20 articles this month* Join now for unlimited access
Enjoy your first month for just £1 / $1 / €1
*Read 5 free articles per month without a subscription
Join now for unlimited access
Try first month for just £1 / $1 / €1