Intermarché-Circus-Wanty riders fined and sent to education course after racist gesture
Madis Mihkels and Gerben Thijssen sanctioned after incident at the Tour of Guangxi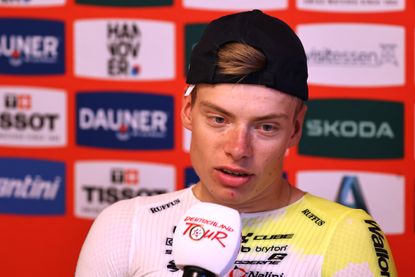 (Image credit: Getty Images)
The two Intermarché-Circus-Wanty riders involved in a racist incident at the Tour of Guangxi, have been fined and sent to an education course by cycling's governing body.
Madis Mihkels and Gerben Thijssen were withdrawn from the final WorldTour race of the season last month after a photo of the former making a racist gesture was posted on the latter's Instagram page. The pair later apologised, but have now been sanctioned by the Union Cycliste Internationale (UCI).
In a statement published on Wednesday morning, a UCI spokesperson said: "The incident involved the publication of a video on Gerben Thijssen's Instagram account with an image of Madis Mihkels making a racist and discriminatory gesture. Both riders acknowledged the violation of article 12. 4.004 of the UCI Regulations and accepted the sanctions proposed by the UCI.
"Besides the immediate withdrawal from the Gree - Tour of Guangxi, in China, by their team – Intermarché-Circus-Wanty (BEL) –, they shall each pay a fine and physically attend an educational course on the fight against discrimination.
"Upon ratification of the proposed sanctions by the UCI Disciplinary Commission, the proceedings were settled by means of an Acceptance of Consequences pursuant to article 12.6.019 of the UCI Regulations.
"The UCI unequivocally condemns all forms of racist and discriminatory behaviour and is committed, through the UCI Constitution, the UCI Regulations and its programmes, to ensuring integrity, diversity, inclusion and equity in cycling."
In an apology after the incident in mid-October, posted by Thijssen, the pair said it was never their "intention to harm anybody", and that they realise what they did was "offensive and wrong".
"We felt honoured to be invited to participate in the Tour of Guangxi," the pair wrote. "We feel really sorry for what happened yesterday morning, we realize that our social media publication was offensive and wrong. We feel really good in a multicultural environment, so it was never our intention to harm anybody," the statement said.
"We want to apologise for our behaviour and our lack of education about the Asian culture to all people who felt offended, especially the Chinese fans and all parties involved in the organisation of the Tour of Guangxi," they continued. "We accept our withdrawal from the race. This error is an important life lesson for us both, which will definitely guide us to adopt a more humble attitude in the future."
Mihkels was pictured on teammate Thijssen's Instagram making a crude action with his eyes while in Beihai, in the south of China, where Intermarché were for the Tour of Guangxi. Thijsen's Instagram story, along with his account, were removed. His account has now been reactivated.
At the time, Intermarché apologised, and said that the "necessary disciplinary steps" would be taken over the incident.
Thank you for reading 20 articles this month* Join now for unlimited access
Enjoy your first month for just £1 / $1 / €1
*Read 5 free articles per month without a subscription
Join now for unlimited access
Try first month for just £1 / $1 / €1