Is Chris Froome - in 2023 - a professional cyclist, or an influencer?
The seven-time Grand Tour winner hasn't raced since July, but has taken to being interesting on social media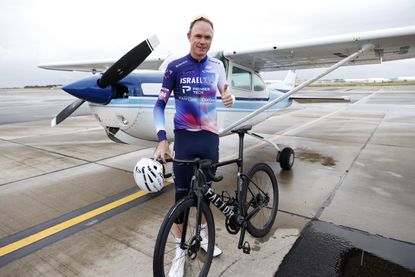 (Image credit: Con Chronis/Getty Images)
The biggest thing in cycling on Monday? Not the proposed merger between Jumbo-Visma and Soudal Quick-Step, a move that could shake the very foundations of the sport, one which caused people to get all existential and wonder what the point of it all was. No.
The biggest thing in cycling was Chris Froome, the greatest Grand Tour rider of his generation, he of four Tours de France victories, deciding that it was time to post his latest viral video, a takedown of someone insufferable showing off their Bentley, juxtaposing it against Froome showing off his Bentley-level-bike.
Some cycling asmr for you. It's a pleasure 😘 #asmr #bentley #factorbikes #cycling pic.twitter.com/gN5m4D1y0vSeptember 25, 2023
See more
You have to admit, it is at least a bit funny. It's Froome having fun, showing that there is more to him than relentlessly winning Grand Tours between 2013 and 2018. The sounds he makes when performing a gold-standard on-bike right turn indication, alone, are worth watching the video for.
The original video is supposed to elicit ASMR, or Autonomous Sensory Meridian Response, the tingling sensation some people experience when they hear certain sounds - think the opposite of nails on a chalk board, but it's more an opportunity for a woman to show off her fancy car.
Froome's satirical take on the Bentley ASMR isn't original - versions have been made to elicit that all-important tingle in response to trains, vans, and Citroëns - but it is the first to feature someone who has won all three Grand Tours in a row.
I have many questions about the content: from who came up with the idea in the first place, to who is filming it, via how many takes the whole thing took. Is it an advert for the company that he is an investor in? Is it a bit of fun? Or is it both?
As Froome was being filmed touching his Factor O2 VAM, tapping his fingers on the frame, the hated disc brakes, and clicking his phone into his Quadlock mount, one wonders what was going through his mind, whether this is what he imagined life would be like at 38, and how this compares to his times winning the world's biggest bike races.
The video might be humorous, but it might also be the closest the Israel-Premier Tech rider has got to being in the popular imagination this year, with 14th at the Mercan'Tour Classic Alpes-Maritimes the nearest Froome has got to finishing in the top ten.
He was not selected for the Tour de France, something he described as a "big letdown", and partly blamed on equipment, which might include the very bike that he is now being filmed endorsing.
"Physically I was ready, but unfortunately I was unable to show my full ability at the races assigned to me due to equipment issues," Froome told GCN at the time. "I'm obviously disappointed with the decision. The Tour de France holds an incredibly special place in my heart."
Perhaps this video is a bit of a mea culpa for his criticisms in the past, to prove that it is all water under the bridge between the four-time Tour winner and his sponsors.
It is an odd time for Britain's greatest ever GC rider. He has two more years on his contract with Israel-Premier Tech, but he has not won a race since 2018, and it is difficult to know where he fits into the team's future plans.
Earlier this year, when asked if the 38-year-old has been value for money, the team's owner, Sylvan Adams, told Cycling Weekly: "Absolutely not. How could we say we had value for money? We signed Chris to be the leader of our Tour de France team and he's not even here so that cannot be considered value for money.
"This is not a PR exercise. Chris isn't a symbol, he isn't a PR tool, he's supposed to be our leader at the Tour de France and he's not even here, so no I couldn't say he's value for money, no."
Froome has not raced since July, when he completed three stages of the Czech Tour, but he will be back at the five-day Tour of Hainan (October 5-9), before racing the one-day Japan Cup on October 15.
It does not seem like a particularly ideal situation for Froome, to just be racing small events and posting memes, or for Israel-Premier Tech, which probably expects a better return on investment for one of its bigger names.
Now might not be the time for any of that complicated talk, however. Perhaps we should just watch the ASMR - feel happy that Froome looks happy - and enjoy the content.
Thank you for reading 20 articles this month* Join now for unlimited access
Enjoy your first month for just £1 / $1 / €1
*Read 5 free articles per month without a subscription
Join now for unlimited access
Try first month for just £1 / $1 / €1