Jumbo-Visma DS: There are some big talents coming out of Britain
The WorldTour team sees great potential in the current crop of British riders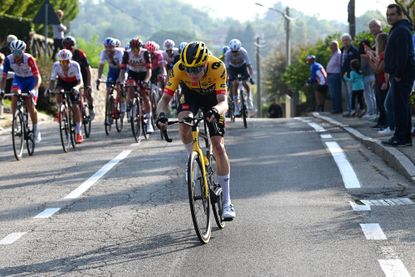 (Image credit: Getty Images - Dario Belingheri / Stringer)
This season, for the first time in over 30 years, Jumbo-Visma will ride with a Brit on their men's roster.
The Dutch team, which topped the UCI's 2022 rankings, welcomed 21-year-old Thomas Gloag as a trainee last year, elevating him to their WorldTour squad for 2023.
Speaking to Cycling Weekly, Grischa Niermann, Jumbo-Visma sports director, praised the wealth of British riders breaking into the men's peloton.
"I think right now there are a lot of young riders coming out of Britain who are really big talents," Niermann told Cycling Weekly.
Earlier this month, the team invited 19-year-old Finlay Pickering, formerly of Groupama-FDJ's continental squad, to their winter training camp in Alicante, Spain.
Asked if Jumbo-Visma are consciously monitoring British riders, Niermann replied "no".
"[We look at] talents that we think suit well into our programme, into our team," he added. "It's probably not likely that that is a Colombian rider, for example, but Northern Europeans, Scandinavians, British riders.
"We didn't sign Thomas and we didn't invite Finlay because they are British, but because they're big talents."
This season, Pickering will wear the jersey of British Continental outfit Trinity Racing, the same team Gloag rode for last year. Niermann highlighted that Jumbo-Visma has developed a "good relationship" with the British squad, which is managed by agent Andrew McQuaid.
Speaking about Gloag, Jumbo-Visma's first British rider since Dave Rayner in the early 1990s, Niermann said he expects a "big future".
"I think he will be good in the one-day Classics, in the hilly Classics, like Lombardy and Liège," he added, outlining that the new recruit is unlikely to ride a debut Grand Tour this season.
"We don't want to take giant steps with him," he said. "We want to do it bit by bit, but he will do a lot of nice races."
Could Gloag be a future Grand Tour contender? "I think that's something time will tell," Niermann said. "When we signed Jonas Vingegaard we didn't sign him as the future Tour de France winner, we signed him as a young talent that had a lot of margin to gain. That's what he showed and now he's won the Tour de France."
Thank you for reading 20 articles this month* Join now for unlimited access
Enjoy your first month for just £1 / $1 / €1
*Read 5 free articles per month without a subscription
Join now for unlimited access
Try first month for just £1 / $1 / €1