Mass pile-up halts racing at Track Champions League
Riders restarted elimination race in bloodied skinsuits after crash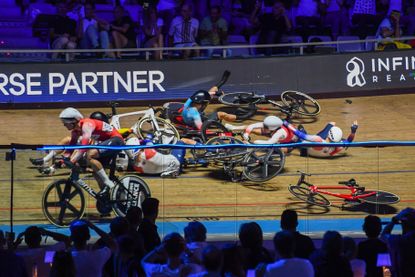 (Image credit: Simon Wilkinson/SWPix)
A heavy crash in the men's elimination race saw the action delayed on the first night of the UCI Track Champions League in Palma, Mallorca on Saturday.
Eleven of the 18 riders in the race came down in a crash in the opening few laps, with bodies and bikes piled across the track. The commissaires quickly brought the event to a halt, and the evening was delayed for 20 minutes while people patched the splintered pine boards with gaffa tape.
Among those at the centre of the crash were British riders Mark Stewart and Will Perrett who, bruised, both bowed out early when the event later restarted.
"It's a racing incident," Stewart told Cycling Weekly afterwards. "What happened was, [the other riders] came down [from the top of the track] on me. I was already on the black line and the Dutch rider was below me, which is illegal. So therefore I've got nowhere to go."
Stewart was the first to go down in the melee of riders, and took the brunt of the pile-up that ensued.
"Half a lap before the crash, [the Dutch rider] shouted at me, saying 'I'm under you, I'm under you'. I said, 'Mate, what are you doing under me? You're not supposed to be there'," he explained.
"It's not malicious, but it's what the commissaires need to look at and start being a bit stricter with."
HUGE crash in the Men's Elimination race! @UCITCL Watch LIVE*/Highlights* on GCN+ https://t.co/8FSJcLL3Gx@UCITCL #UCITCL *territory restrictions apply pic.twitter.com/qikPlsSqDSOctober 21, 2023
See more
During the delay, the organisers passed out giant beach balls to keep the crowd entertained. Stewart sat in his pen with fellow Brit Perrett, and re-watched the crash on his phone.
"Mark sort of spun mid-air," Perrett said afterwards. "I just saw him sort of swivel round in mid-air. We're so compact, and it goes so quick that it's just one of those. I was in the pile-up.
"There were loads of good replays, weren't there?" the 27-year-old then joked. "Good replays of people going flying. You have to laugh because it's part of bike racing. If you don't laugh at it, it psyches you out."
When the race restarted later in the evening, Stewart took to the track on his partner Emma Cumming's (New Zealand) bike and was eliminated in 12th. Perret soon followed in 9th, before the race was won by Canadian rider Dylan Bibic.
Eiya Hashimoto (Japan) and Harrie Lavreysen (Netherlands) took the lead in the men's endurance and sprint leagues, while Katie Archibald and Alessia-Catriona Pröpster did the same in the respective women's leagues.
Thank you for reading 20 articles this month* Join now for unlimited access
Enjoy your first month for just £1 / $1 / €1
*Read 5 free articles per month without a subscription
Join now for unlimited access
Try first month for just £1 / $1 / €1