'Pure happiness': Pfeiffer Georgi conquers the pressure to take second British national title
The 22-year-old dealt a killer blow with her attack on the final climb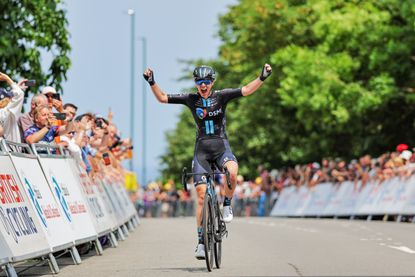 (Image credit: Alex Whitehead/SW Pix)
Pfeiffer Georgi won the British National Road Championships for a second time on Sunday, and will once again don the tricolour bands of the national jersey.
The 22-year-old DSM-Firmenich rider proved the strongest on a challenging circuit in Redcar and Cleveland, breaking away solo on the final ascent of Saltburn Bank, and crossing the line alone.
Claire Steels of Israel-Premier Tech-Roland followed in second, while Jumbo-Visma's Anna Henderson came third. 22-year-old Anna Shackley, who rides for SD Worx and finished fifth, was awarded the under-23 national title.
Speaking to the media after the race, Georgi said: "I'm so happy. The last hundred metres when I looked behind and I saw there was no one there, I was just in disbelief and just pure happiness to pull it off again.
"I'm a bit shocked and was like, 'Oh, I've actually done it!'. It was so hard, the final climb. I went into the final lap with a plan to keep it together. I tested the waters with one lap to go to see if I could have the legs on the last climb, and just wait until then. I was feeling strong, so I just tried to keep it together and then just close my eyes, full gas up the climb, and in the end, it paid off. It feels amazing."
The victory came two years after her triumph at the 2021 Championships, when she powered up the steep, cobbled Michaelgate climb in Lincoln to take just her second professional win.
"I think I came in with a bit more pressure than Lincoln, mostly from myself," she explained. "I was really hungry for winning, so it's amazing. It was a really hard course, attritional. I think the key was staying hydrated, fuelled, not doing too much in the beginning because this course wears you down. Constantly up and down, short, sharp climbs, and the heat also paid a part.
"It was nice to hear my name a few times, which doesn't happen much. This last climb was a wall of noise."
Sunday's race played out like a Classic. After a few early attacks, the peloton splintered, before a strong nine-rider move went up the road.
The group would wait until the sixth of seven laps to start their assaults. Steels was the first to force gaps, before Georgi dropped her breakaway companions on the penultimate ascent of Saltburn Bank. Though the move shortly came back together, the attack foreshadowed what the DSM-Firmenich rider would do in the finale, when nobody could hold the wheel of her race-winning kick.
Born in Herne Hill, London, Georgi has developed into one of the strongest all-rounders in the peloton. The 22-year-old took on new duties as DSM-Firmenich's road captain this year, and claimed her first WorldTour victory in March, winning the Classic Brugge-De Panne with a late breakaway attack.
She will now swap out her black trade team jersey for a red, white and blue national champion's kit, which she will wear at next month's Tour de France Femmes avec Zwift.
Thank you for reading 20 articles this month* Join now for unlimited access
Enjoy your first month for just £1 / $1 / €1
*Read 5 free articles per month without a subscription
Join now for unlimited access
Try first month for just £1 / $1 / €1