Tadej Pogačar hoping to take time and yellow on Tour de France opening stages
UAE Team Emirates rider comes into Tour recovering from wrist injury and with Adam Yates as co-leader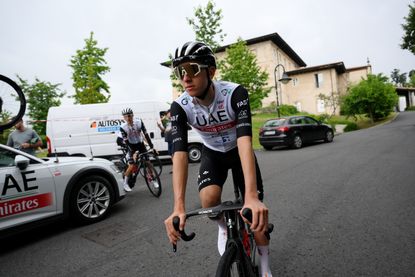 (Image credit: Getty Images)
Enthusiasm is an interesting component of how someone approaches the Tour de France. It must affect motivation, the idea that despite all the pressure, all the importance, that a person actually is looking forward to race.
Tadej Pogačar is not someone lacking enthusiasm. The UAE Team Emirates rider seemingly approaches every race, every target, with the eagerness of someone who really enjoys his job. His bizarre job, which is to try and be the best man in the world at riding a bike around France, up and down mountains, for three weeks.
However, the 24-year-old made an interesting admission during his pre-Tour press conference, among the usual platitudes about him hoping for good legs, that it's the riders who make the race difficult, and that he wasn't thinking about his rivals.
Pogačar said that was excited when the route of the Tour first came out - why wouldn't he be, as the pre-eminent climber in the world - but now, less than 48 hours out from the start of his fourth Tour, he is feeling less excited, due to the wrist injury that he is still to fully recover from.
"I think this first week is going to be really tough, really explosive," he told the media. "You have basically everything. It's going to be interesting. When I saw the parcours, I was really excited, but now with my injury, I'm a little bit less excited. But I can still hope for good legs.
"It's not perfect," he said. "I feel OK on the bike on the wrist, but it still doesn't have full mobility. 60-70%. For training every day, it didn't bother me at all. No pain. I did a CT scan this Monday, and 2 out of 3 bones are healed, and the scaphoid needs a bit more time."
Not that his enthusiasm for his fourth Tour - and his first since his debut not as defending champion - is too diminished. He will race from the beginning of stage one, and is prepared to challenge his general classification rivals from as soon as he can. Interestingly, the pressure seems off, too.
"If I'm ready, there could be a chance to take time [on the opening stages]," the Slovenian said. "They cancelled the bonus on the last climb of stage one, so there goes eight seconds. I will try to do my best, if I can take a second here or there… I like to do that."
There is a not insignificant chance, then, that Pogačar could be in yellow before the race leaves the Basque Country, even if that would mean a very long time defending.
"The best would be to get it on stage 20 like 3 years ago, that's the least pressure," Pogačar joked. "But when you have opportunities at the tour you take it. Sometimes you need to hold your horses, but this year, with this first week, we're going to see a lot of racing. The first or second stage is already a chance to take the yellow jersey. Obviously, that's a long way to keep it."
UAE Team Emirates announced earlier this week that Adam Yates would be the team's co-leader at the Tour, due to doubts over Pogačar's condition.
The latter was willing to concede that this was a good plan because of any worries he or the team might have over his comeback from injury, but could not help calling Yates the "back-up plan".
"I like to see it as a team all together," he said. "It doesn't matter who is in front, we want the same thing in our team, to win the Tour de France. It doesn't matter who.
"For me, it's good because I still am not 100% about my condition, I didn't do pre-Tour racing, and I think that's what's missing in my preparation, to be sure about my shape. It's better to have a backup plan. It's better to have two guys to go for GC than one."
It might be clear as soon as Saturday whether Pogačar has recovered. If the Slovenian is in yellow in Bilbao, or in San Sebastián on Sunday, it will probably be fair to assume that he is back. The excitement will surely be back, too.
Thank you for reading 20 articles this month* Join now for unlimited access
Enjoy your first month for just £1 / $1 / €1
*Read 5 free articles per month without a subscription
Join now for unlimited access
Try first month for just £1 / $1 / €1