The flying Dutchman: The making of Mathieu van der Poel
The new world champion might be related to cycling royalty, but, as Adam Becket discovers, he has forged his own path to the top of cycling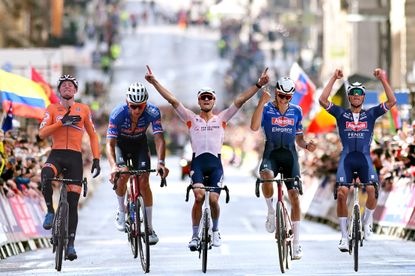 (Image credit: Getty Images)
Get The Leadout Newsletter
The latest race content, interviews, features, reviews and expert buying guides, direct to your inbox!
Thank you for signing up to The Pick. You will receive a verification email shortly.
There was a problem. Please refresh the page and try again.
This feature originally appeared in the 22 June 2023 issue of Cycling Weekly magazine.
The year is 2006, and a young boy by the name of Mathieu van der Poel has decided, aged 11, that playing football is not for him. The boy, who has a mix of Dutch and French heritage, but was born in Belgium, is playing at age-category level for a Dutch team called Willem II. Despite the club producing various stars, from Virgil van Dijk to Frenki de Jong, van der Poel already has his heart set on another sport: cycling.
His father, Adrie, explains: "Football, tennis, athletics. He did almost everything. He was someone who likes to do a lot of sports. He said, 'I don't think I'm going to play football. I'm going to be a cyclist'. I said we had to finish this season, as we started it, and afterwards you're going to tell them yourself that you don't want to play football anymore, so that is what we did.
"The football coaches said that it's very special that someone aged 11 or 12 knows what they will be later on. We already knew what he was going to be, what his goals were."
Mathieu, with his Dutch father and French mother, was no ordinary 11-year-old boy from an ordinary family. His maternal grandfather happened to be Raymond Poulidor, the Eternal Second, the man who finished on the podium of the Tour de France eight times but never won overall, who took 189 race wins in the 1960s and 1970s.
His dad, Adrie van der Poel, was a great bike racer too, winning Liège-Bastogne-Liège and the Tour of Flanders, as well as becoming a world champion at cyclo-cross.
Not just genetics
The genetics were certainly there, but it was not as simple as relying on those; his brother David, while a professional bike rider, has never ascended to the same level as Mathieu, two years his junior.
The 28-year-old has now been world road race champion, world cyclo-cross champion five times, won the Tour of Flanders twice, Paris-Roubaix and Milan-San Remo once, stages at the Tour de France and Giro d'Italia, and been European champion in cross-country mountain biking.
"He started when he was very young," Adrie says. "He was always fascinated by the bike, even when he was not bad at all the football games… From early on I already saw that he had something special. Even when he was five or six years old. He was studying, and besides that it was the bicycle and nothing else. He was fascinated by it."
However, despite his family's cycling background, Adrie insists that Mathieu was never forced into the sport: "I can say I never pushed him, but I always supported him. I was for eight years, nine years involved in the football. A lot of parents are not so involved with their children, they drop them off at the football and pick them up, three hours later.
"Whenever I had the possibility, I always went to watch my sons. If they were playing football, cycling, or even tennis, I was there, and if I couldn't, it was my wife who went."
Cycling was around from the very beginning, however, and his passion has never dimmed.
Hans Vandeweghe of Flemish newspaper De Morgen, and previously CEO of the Flemish Cycling Federation, has followed van der Poel since he first emerged: "He really likes bikes. On holiday, he rides his bike, other bikes. It's a game for him, it's playing."
"We got him a kind of mountain bike when he was very young, we put racing wheels on it, because it was impossible to get a racing bike in that size at that time," Adrie says. "When he was ten years old, I was directly in contact with Christoph Roodhooft and they supported him with material, and they said we didn't have to pay.
"I'd known him for a long time already, and there was a kind of friendship. At that time, his team was very small, with only a few cyclo-crossers, but he was smart enough to see that there were great possibilities with both of my sons."
From then on, van der Poel was linked to Christoph Roodhooft and his brother Philip, who would go on to become the BKCP - Powerplus team, then Corendon-Circus, then later the Alpecin-Deceuninck WorldTour squad of 2023.
Drive to success
From his first foray into cycling, his father recalls that Mathieu was pushing himself on, and that even his studies came second to cycling - not that it ended up mattering.
"He was always very hard on himself," Adrie says. "There was a time when he was at the Valromey Tour [Tour du Valromey 2012], and on the first day he had a very bad crash, but he finished. I got a phone call from the team, saying that he had had this crash but he would like to start tomorrow.
"We agreed that his health was very important. I told the team to listen to Mathieu on if he would like to start. Mathieu told them he would wake up in the morning, have breakfast, and he would try to ride the bike for an hour. If that's OK, then he would start. We put him on the bike, he started pedalling, and Mathieu started the next stage."
He went on to finish sixth at that Tour du Valromey, an important French junior stage race, but returned the next year, and won two stages and the overall. There was no stopping him.
The Roodhooft-van der Poel dream team
Mathieu van der Poel first signed professionally with a Roodhooft vehicle aged 18, when he joined BKCP-Powerplus, but by that point he had already been junior world cyclo-cross champion twice (in 2012 and 2013), and had become world junior road race champion in 2013, beating Mads Pedersen (who now rides for Lidl-Trek) in Florence.
"There are a lot of obstacles during the age of 10 till 25," Adrie recalls. "But when he was at junior level, we saw something special. And already at that time I introduced him to Patrick Lefevere, who is a good friend of mine.
"I proposed Mathieu to him, but he didn't want to take him on. That's how we landed at the Roodhooft brothers. Christoph especially already saw something special, and he has taken very good care of him. There is a click between Mathieu and the Roodhoofts."
It is no happy accident that the Dutchman has been at the same squad since the beginning, in its various different guises. The team, originally a cyclo-cross outfit, developed into a road team as van der Poel matured, and has gone from Continental level to WorldTour across six seasons as he has ascended.
A safe bet
In an interview with the Gazet van Antwerpen in 2020, Philip Roodhooft said: "Some things seem obvious today, but in 2013 it was a gamble to give Mathieu van der Poel a four-year contract. Then you sit at the kitchen table with a knot in your stomach. Hmm, that's a lot of money here."
"The Roodhoofts have been good at finding the right sponsors and the right amount of money," Vandeweghe explains. "What works is having Mathieu there, and most of the money goes to him. He can do whatever he wants. He decides where he rides and what he does. This has changed a bit in the last few years, as he listens more to his advisors.
"It could be that Mathieu is coaching himself, he hates all the tests. He can do whatever he wants. If he went to Ineos or Trek or whatever, then he would have to adapt to the protocols they have there, and he doesn't want that."
It is fair to say that van der Poel has been a very successful investment for the Roodhofts and their sponsors, with the rider consistently winning right from the start across disciplines, and so has been allowed a fair bit of leeway. He first became cyclo-cross world champion in 2015, and has consistently won big races on the road since 2019, when he made his big breakthrough, winning the Amstel Gold Race after seemingly being out of the race.
Such is his independence that he is able to use his own supplement supplier, and has some influence over the riders the team signs too; Vandeweghe compares van der Poel's role within Alpecin to Lionel Messi at whichever club he is at.
"He can do what he likes to do, it is organised for him," his father explains. "Mathieu is someone who likes to go a little bit to the left, a little bit to the right, and that's good for him. When he's not happy, they ask him what the problem is, and they let him change the programme. It's not that he decides everything, but at Alpecin they try to make everyone happy."
"Christoph and Mathieu are friends, they get along well," Vandeweghe says. "In spite of the age difference, of 20 years. Christoph was always with him. He also likes cars [van der Poel is a Lamborghini ambassador]. They talk a lot about bikes, they are bike fanatics both. He works on Mathieu's bikes, and Mathieu wants that, doing the last setup. They depend on each other."
Van der Poel the enigma
Despite his position as one of the best bike riders in the world for years now, and certainly one of the most exciting talents for longer, Mathieu van der Poel shies away from the limelight.
"Mathieu doesn't like people talking or writing about him," Vandeweghe tells Cycling Weekly. "Just leave me alone. Don't have too many opinions on him. Whenever you have an opinion on him, he doesn't like them."
"Mathieu is a pretty interesting guy, but you never get really close to him," he continues. "Probably his girlfriend does, but we don't. Even Christoph, who is always with him, says it is hard to manage him or to make him understand things. I have the impression that he's listening now, listening more to the people around him."
Quiet confidence
Van der Poel met his partner, Roxanne Bertels, when she was working in marketing for Porsche and the pair were on a work trip to Finland in 2018. "I had no idea who he was," Bertels told Het Laatste Nieuws. "Mathieu and I got to know each other quietly as friends after that trip. It wasn't until a few months later that we became a couple."
"He keeps this part of his life very far away from the press," Vandeweghe says.
His dad says that he was popular at school: "He was very loved by the rest of his class. He was kind of a leader already, when he was very young. I don't want to say he was the boss, but he had control over a lot of things already."
According to Adam Ťoupalík, a Czech rider who was part of the Roodhoft squad from 2015 to 2018, van der Poel never threw his weight around, despite his clear talent, and the fact that the team was built around him.
"He was quite friendly," he explains. "I was the only one in the team that didn't speak Dutch. The first years, I was just trying to understand everything, but Mathieu was always very communicative. During group rides, and training camps, it was always him that was talking. He was a good teammate. Of course, there were moments he was more on his own.
"Everything he did was in a good way. He was not acting like a leader, telling us what to do, he was never someone who pushed other riders to do something. It was more natural than that, and he matured with the team."
Van der Poel is often compared to Wout van Aert, his great rival both in cyclo-cross and on the road, but the two are very different, both in their racing style and off the bike.
"He is into fast cars, video games," Vandeweghe says. "He's not shallow, he's just more of his generation. Wout van Aert seems older, but is only one year older."
He adds: "We tend to compare him to Wout but in terms of personality, van Aert is a much more interesting guy. He has an opinion on many things. He probably has an opinion on what is going on in Ukraine, whereas this is far from Mathieu's world."
Always friendly
"He's always friendly, though," Vandeweghe continues. "I was at a MTB World Cup in the Alps, and Mathieu won the short track race, and during that, I was standing with the spectators, there were not many. Every time he came past he said hello. In the short race you're so on the limit, but he still did it. He's a nice guy. He's not unfriendly."
The thing that comes across most about van der Poel, however, is his strong mindset. The thing that typifies this most for his father is his win on stage two of the Tour de France in 2021, as he emulated his grandfather.
"I remember, I called him the day before," Adrie tells Cycling Weekly. "He said 'I don't have the legs I had at the Tour de Suisse, and it is the Covid vaccine I had'. Ten days had passed.
"I told him that this same thing had happened to me, with the vaccine, and I was ready again after 11 days. I told him that he didn't lose any time, that he still had a chance for yellow. Then he went and won the stage, and after that he was doing very well. He doesn't need much, just good advice at the right moment."
This feature originally appeared in the 22 June 2023 issue of Cycling Weekly magazine.
Thank you for reading 20 articles this month* Join now for unlimited access
Enjoy your first month for just £1 / $1 / €1
*Read 5 free articles per month without a subscription
Join now for unlimited access
Try first month for just £1 / $1 / €1
Get The Leadout Newsletter
The latest race content, interviews, features, reviews and expert buying guides, direct to your inbox!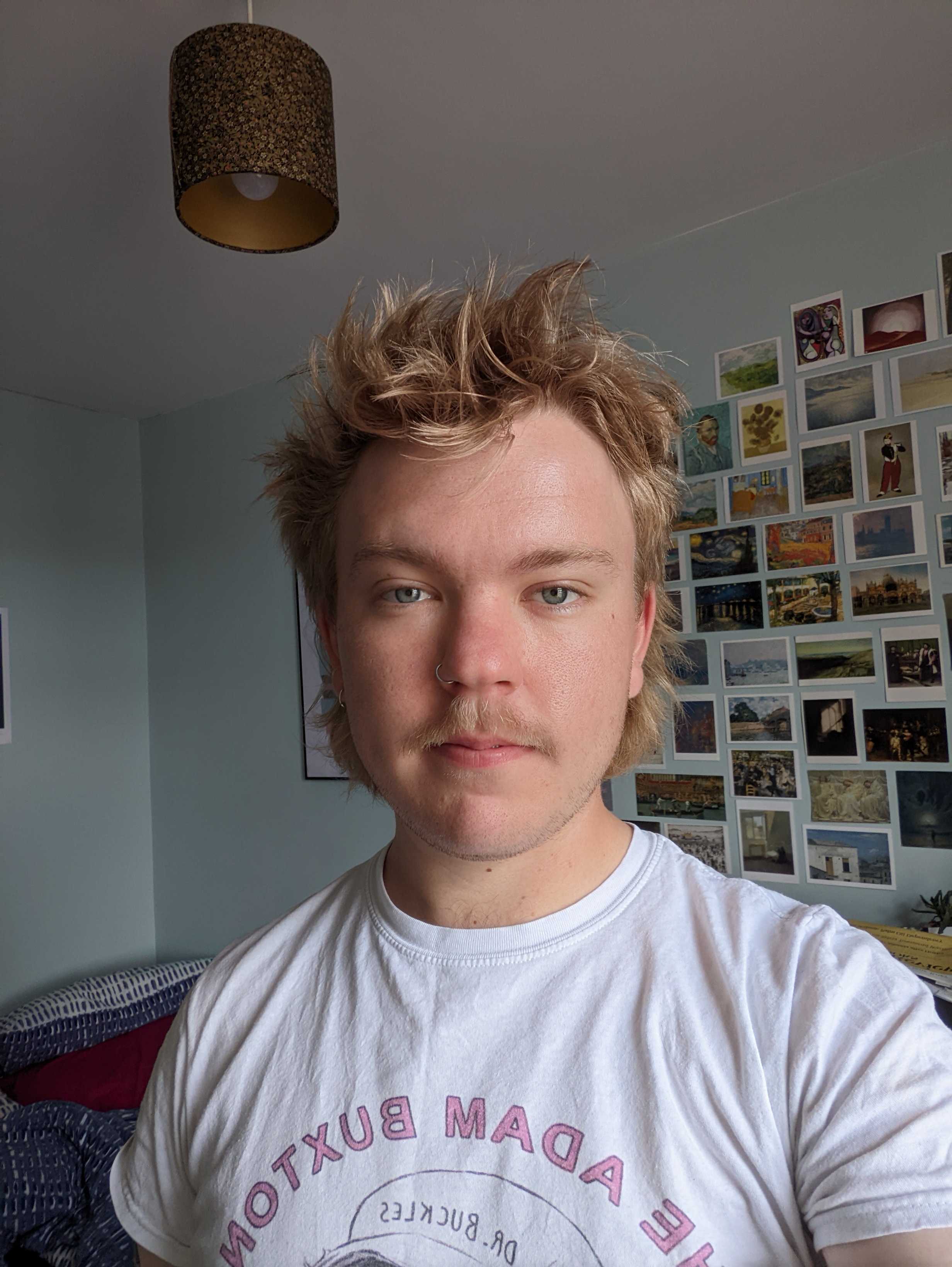 Senior news and features writer
Adam is Cycling Weekly's senior news and feature writer – his greatest love is road racing but as long as he is cycling on tarmac, he's happy. Before joining Cycling Weekly he spent two years writing for Procycling, where he interviewed riders and wrote about racing, speaking to people as varied as Demi Vollering to Philippe Gilbert. Before cycling took over his professional life, he covered ecclesiastical matters at the world's largest Anglican newspaper and politics at Business Insider. Don't ask how that is related to cycling.