Xplova X5 Evo bike computer review
The Xplova X5 bike computer has a lot of neat features, including a built-in action camera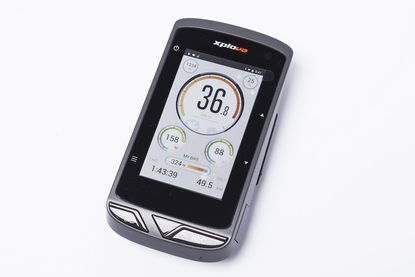 The Xplova X5 Evo is easy to set up and use. It has a clear, effective touch screen and a lot of behind-the-scenes functionality. It couples quickly with ANT+ peripherals, although it would be nice to see Bluetooth support too. Video and still quality from the built in camera is good. But computer functionality and ease of use are disappointing. Ride and video data can be downloaded to the phone app reasonably easily. You can do a quick edit of short videos and add data fields from your ride. But anything more major will require copying the file from the unit's memory to a separate app.
Reasons to buy
+

Neat unit

+

Built in action camera works well

+

Good touch screen

+

Lots of functionality in GPS unit

+
Reasons to avoid
-

Awkward to use analysis apps and interfaces

-

Imprecise GPS trace

-
Computer company Acer is behind the Xplova X5 Evo. It's reworked the unit's software from the older Xplova X5 for the new X5 Evo version. Acer also makes smartphones, so there's a lot of potential to cross-use its expertise.
When we reviewed the original Xplova X5, we liked the touchscreen and ease of use. But we were less enamoured with the GPS navigation and the unit's tendency to occasionally slip into Chinese.
You still get the large 3 inch colour touchscreen display. It's clear and easily readable, and responds well to touch input, although it's quite a bit smaller than the unit itself.
>>> Best smartphone cases for cycling
You also get physical buttons on the sides of the unit and at the bottom of the top surface. Those on the top allow you to start and stop both the Xplova X5 Evo trip recording and also the built in front facing video camera.
Riding with the Xplova X5 Evo
Switch the Xplova X5 Evo on and hit Start and you get a clearly laid out, easy to read main screen with a large speedometer dial and two smaller dials below it for heart rate and cadence. There's also a power display, altitude, elapsed time and distance covered. Altitude is measured barometrically, which is more accurate than using GPS, and there's the functionality to recalibrate it before setting out.
>>> Should you use your phone instead of a cycling computer?
Swipe left or right, and the Xplova X5 Evo cycles through a series of screens of user configurable data and a navigation screen.
You'll need to buy external sensors separately for power, heart rate and cadence. But the Xplova X5 Evo comes packaged with an out front mount, to which it connects firmly with a half turn.
The Xplova X5 Evo only supports ANT+ peripherals and it's easy to couple to sensors. With Bluetooth peripherals becoming more prevalent, and many GPS units supporting them, it's a pity that you can't use them with the Xplova X5 Evo.
The Xplova X5 Evo also has WiFi, but only for pairing to a smartphone. You can select Bluetooth too, via the Connectivity menu. But this doesn't work yet – Acer says that it's scheduled for early next year.
The Xplova X5 Evo uses both the US GPS and the Russian Glonass systems to get a fix on your position. It's reasonably accurate on unsheltered roads, but tends to drift more than some other units under tree cover. This is potentially a problem, as Strava may not recognise that you've ridden a segment if your trace strays too far from it.
Navigation
You can download free base maps for any part of the world to the Xplova X5 Evo for offline navigation. UK maps include England, Scotland and Wales as well as Greater London.
You can map out a route on the smartphone app reasonably easily, then upload it to the Xplova X5 Evo. But it's more fiddly using the phone's small screen than a computer. If you want to use the computer-based mapping app, you need to set up the smartphone app to connect to your computer account, then use the phone app to download it to the unit.
>>> The best cycling computers: a buyer's guide
On the Xplova X5 Evo, you get turn by turn navigation at the top of the screen as well as a position indicator, with a route trace on the base map. Turns are indicated well in advance, and include bends in the road as well as junctions. But if you're recording video too, the top third of the screen is taken up with the video view and you lose the turn information, unless you turn video preview off, in the unit's video menu.
Apps and software
If you like to record video of your rides, the in-built action camera is a neat feature, allowing you to record around an hour's video. The camera records 720/30fps video. You can trigger recording manually using the Record button on the front of the unit or the touchscreen or set it up to record continuously in a loop, overwriting the oldest footage once its used up its capacity. You can also trigger the unit to start and stop recording based on data fields. So you can get a video recording when your heart rate goes above a certain value, when the road tips up or down over a certain gradient or when your speed is over a defined value, for example.
There's also the option to take still photographs at 1080 pixel resolution.
The mapping app for PCs is fast and intuitive and works similarly well on a smartphone. You can quickly sketch out a route which you want to follow and you get all the necessary stats on it. It's also easy to edit. Xplova has added smart sign functionality, which identifies gradients on your route, so you can see them coming up if you're riding a route you don't know. It can also be set up to start video recording when you reach a pre-defined point on your route.
>>> 24 best cycling apps
There are separate phone apps to download ride data and edit video. These are reasonably intuitive, although it means coupling your devices over a WiFi network.
Video quality is good, with a wide 120 degree angle and none of the image stability problems which we found with its predecessor.
A sample of recorded video with heart rate and speed overlay
You can only edit a video of up to 5 minutes' length using the phone app, but it's very easy to add data fields and canned music.
There's also the option to download and follow a training plan and a Challenge mode to pace yourself against your previous time for a route that you have ridden before.
Xplova says that it also provides a UK customer support centre and a two year warranty and claims a 12 hour battery life.
In summary
There's a lot of functionality in the Xplova X5 Evo, with Acer promising more to come in future firmware releases. If you're prepared to live with its eccentricities and spend the time getting it to work, the Xplova X5 Evo provides a broad range of functionality including some innovative features like the built-in camera.
But the PC and Mac software supporting the Xplova X5 Evo is awkward to use and lacks some of the analysis functionality it would be nice to have available.
Thank you for reading 10 articles this month* Join now for unlimited access
Enjoy your first month for just £1 / $1 / €1
*Read 5 free articles per month without a subscription
Join now for unlimited access
Try first month for just £1 / $1 / €1
Paul started writing for Cycling Weekly in 2015, covering cycling tech, new bikes and product testing. Since then, he's reviewed hundreds of bikes and thousands of other pieces of cycling equipment for the magazine and the Cycling Weekly website.
He's been cycling for a lot longer than that though and his travels by bike have taken him all around Europe and to California. He's been riding gravel since before gravel bikes existed too, riding a cyclocross bike through the Chilterns and along the South Downs.