Specialized SL Pro Jersey review
The top-end of Specialized bike jerseys is not very light (164 grams) but it is really breathable and comfortable on your body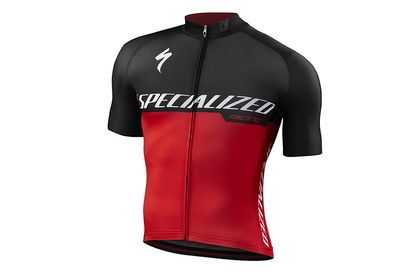 The Spcialized SL Pro Jersey is a really good jersey. I features everything you want to have on a summer jersey like breathable textile, dark fabrics that are claimed not to overheat when it's hot, full front zipper. At the same time, though, I still believe it's a bit pricey, as £100 for just a jersey - even though super technical and advanced - is not for everybody.
Reasons to avoid
-

I didn't like the "cuffs less" sleeves

-

Flapped a bit on the shoulder
Why you can trust Cycling Weekly Our expert reviewers spend hours testing and comparing products and services so you can choose the best for you. Find out more about how we test.
If you wear the red and black version of Specialized SL Pro Jersey, you would look like a BMC rider. The trompe-l'œil effect would also be stronger if you combine this jersey with the SL Pro bib shorts, as their design is very similar to the one the Swiss team is currently using. Which is cool, particularly because you don't have to buy the lame team kit to get the same result.
>>> August's best tech bargain race wheels, hot weather jerseys, and more (video)
Specialized claims that its top-end jersey features a Cold Fabric technology that reduces the temperature of the jersey's dark surfaces. What I can say after a medium distance ride in the heat (100 km at 26º C), is that I never felt overheated and I just had to open the zipper at the end of the day. This jersey proved to be very breathable, and I never found myself overheating and dripping with sweat even with hard efforts.
>>> Summer cycling jerseys: a complete buyer's guide
The material of the Specialized SL Pro jersey stretches very well on the body and the general aero effect assures great performance as well as comfort. The only downside of this otherwise very well designed jersey, is that it flapped a little bit around the top of the shoulder
>>> Hot weather cycling: five tips to help you keep your cool
The Specialized SL Pro jersey has a few other features of note. The central, zippered pocket in the back has been made sweatproof for mobile phones and electronic devices, and it features a little hole for headphones as well. At the same time, four little circular piece of textile are placed inside the jersey - and at the corner of the pockets - reinforcing the seams.
The sleeves are designed without cuffs for an aerodynamic purpose, but I personally preferred the cuff versions on other aero jerseys that I've tried.
Finally the fabric of the back, sides, and sleeves is almost see-through for greater breathability, while the front fabric is tighter to help with the aerodynamics of the jersey. The front zipper will help you keep coolwhen temperatures will get hot, but in the UK you'll rarely need it. I still believe that £100 for such a jersey is a bit expensive, no matter what the technology behind it.
For more details visit the Specialized website (opens in new tab).
Thank you for reading 10 articles this month* Join now for unlimited access
Enjoy your first month for just £1 / $1 / €1
*Read 5 free articles per month without a subscription
Join now for unlimited access
Try first month for just £1 / $1 / €1
Nick Busca is a freelance cycling and triathlon journalist. He is also a certified triathlon coach and personal trainer.