S-Works Power Cranks review
The dual-sided S-Works Power Cranks have proven durability and very consistent power readings making them a solid options for the number crunchers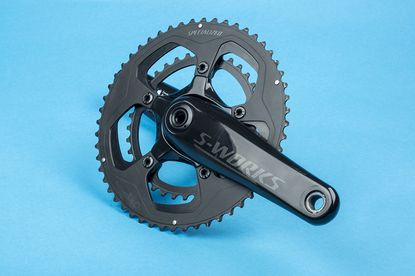 Ultimately, the S-Works Power Crank is 4IIIIs technology, but Specialized has put together a very neat package. It has survived the weather and washing and has been consistent and stable throughout my testing.
Reasons to buy
+

Durable

+

Consistant readings
Reasons to avoid
-

Battery housing hard to access
When Specialized debuted its S-Works power cranks, it was one of the first bike brands to offer a top end bike, in our case the Specialized S-Works Tarmac SL6 Disc, with the unit attached at the point of sale.
If you don't want to spend £9,500 on a bike then you can buy the power meter separately. It's available with the Specialized crankset, in a Shimano Dura-Ace crankset or as a single-sided Shimano Ultegra upgrade kit.
The power meter itself are two unassuming black pods that sit on the inside of both cranks. The 15g weight is forgettable and the pods are not an eye-sore, in fact the carbon S-Works crank in which its housed looks stunning. After all, that's the benefit of using crank based power meters over pedal based or hub based – they blend in perfectly with the bike.
Internally at least, the Specialized power meter uses 4iiiis technology but its housed in Specialized's own external housing. Other than just being an exercise in branding, Specialized told us that this was because it wanted to make certain of the quality of the waterproofing.
I've been using the device since for over four months now, including in bad weather and I've had no problems with water ingress or damage from the weather. This has also included multiple power washes and soapy scrubs.
In fact, my whole experience with the product has been close to flawless. The only tricky part of the product was the setup and that was purely because of the device's location. It involved unscrewing the top of the power meter pods off and removing the film from the back of the batteries (it uses coin cell batteries) then screwing them back on. Once done, the power meter started up with no issues.
As you'd expect, there's a companion app that is vital to the proper working of the unit. You pair it to the power meter and here you link the two together. It also tells you if they're both connected, as well as the battery life of each pod. To date, I haven't had to change the batteries in either of the arms. Crucially, you also use the app to perform a zero offset to help the power meter stay accurate as well as send firmware updates to the unit.
I'll be the first to admit I probably haven't performed enough zero offsets in my use, but this is because the device didn't dropout or spike in its readings so it has never really felt necessary.
It's a similar story with firmware updates, and I've had to send very few of these to the device, and in general, the power meter has been very stable. It has fired up every time straight away and has connected to both my Wahoo Elemnt and Garmin Edge 130 immediately, with no lagging. Importantly, I haven't had it drop out on rides and it doesn't spike or jump wildly between readings.
The Specialized S-Works Power Cranks is a dual-sided unit with an accuracy rating of +/- 1.5%, a number that's quite standard across the power market. Because the unit is dual-sided it's capable of giving left and right balance readings, although it depends on which cycling computer your using as to whether you can see it displayed.
It's a metric I've found particularly useful because, well, it has told me just how bad I am. If I'm focussed on my riding and working on technique I can hover around a 48/52 left-right balance but on longer, endurance based rides (almost all the riding I do) that's slipped to a pitiful 40/60 left-right balance, leaving my right side doing quite literally all the leg work!
In fact, it's so poor that at first I thought that the Specialized S-Works Power Cranks must be giving an incorrect reading but looking back through my old activities I now know that the Favero Assioma Duo power meter pedals also gave me very similar readings of 42/58 left-right balance – looks like it's time to work on some technique!
Testing the Specialized S-Works Power Cranks against my Elite Drivo smart turbo I found that the Specialized power meter read about 5-10 watts higher which is what you'd expect considering the turbo doesn't have the same drive chain inefficiencies as a bike does.
Ultimately, though, the main concern shouldn't be about the power meters accuracy with the turbo but with itself. After all, you'll be training against its numbers, so as long as its consistent, without spiking or dropouts then its ok.
The Specialized S-Works Power Cranks slots quite neatly into the rest of the power meter market. For example, the Shimano Dura-Ace R9100-P power meter retails at an eye watering £1,400 and the Stages Dura-Ace offering comes in at €1200. Comparatively, the S-Works Power Cranks cost £995 and and the cranks themselves are amazingly stiff and are one of my favourite cranksets on the market.
Thank you for reading 10 articles this month* Join now for unlimited access
Enjoy your first month for just £1 / $1 / €1
*Read 5 free articles per month without a subscription
Join now for unlimited access
Try first month for just £1 / $1 / €1