July's best tech: Bike theft busting pinhead locks, Rotor's feather weight cassette and Pirelli's new tyres
Cycling Weekly's tech team run through their favourite cycling products from the month of July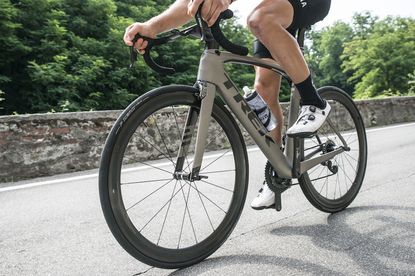 It's July, which means it's Tour de France time and CW HQ has gone into melt down.
In happier news, it also means tech of the month is back with some seriously tasty tech. This months we've got (more) bike locks, Rotor's featherweight cassette and Pirelli's new tyres.
Cycling locks from Pinhead
No, we're not referring to Tech Editor Symon Lewis, but rather Pinhead, a brand creating these little bike theft busting locks.
They're actually a really neat idea that should hopefully prevent opportunist thieves pinching precious parts such as saddles or wheels.
You can replace your wheel skewers with them, or your seat clamps and only you have the key to undo them. It's small, lightweight and should hopefully keep commuters bikes safe.
Rotor Uno cassette
This is the featherweight new cassette from component company Rotor, and when we say it's lightweight, we mean it – it weighs in at a skimpy 131g!
It's a two piece construction and comes with an anti-wear coating. We do wonder whether its lightweight nature compromise its durability, but we'll have to update you on it once equally featherweight Ollie has his hill climbing bike built up.
Pirelli Pzero Velo tyres
Yep, these are the Pirelli Pzero tyres, the tyres everyone has been talking about for the last couple months and we've got hold of them.
They're impressive bits of kit from the Italian tyre eggheads. The compound has all sorts of special goodness, including longitudinally aligned silicas and flash shaped tread.
We've ridden them, albeit briefly and were impressed – watch this space for a long term test.
Bike of the month: Bianchi Specialissima
This Bianchi Specialissima is an absolute stunner in that classic Celeste colour.
Oliver has been able to ride the bike and can attest to the countervail technology in the frame – it's just so comfortable!
Symon finds it incredibly agile when out riding, and says the comfort shouldn't be mistaken for over compliance – this is still a lightening fast bike.
Rupert, meanwhile, hasn't ridden the bike, he's too busy doing all the work...
Be sure to tune it next month for more top tech!
Thank you for reading 10 articles this month* Join now for unlimited access
Enjoy your first month for just £1 / $1 / €1
*Read 5 free articles per month without a subscription
Join now for unlimited access
Try first month for just £1 / $1 / €1