June's best tech: Wahoo Elemnt Bolt, Kalf clothing, massive bike locks and the Pinarello Dogma F10
Our favourite tech for June 2017, including cycling jerseys, cycling computers, massive bike locks and the stunning Pinarello Dogma F10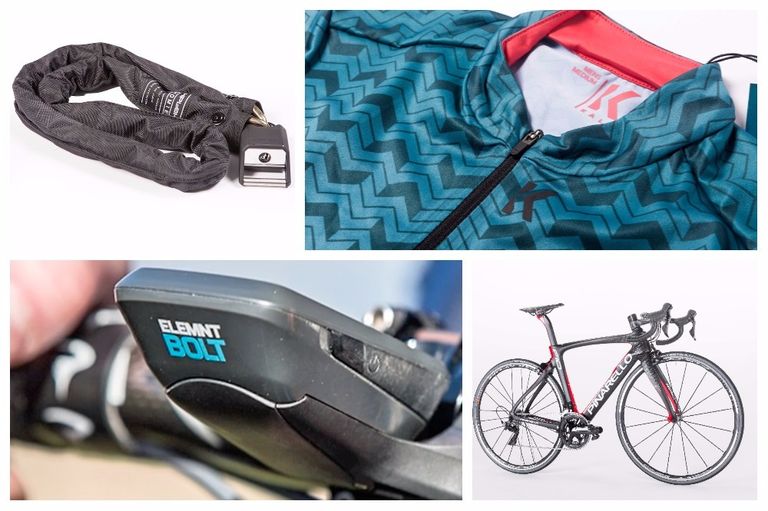 Each month we bring you some top tech - anything and everything - from the cycling world.
This month, we've got cycling computers, new cycling jerseys, bike locks and the Pinarello Dogma F10.
Wahoo Elemnt Bolt
This month we've got the Wahoo Elemnt Bolt, an aero cycling computer. Supposedly, the bolt is 1.5 watts faster than a Garmin 520, which is, admittedly, not that much but it could find a home in a TT race.
The bigger question is whether it's better than the Garmin Edge 520? Well, at £199, it's cheaper than the 520, which is already a big boon. Plus, its screen is easy to read, it can navigate and do turn-by-turn directions.
Kalf Flux Chevron men's jersey
A new clothing brand to us, Kalf are creating good performance kit that's stylish too. There's also the club range which is for those long days in the saddle where you put a premium on comfort.
>>> 12 best summer cycling jerseys for 2017
We're big fans of the stuff, it's a good fit and has neat features such as the blacked out reflective chevrons and big vented arm pits for those warmer days – we're saying performance fit at a low price.
Hiplok Homie bike lock
No, it's not a band name that your dad might think up, it's actually the ultimate in home bike protection. The HipLok Homie is a total beast, designed to be used in the home, garage, shed or wherever it is that you keep your bike when you're not riding it.
Frankly, it's an enormous, wall mountable, gold standard lock,which means insurance companies will have no bother insuring your pride and joy.
Bike of the month... Pinarello Dogma F10
This month we've got the Pinarello Dogma F10, the race bike of Team Sky racers, who are also a co-developers of the frame. It looks a lot like the F8, but that's because Team Sky riders liked it so much they asked for it to remain the same. The only changes, then, are small but they could be quite influential.
For example, it has an asymmetrical bottom bracket, which has been beefed up on the left hand side. The down tube has concave sections that make it more aerodynamic and the dropouts are now finned to minimise drag.