1989 Tour de France stage 18: Fignon's solo attack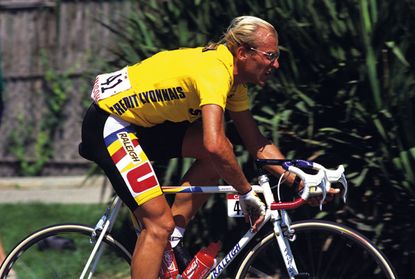 BOLD FIGNON
Thursday July 20, 1989

Bourg d'Oisans-Villard de Lans, 91.5km


He who dares wins. That motto was never more applicable than to race leader Laurent Fignon last Thursday. For on the hottest day of the Tour, he defied all the odds, risking everything, and attacked 23 kilometres from the finish for a great tactical victory which gave him what he desired most, another 24 seconds advantage on Greg LeMond.
Fignon had wanted at least 30 seconds advantage over superior time triallist LeMond for the final time trial into Paris. And he had only 26 after taking the overall lead on the L'Alpe dHuez stage the previous day.
He had increased it to 50 seconds with a move that, if it had failed, would have been labelled crazy, but instead was hailed as one of the greatest escapes by the yellow jersey in the Tour.
As the sun fried the rest of us at over 30 degrees centigrade, Fignon burned off his three nearest rivals, LeMond, Pedro Delgado and Gert-Jan Theunisse, in one of the most remarkable pursuit matches ever seen.
For the first time in this Tour, the battle for the yellow jersey went out front, overtaking early front-runners who had counted on the top men putting their differences on ice until the final showdown in Paris three days hence.
They were wrong, although the big climbs were behind them, the Alpine terrain still held adventure for any daring and ambitious man.
On the second of the day's three big climbs, the first-category Côte de St Nizier-du-Moucherotte, Fignon sprang from his gaolers.
He shot ahead three kilometres from the summit, riding straight past the only man still out front, Luis Herrera (Café de Colombia), survivor from a breakaway group begun earlier.
Fignon set about a seemingly impossible task and at the summit he was 15 seconds ahead of Theunisse, the previous day's winner. On Theunisse's wheel was Delgado and then LeMond, who had refused to lead. The rest of the group were left behind.
Along the valley floor with 20 kilometres to go, and LeMond reluctantly got down to it as well; in vain. If only Theunisse had worked with them they may have got Fignon back. But the big man sat on, and by Lans en Vercors, with 11 kilometres to go, Fignon was 35 seconds up, driving hard all the way. With four kilometres to go, Fignon was 50 seconds ahead.
Too late six men rejoined the three chasers to make it nine in pursuit. But PDM strongmen Rooks, Alcala and Kelly could not hope to retrieve all that Fignon had gained as they rose up the 2.5-kilometre climb to the finish.
Fignon lost 26 seconds on the climb before he was roared in to a classic victory and banked another 24 seconds on LeMond who could finish only sixth and was now 50 seconds behind overall. Rooks took the sprint for second place at 24 seconds, with Theunisse third and Kelly fifth all in the same time.
Fignon had brought his tally of Tour stage wins to eight but this one ranked as the most important.
Although Robert Millar (Z-Peugeot) retained his ninth place overall, he dropped from second to fourth in the mountains classification.
STAGE RESULT

1. Laurent Fignon (Fra) Super-U 2-31-28
2. Steven Rooks (Ned) PDM at 24secs
3. Gert-Jan Theunisse (Ned) PDM
4. Marino Lejaretta (Spa) Paternina
5. Sean Kelly (Ire) PDM all at st



OVERALL

1. Laurent Fignon (Fra) Super-U 80-26-39

2. Greg LeMond (USA) ADR at 50sec
3. Pedro Delgado (Spa) Reynolds at 2-28
4. Gert-Jan Theunisse (Ned) PDM at 5-36
5. Charly Mottet (Fra) RMO at 7-29



MOUNTAINS

1. Gert-Jan Theunisse (Ned) PDM 389 pts

2. Pedro Delgado (Spa) Reynolds 241 pts
3. Steven Rooks (Ned) PDM 239 pts


POINTS

1. Sean Kelly (Ire) PDM 236pts

2. Etienne De Wilde (Bel) Histor-Sigma 174pts
3. Steven Rooks (Ned) PDM 126pts



TEAM

1. PDM 241-36-38

2. Reynolds at 1-27
3. Z-Peugeot at 40-57



LEBLANC ON LEMOND: "EXTRAORDINARY!"

As we waited for the start of stage 18, Jean-Marie Leblanc, the new joint-director of the Tour, gave me his opinions on the state of play.
"LeMond and Fignon are equal in the mountains, but if nothing changes today or tomorrow, I think LeMond will beat Fignon in the time trial to win the Tour."
"Whatever happens, the return of LeMond is exceptional, the least expected. Extraordinary."
"For me and the Tour organisers, any one of the three, Fignon, LeMond or Delgado would be a worthy winner. Whatever happens it will be a big story."
For the first time in years, he would be leaving the stories to his colleagues. For Leblanc, formerly a professional with the great Jacques Anquetil, and then cycling reporter on L'Equipe, taking the job as Tour boss has taken him up another rung of the ladder. Was he enjoying his new role?
"Yes. There is enormous responsibility. But most of the work was before Luxembourg. Once things got going, the whole thing is put together stage by stage."
"the one thing that has changed for me is that no longer do I view the Tour from the position of the sports journalist."
"Now I am constantly worried about organisation, security, riders, spectators, to keep the race moving."


LAURENT FIGNON – AS CUTE AS THEY COME

Wandering through the Tour village before the start of stage 18 Laurent Fignon thought he heard the sound of arch-rival Greg LeMond's voice. Looking round, Fignon discovered the sound was coming from a tape being transcribed by American journalist Sam Abt of the International Herald Tribune.
To Abt's surprise, the most sought-after man on the Tour sat down next to him. "Who would pass up an opportunity like that?" Abt related to colleagues later. "So I asked him if he minded answering a few questions. He said, not at all."
"Fignon said a lot of complimentary things about LeMond making such a tremendous comeback after his shooting accident. He, too, has made a comeback. He knows how difficult it is," Abt said.


Other people began swarming around the yellow jersey, among them a woman photographer, who told Fignon, "Look cute, smile." Fignon turned to her and with no change in his doleful expression replied, "I'm just as cute when I don't smile."
"That just about sums him up, I guess," laughed Abt.
Later, when Fignon had put down the combined forces of LeMond and Delgado with his lone break, the press were, as ever, unable to penetrate this private individual. If they expected him to confess that his see-saw double act with LeMond had had him worried, they were disappointed.


Thank you for reading 20 articles this month* Join now for unlimited access
Enjoy your first month for just £1 / $1 / €1
*Read 5 free articles per month without a subscription
Join now for unlimited access
Try first month for just £1 / $1 / €1