Brexit and uncertain financial climate behind One Pro Cycling scrapping plans for women's team
Matt Prior said he spoke to 250 businesses in the hopes of finding backers for the new outfit, but had no luck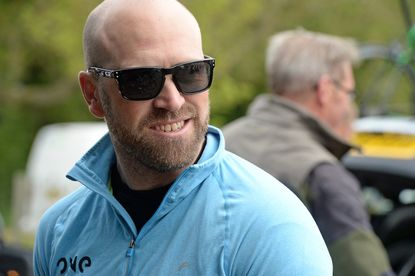 (Image credit: Andy Jones)
Matt Prior has said Brexit and uncertain financial times are behind the failed attempt to set up a One Pro Cycling women's team for 2019.
Former cricketer Prior, who founded the team in 2015, has revealed to Cycling Weekly that he spoke to 250 businesses, in what was ultimately an unsuccessful sponsorship search to create a One Pro Cycling Women's team for next year.
Last month, One Pro revealed they would be disbanding their men's continental team to focus efforts on setting up a women's squad.
But a month later, the team announced they had scrapped plans for the women's outfit due to a lack of sponsorship.
"We've spoken to 250 businesses over the last year, so there were a huge amount of conversations going on," Prior said.
"I think people assume 'what an idiot he's given himself three weeks to find funding for a women's team' and that wasn't the case.
"We had many conversations, but unfortunately over the last few weeks a number of people who showed a huge amount of interest previously have pulled out.
"Through no fault of our own, there are things going on in the world right now that are much bigger than cycling, Brexit being one of them."
>>> British racing scene branded 'worst it has ever been' as teams close
After four years competing on the men's domestic scene, Prior announced before the Tour of Britain that the men's team wouldn't continue into 2019 but efforts would be put towards setting up a women's team instead.
The troubles faced by One Pro hasn't been an isolated incident in what has arguably been the most worrying off-season for domestic teams, races and riders of recent times. Culminating in not just One Pro folding, but JLT-Condor also following suit.
"It's a huge frustration, because who actually supports the teams? Who in this sport actually gives any support to the teams? Ultimately you have to run your own show and get your own sponsorships, then you get charged to take part in races."
"So you are there as a team promoting the event, bringing value to that event and you have to pay for that pleasure. You go to the Tour Series and it gives you absolutely no value and we have to pay a big amount towards that and get absolutely nothing in return."
British Cycling is holding meetings with teams and race promoters this week to try a come up with a solution to the current system that Prior believes 'needs to change'.
"In county cricket, the ECB give each county £2.9 million a year [which equates to over £50 million across the 18 counties], because the governing body has a responsibility to give stability to that sport.
"Whether it's the UCI, British Cycling whoever, there needs to be more support and more help for teams who are ultimately trying to give riders the opportunity to go on to other levels. Right now there isn't that support out there and until there is, teams will come and go like we've seen."
>>> Teams not consulted about minimum wage and tier structure in professional women's cycling
Despite the disappointment of not having a men's or women's team next season, Prior is proud of what the team has achieved since its inception in 2015,
"We did set out with grand ambitions and it takes bravery to go out and say we want to do this and implement change in the sport for the best, and there are people will shoot you down and that's fine but we can be proud of what we've done"
Well aware that when a team does fold the chances of it returning are slim, Prior is still keeping hope alive that One Pro Cycling may return in some form in 2020 or beyond,
"A number of big brands and businesses are still looking at cycling but for now we have run out of time quite honestly, but lets keep those conversations alive and see what happens. I'm very realistic about it that but stranger things have happened."
Thank you for reading 20 articles this month* Join now for unlimited access
Enjoy your first month for just £1 / $1 / €1
*Read 5 free articles per month without a subscription
Join now for unlimited access
Try first month for just £1 / $1 / €1