Rémy Di Gregorio fails anti-doping test for EPO during Paris-Nice
Frenchman Rémy Di Gregorio returned adverse analytical finding for darbepoetin on the day of stage five of 2018 Paris-Nice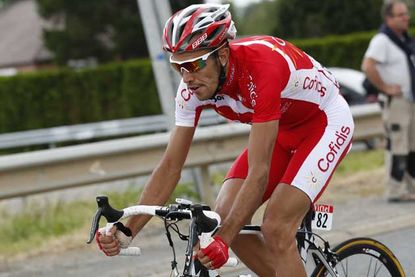 (Image credit: Yuzuru Sunada)
French rider Rémy Di Gregorio returned an adverse analytical finding for darbepoetin – a form of banned blood-booster EPO – during Paris-Nice in March and has been provisionally suspended from racing.
The Union Cycliste Internationale (UCI) confirmed the test result on Wednesday, April 11, in a brief statement.
According to the UCI, the 32-year-old of the Delko-Marseille Provence KTM team tested positive on March 8, the day of stage five from Salon-de-Provence to Sisteron.
The UCI statement read: "The Union Cycliste Internationale (UCI) announces that French rider Rémy Di Gregorio was notified of an Adverse Analytical Finding (AAF) of darbepoetin (dEPO) in a sample collected on 8 March 2018 during Paris-Nice.
"This intelligence-led doping control was planned and carried out by the Cycling Anti-Doping Foundation (CADF), the independent body mandated by the UCI, in charge of defining and implementing the anti-doping strategy in cycling, with the collaboration of the Agence Française de Lutte contre le Dopage (AFLD) and the Office central de lutte contre les atteintes à l'environnement et à la santé publique (OCLAESP).
>>> UK Anti-Doping computers hit by cyber attack
"The rider has the right to request and attend the analysis of the B sample.
"In accordance with UCI Anti-Doping Rules, the rider has been provisionally suspended until the adjudication of the affair.
"At this stage of the procedure, the UCI will not comment any further on this matter."
Di Gregorio previously rode for the FDJ, Astana and Cofidis teams. He won stage two of the 2018 Tour La Provence in February.
Thank you for reading 5 articles this month* Join now for unlimited access
Enjoy your first month for just £1 / $1 / €1
*Read 5 free articles per month without a subscription
Join now for unlimited access
Try first month for just £1 / $1 / €1