B'Twin Triban 540 review
The B'Twin Triban 540 is a bike on a budget without cutting corners, and a quality frame paired with a superb spec make this bike a blast to ride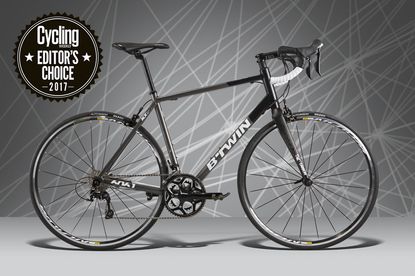 B'Twin has always offered exceptional value for money, but it takes more than that to feature in the Cycling Weekly Editor's Choice awards. For that top honour a bike needs versatility, great ride quality and a killer spec – these are all things the B'Twin Triban 540 has by the bucket load.
French brand B'twin has stormed into the UK market to almost universal applause. Brilliant aluminium and carbon frames decked out with excellent value for money parts have made it an almost household name, and recipients of many awards.
Small price, big peformance
But for us it's not the top end, budget busting bling machine that we're blown away by, it's the lower B'twin Triban 540. Its solid 6061 aluminium frame strikes the perfect balance between comfort and stiffness and is complimented beautifully with a carbon fork to help remove the road chatter.
This smooth ride paired with the bike's assured handling had us grinning ear to ear on test rides, and despite its relatively lowly price we couldn't wait to hop back on it again.
The Triban 540's killer spec makes it the perfect package, and the bike comes with Shimano's 105 11-speed groupset and a pair of bomb proof Mavic Askium wheels all for a wallet friendly £679!
The perfect introduction
There's no doubt in our minds that this is a perfect gateway bike for those stepping into the world of cycling. But its versatility is key, and it could just as easily be setup for those looking for a winter hack, as it'll accommodate 32c tyres and mudguards to boot.
Yes of course, it doesn't ooze bling like the £5000 plus counterparts but it looks well proportioned and rides well too. The 540 smoothes out the road better than most aluminium bikes at this price point and it feels racey and responsive, great for the city commute or racing your mates.
That carbon fork helps dampen road buzz and although this bike is supplied with 23c tyres an upgrade to 25c or wider will really boost comfort levels without taking away the characteristics of the bikes. Easily done with the money you've saved on the overall build.
Geometry wise the Triban 540 looks to be all things to all riders and isn't a low down aggressive back breaker like some of our racier options in Editor's Choice, though isn't as relaxed as some of the Endurance models either.
You really get great bang for your buck here with the B'Twin Triban 540 and it can progress with you as you develop in cycling. Not that you'll need to upgrade any time soon with such a fantastic spec for the price.
Aside from the lifetime warranty, quality frame and spec, you'll be able to forget the bike you're riding cost just £679. I for one found myself bombing along roads with a smile on my face.
Thank you for reading 10 articles this month* Join now for unlimited access
Enjoy your first month for just £1 / $1 / €1
*Read 5 free articles per month without a subscription
Join now for unlimited access
Try first month for just £1 / $1 / €1
Oliver Bridgewood - no, Doctor Oliver Bridgewood - is a PhD Chemist who discovered a love of cycling. He enjoys racing time trials, hill climbs, road races and criteriums. During his time at Cycling Weekly, he worked predominantly within the tech team, also utilising his science background to produce insightful fitness articles, before moving to an entirely video-focused role heading up the Cycling Weekly YouTube channel, where his feature-length documentary 'Project 49' was his crowning glory.