Canyon Aeroad CF SLX Disc 9.0 Ltd
The Canyon Aeroad CF SLX 9.0 Disc Ltd is a smashing bike, it really will have you smiling when riding, even out in the wet or down fast descents thanks to those disc brakes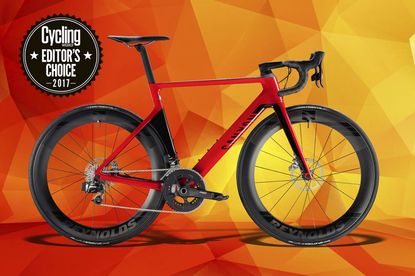 As the team bike of both Movistar and Katusha, the Canyon Aeroad was the chosen ride of Norwegian sprinter Alexander Kristoff for 2017. This broadened its already prestigious palmarès after it was crowned Cycling Weekly's 2016 Race Bike of the Year.
Now, the Canyon Aeroad CF SLX Disc 9.0 takes it one step further, landing itself a spot on the Cycling Weekly Editor's Choice list for 2017.
Impressively lightweight aero ride
The Canyon Aeroad CF SLX 9.0 Disc Ltd was first leaked online by Alexander Kristoff in April 2016 and it wasn't until later that year we got hold of the lower spec 8.0 version tested.
However, the Aeroad platform has been around since 2015 and remains an impressively light frame when compared to the Specialized Venge, Trek Madone or Cervelo S5, and like the rim brake version, the ride characteristics remain the same. Assured handling with decent stiffness which is ultimately comfortable all day long.
Compared to its rim brake siblings though, the Canyon Aeroad CF SLX 9.0 Disc Ltd does weigh around 600g more owing to the strengthening within key areas to handle those disc brakes.
Compared to rival aero racing machines, the Canyon Aeroad CF SLX 9.0 Disc Ltd does have a little less integration upfront. Happily, you do get the integrated bar and stem, which compliments this bike well.
The 9.0 Ltd is the highest-spec Aeroad Canyon offers and is personally our favourite version, great deep red colour with the popular SRAM Red HRD eTap groupset that only helps clean up the lines.
Canyon has even thought about slicing the air more efficiently by supplying a 23mm tyres at the front which are shod on a set of Reynolds Aero ART 65 carbon clincher wheels. Also included is its integrated bar and stem, which over time has improved massively in terms of stiffness.
Each component seems to work effortlessly with the others and Canyon has done well offering this great spec at a competitive price.
No compromises
When compared to its rim brake stable mate, this disc version does weigh half a kilo more, but as we said, this is mainly for strength in the fork and rear stays due to braking forces being so much higher.
The good news is that despite losing a watt over the rim version, the ride still remains the same, if not improved. Now, no matter the terrain, you get an advantage from braking later and harder on descents, at hardly any weight penalty and with great handling properties – you simply complete your ride faster!
Other than the competitive pricing, the great thing about the Aeroad disc is that despite being an aero machine, it remains an amazing handling road bike; seemingly giving you enough performance advantage aerodynamically without completely destroying the ride.
We'll start with the stiffness, because it's the first thing you feel when you ride and jumping on the Canyon Aeroad CF SLX 9.0 Disc Ltd you'll feel adequate amounts, although it isn't as stiff as the Venge Vias. However, unlike the Vias the ride isn't uncompromising – it's reasonably compliant and I would be happy riding this bike all day.
Once up to speed the aerodynamic profile takes over, and it constantly feels as if the Aeroad is ticking along a couple of miles per hour faster than a non-aero bike.
The low weight of the Aeroad compared to other aero bikes is its trump card. This is a bike that feels great on climbs, which is not often said for aero bikes, though when in the mountains a switch for shallower wheels might be a better idea.
To put it simply, the Canyon Aeroad CF SLX 9.0 Disc Ltd is a performance bike that you can live with. It is unfussy, works well in all areas without compromising its aerodynamics, weight or handling. It is easy to maintain too.
The Canyon Aeroad is an excellent bike and superb to ride. Canyon has nailed the spec, with an excellent attention to detail that includes sprint shifters and quality tyres. It might be a couple of watts slower than slightly more modern designs, but the Aeroad is lighter and offers unrivalled value. Most importantly, despite the fact it's an out-and-out racer, you'll still enjoy it for hours and hours.
The cost? £6,249. It's not cheap - but considering the spec and quality, it's very good value.
Thank you for reading 20 articles this month* Join now for unlimited access
Enjoy your first month for just £1 / $1 / €1
*Read 5 free articles per month without a subscription
Join now for unlimited access
Try first month for just £1 / $1 / €1