MAAP M-Flag Pro Light jersey review
Excellent technical properties and quality designs make the MAAP M-Flag Pro Light jersey a must have for hot weather conditions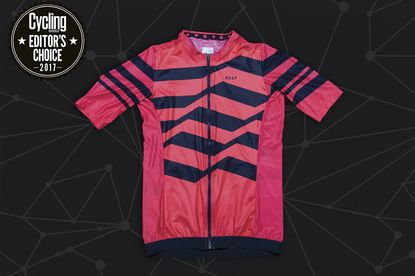 Aussie brand MAAP has been making leaps and bounds in the UK for a while now, taking the fight to the likes of Rapha with quality performance clothing.
Now, with a European warehouse opening we could see a whole lot more from the Melbourne brand, and if it it's anything as good as the MAAP M-Flag Pro Light jersey we'll be dancing. It's this technical quality and the cool designs that land the brand on Cycling Weekly's Editor's Choice 2017.
The MAAP M-Flag Pro Light jersey is the Aussie brand's lightest ever piece of kit, for use in the hottest conditions. Coming from Melbourne, we expect MAAP to know a thing or two about riding in the heat.
Just like the rest of MAAP's line, the MAAP M-Flag Pro Light jersey is a great-looking piece of kit. It has an original, good-looking design and a shallow collar – a personal favourite of ours on a summer jersey.
It does mean, however, that base layers from other companies might not fit so well under the jersey. However, MAAP's own seamless base layer fit like a glove, and was fantastic compliment to an already great piece of kit.
Despite its feather weight, MAAP manages to jam a ton of tech into its slim body. According to the Aussie brand, it has special Coldblack treatment that allows it to reflect heat when in direct sunlight, and despite its thin make-up it still blocks UV up to SPF 30.
I can't attest to its heat-reflecting properties, but the jersey is very cool. The gridlock design runs from armpit to waist down the sides, and up over the shoulders, giving a great amount of space for your body to breathe.
As you might expect, the MAAP M-Flag Pro Light jersey has a very tight fit, with an elastic waistband that allows it to hug your body. The arms should also sit tight, although we found they still pulled up our upper arms when crouched over the bars. Of course this might be because our arms are like breadsticks, but it'd still be nice to see a bit more compression applied to the cuffs to hold them in place.
Other than that the kit felt great on, and was unnoticeable when riding, with no chafing or riding up at all. However, despite its lightweight, MAAP hasn't skimped on the storage space and three pockets across the back still make it easy to carry your essentials on every ride.
It's good looking, it's an original design and it has great performance. The MAAP M-Flag Pro jersey is the perfect compliment to any summer rides or abroad trips you have planned.
Thank you for reading 10 articles this month* Join now for unlimited access
Enjoy your first month for just £1 / $1 / €1
*Read 5 free articles per month without a subscription
Join now for unlimited access
Try first month for just £1 / $1 / €1