Cycling during pregnancy: advice from Lizzie Deignan and Dame Sarah Storey
The former world champion, Dame Sarah Storey and a consultant obstetrician provide their advice for expectant mothers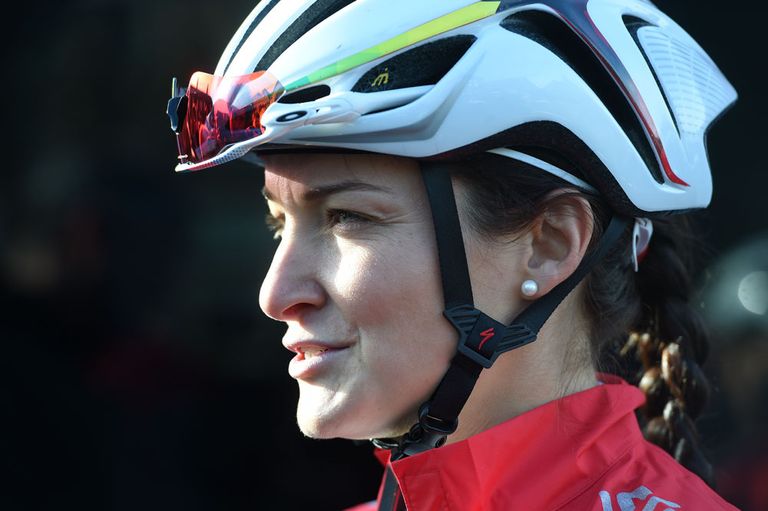 (Image credit: Andy Jones)
"The first 12 weeks was definitely a shock to the system. I was really fit when I got pregnant. Within weeks, I felt awful. I didn't have energy, I was very sick. I just thought 'oh, goodness, what have I let myself into?'"explains Lizzie Deignan, the former world and national champion who has wholeheartedly stated her intentions to return to racing following the birth of her first child.
"But gradually you do come through it, and I'd say the last 10 weeks now, I've felt really good. Nowhere near as fit as I was, but I feel healthy on the bike."
Deignan is amongst good company – Dame Sarah Storey gave birth to her second child in October and Laura Kenny her first in August.
Though there's a growing number of female riders who have managed to combine motherhood with professional sport, there's still plenty of concern, confusion and misinformation around what it is and isn't safe for a mother-to-be to do during pregnancy - whatever her level of fitness.
Is it safe to cycle during pregnancy?
The good news is, activity is definitely advised.
"Generally speaking there is good evidence to suggest that regular exercise in pregnancy – more than 30 minutes most days - reduces the risk of Gestational Diabetes and excessive weight gain, both of which are associated with large for-gestational-age infants, birth trauma, neonatal hypoglycaemia and other perinatal complications," explains Paul Holmes, a consultant obstetrician and cyclist.
Holmes' partner, a midwife herself, cycled until 38 weeks pulling a child trailer and he says: "Exercise in pregnancy is generally associated with improved longer term health for both mother and baby."
He adds: "Cycling is a good choice as it avoids the impact to the pelvis and ligaments associated with other sports such as running."
The NHS offers similar advice: "The more active and fit you are during pregnancy, the easier it will be for you to adapt to your changing shape and weight gain. It will also help you to cope with labour and get back into shape after the birth. Keep up your normal daily physical activity or exercise (sport, running, yoga, dancing, or even walking to the shops and back) for as long as you feel comfortable.
"Exercise is not dangerous for your baby – there is some evidence that active women are less likely to experience problems in later pregnancy and labour."
Whilst cycling is wholeheartedly advised, expectant mothers may find symptoms of pregnancy can make cycling difficult at times – but not impossible.
Key changes that take place during pregnancy
First trimester
The first 12 weeks of pregnancy is the period during which women often report the most fatigue, and morning sickness can play havoc. It's also the time when the chance of miscarriage is at its highest.
There's lot going on at this time, and Deignan certainly suffered the effects: "Particularly in the first 12 weeks, it wasn't possible for me to stick to vegetables and a healthy diet - I just needed fat and salt and it's inevitable that as a professional athlete, I did kind of beat myself up a bit. But that does pass - so don't be too stressed about that in the beginning."
"It's not the easiest thing to do, but [you have to] accept that your body will change," she adds.
"My main advice is to not read the averages and the expectations and imagery that you see around. I've had a lot of feedback from friends saying 'Lizzie you haven't even put any weight on' – but actually I've already put over six kilos on, and that's more than the recommended amount.
"Everybody's pregnancy is different, and rather than judge yourself on how you're doing to the averages, just accept that you might grow a bit more than you're meant to one month, and a bit less another month."
Dame Sarah Storey has two children, Louisa and Charlie, and says: "I was able to maintain more intensity in my second pregnancy but I don't know why. I was fortunate to be very well throughout both pregnancies but sickness can affect some women and so this will affect training.
"Women can panic about weight gain, especially athletes but it's to be expected an athlete might gain more because they'll weigh less to start with."
The body is under a lot of stress, so it's completely normal to feel far from your best: "Mothers' circulation alters during pregnancy to adequately provide nutrients and oxygen to the mother and baby. Blood volume increases by 40 per cent by the end of the first trimester," says Holmes.
For women suffering from sickness, he recommends "eating smaller meals, regularly, ginger tea and biscuits may help, as can sea sickness bands."
Second trimester
During the second trimester – weeks 13 to 27 – women often report a drop in fatigue, and the chance of miscarriage falls significantly.
Changes continue, of course: "Heart rate and cardiac output - the amount of blood pumped by the heart per minute - both increase from the second trimester," according to Holmes.
The increase in blood volume and cardiac output is the reason behind assertions that some women actually come back stronger after pregnancy, though it's not something Deignan is expecting.
"I think it would reflect in a performance gain from somebody who wasn't fit before... Because I'm used to doing 20 to 25 hour weeks, and now I'm doing 10 to 12 hour weeks, I think my performance will be far behind what it was... I'm not expecting PBs in the first few months anyway," she says.
She has, however, found herself with more energy compared to the first trimester, though this varies day by day: "There are days where I can go out, and do three hours not pushing it - and I'll feel fine. The sensations are good, I feel healthy, I don't feel shattered when I get in. Then there are other days when I'll do 10 minutes, and that'll be it."
Here, she advises flexibility: "I've always coached myself, and I've always been very good at listening to my body - and I think that's a real advantage now, because you really have to be really receptive to how you're feeling. I've always been flexible - I have a vague plan of what I would like to do in the week, and volume, and intervals - but if I feel bad one day, I change it around.
"I've never got too bogged down by trying to write the programme or stick with a routine. [During pregnancy] on those days where you feel like a factory, you just have to accept it, and think the next day will be better, and it generally always is."
Third trimester
During the final three months, the growing bump could be the biggest deterrent. At this point raising your handlebars will likely be a good idea – and remember that this will alter the way you sit on a bike, and therefore could require a change in saddle too.
Balance and stability can be affected: "The increasing size of the bump may shift the centre of gravity leading to increased curvature of the lower back and pain in about half of pregnant women, balance problems may result from these changes, predisposing a woman to injury or even falls" Holmes explains.
Deignan is remaining mindful of this, still riding outside – but avoiding risk.
"I thought I'd be off the road by now, I thought my balance would be affected too much, or I wouldn't feel safe - but I find just for my well being that it's so important that I get out on my bike and ride outside," she says.
"I don't ride at all when it's rained or if the roads are slippery - if it looks like it might rain I stay inside. I suppose I just minimise the risk of crashing."
Dame Sarah Storey adds: "In terms of training in pregnancy it's very individual and should focus on comfort. Raise your handlebars with an erg stem and ride on feel. Take it steady, the focus should be on health and feeling well and in the final few weeks not getting overtired ahead of labour starting."
Mothers who don't feel comfortable cycling outside might want to try indoor cycling, and with so many indoor apps available now, it doesn't need to be boring.
From the second half of the pregnancy, women might start to feel short of breath: "Respiratory rate and depth of breathing also are increased from early pregnancy to deal with the increased oxygen demand of the baby. There is however a mechanical splinting of the diaphragm in the second half of pregnancy which may limit oxygen intake and so maximum exercise performance," Holmes explains.
Considerations for exercise
Whilst exercise, cycling included, is encouraged, there are some guidelines.
Holmes provides a few tips for expectant mothers:
Stay hydrated. The average increase in body water in pregnancy is around 8.5 litres, it is therefore very important to be well hydrated before & during exercise.
Don't overheat. A potential risk of exercise in pregnancy is exercise-generated heat stress. A review of studies found maternal hyperthermia in the first trimester increased overall risk of neural tube defects (such as Spina Bifida). It is essential to avoid getting overheated during exercise.
Lower intensity. Exercise should always be below the aerobic threshold during pregnancy - one study looking at baby's heart rate during exercise bouts up to 70 per cent of maximal aerobic power, showed no adverse effects, but in much more intense sessions, when women exercised to more than 90 per cent of maximal heart rate, there were concerning changes in the baby's heart rate. A reasonable rule of thumb would be to keep maternal heart rate below ~148 beats per minute.
Be aware of stiffness and stability. Pelvic joints can become less stiff or stable during pregnancy. Increased oestrogen and relaxin levels cause ligaments to become loose [ligamentous laxity], and the pubic symphysis widens - some women will experience symptoms such as pain in the lower back and groin as a result of this.
Avoid risk of crashing. As explained above, the 'bump' can affect balance – so it's smart to take care and avoid situations where the chance of crashing is increased.
Be careful with core exercises – avoid sit ups after the "bump" has begun to show.
Returning to cycling
Getting back to cycling after pregnancy is something that needs to be approached differently for each individual.
"My advice would be to just to 'keep it comfortable' after vaginal birth. There's no concerns after about a month following caesarean section," says Holmes.
Phil Burt, former physio at British Cycling who now manages Phil Burt Innovation (opens in new tab), told us "giving birth is a pretty traumatic thing for the female body, it changes you, in a really important place when you cycle. What worked in the past might not work for you any more.
"Initially after giving birth you often need to relax the position right off – make sure that they're sitting in a place that's comfortable, its not performance orientated, just about getting pedalling. Then we can gradually rotate forwards. The first thing is to get good trunk stability back."
Deignan says her return won't begin in earnest until the new year: "It's important for us to be flexible and very open minded about how much training I'll be able to do until at least Christmas time. So the first three months I think will be very much focused on post-partum and how I'm feeling. January onwards is when I will return to being what I would describe as a professional cyclist again."
Breastfeeding for athlete mums
Deciding if you want to breastfeed is a personal choice - but if you do, remember that breastfeeding mums expend more energy - and are advised to eat an average of 500 extra calories a day, though this will vary literally depending upon how hungry your baby is. It is important to stay hydrated, too.
Dame Storey has two children, and breastfed both Louisa and Charlie; "there's obviously all the health benefits for mums but also breastfed babies are reported to have lower instances of illness such as tummy upsets and ear infections," she explains.
If you do choose to breastfeed, she advises "be as educated as you can, whether that's through antenatal classes, having a Doula or just your own reading."
"Breastfeeding is very convenient for everyone and especially at night as a breastfeeding mum can co-sleep safely and not have to get out of bed for night feeds. I've not yet been up in the night with Charlie as I feed him lying on my side. Sleep for a training athlete is so key to coming back so this is really helpful."
It's not always easy initially, she advises: "If you struggle with breastfeeding always ask for help sooner rather than later and be patient with yourself and your baby. In the early months feeding can take hours - literally - especially around 5-11pm at night so don't be worried you have no milk, this is called cluster feeding and is completely normal. Ask everyone to support you in this time and rest yourself while you sit and feed.
"Babies also like to feed to sleep and be cuddled while they snooze so I use this as an excuse to sit and recover from training," she adds.
Balancing career and parenthood
The Deignans are planning "50/50 parenting" once their little one is born, and Lizzie explained her attitude to motherhood has shifted in recent years.
"Before I'd got married and felt happy and secure enough to start a family - my own feeling was that when you get pregnant that should be your sole focus and priority. But having got to that stage in my life, I realise that it's totally the wrong attitude to have.
"I think the mother's well-being and independence and own focus is really important. I [previously] thought you could either do one or the other - but I'm capable of loving my child unconditionally and being a professional woman as well."
What you decide to do is a personal decision. Cycling Weekly's tech writer Hannah Bussey has worked part-time since the birth of her daughter, and says: "I try to balance work and being a mother, as all parents do. For me, once my daughter came along, I realised that a career as a stay at home parent, albeit part-time, was just a valuable and rewarding as going out to work. You just, sadly, don't get paid for doing it.
"You have to do what feels right for you and your family. The key to getting out on the bike and returning to fitness is having an incredibly supportive network of family and friends who your baby is already familiar with. If they can care for the baby in short bursts it will allow you to gradually get back".
Keeping a prominent position in cycling during her pregnancy is important to Deignan, who has accepted a role as an ambassador for the Yorkshire Cycle Expo (opens in new tab), something that fits with her motivations to return to pro cycling in time for the World Championships in Yorkshire in 2019.
"The Yorkshire cycle expo is an extension of the cycling calendar in Yorkshire, and it's a family event and I'm hoping to be there with my new born baby in October," she says.
Thank you for reading 5 articles this month* Join now for unlimited access
Enjoy your first month for just £1 / $1 / €1
*Read 5 free articles per month without a subscription
Join now for unlimited access
Try first month for just £1 / $1 / €1
Cycling Weekly's Digital Editor Michelle Arthurs-Brennan is a traditional journalist by trade, having begun her career working for a local newspaper before spending a few years at Evans Cycles, then combining the two with a career in cycling journalism.
When not typing or testing, Michelle is a road racer who also enjoys track riding and the occasional time trial, though dabbles in off-road riding too (either on a mountain bike, or a 'gravel bike'). She is passionate about supporting grassroots women's racing and founded the women's road race team 1904rt.
Favourite bikes include a custom carbon Werking road bike as well as the Specialized Tarmac SL6.