250 Toddlers Compete for Balance-Bike Gold at 2023 Strider Cup
Bike-loving kiddos gathered in Arkansas to show off their balance bike skills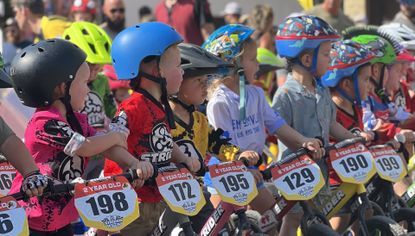 (Image credit: Strider Bikes)
Although it's likely been some time since most of us sat atop a strider bike, for 250 bike-loving toddlers, Strider bikes were serious business this past weekend as they competed at the 2023 Strider Cup in Bentonville, Arkansas.
A "Strider bike" or "balance bike" is a children's bike that has no top tube or pedals and encourages kids to step through (over the down tube) and move the bike forward by pushing off the ground with their feet.
Balance bikes are said to help kids learn skills such as balance, proprioception, and general anatomical mechanics of being "on" a bike before advancing to a traditional bike with or without training wheels.
The company Strider Bikes not only makes two-wheeled speed machines for tots, it also hosts a variety of Strider Bike competitions globally, including last weekend's Strider Cup and the Strider Cup World Championships, which were held earlier this year in Japan.
The Arkansas (US) race had more than 250 children roll up to compete in the two-year-old, three-year-old, and four-year-old competitions, held on tracks complete with turns, cones and other age-appropriate obstacles.
The two-year-olds raced on 12-inch bikes, while the three- and four-year-olds had the option race on either a 12-inch balance bike or 14-inch bike sans pedals. Both girls and boys race together, with no gendered races.
Bentonville locals Cal Garcia and Jax Linden took home wins in the two- and three-year-old classes, respectively, while Ivan Bogdanov from Houston, Texas, claimed gold in the four-year-old class.
While the overall winners received a trophy, all kiddos got a medal and the opportunity to check out goodies from event partners such as Jolly Rancher, Twizzlers, Kodiak Cakes and more.
"Strider Cup is an opportunity for kids to meet other riders that share the same passion for two wheels and foster good sportsmanship," said a representative of Strider. "At Strider Cup 2023, all our riders brought in outstanding energy and a cooperative spirit, and took a medal home to showcase their adventure."
Thank you for reading 20 articles this month* Join now for unlimited access
Enjoy your first month for just £1 / $1 / €1
*Read 5 free articles per month without a subscription
Join now for unlimited access
Try first month for just £1 / $1 / €1