25-year-old pro quits over low pay: 'I still live with my parents'
Typhaine Laurance says she can't make a living from cycling, and is going to seek a new career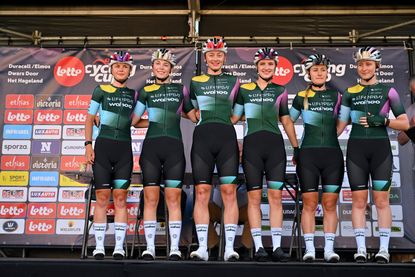 (Image credit: Getty Images)
French cyclist Typhaine Laurance has decided to end her career just six weeks after her 25th birthday, explaining she is no longer prepared to sacrifice her life "to earn so little".
A former junior national champion, Laurance rode this season for British Continental team Lifeplus Wahoo, where she says she earned around €1,000 a month.
She will now retire at the end of the year, despite having a contract offer for 2024.
In a candid interview with Le Parisien, the Frenchwoman said: "I asked myself a lot of questions throughout the year and I realised the obvious: I can't make a decent living from my sport, even if it's my passion.
"With my English team Lifeplus Wahoo, I received around €1,000 a month. In the years before, with Arkéa, it was between €400 and €700. I still live with my parents and it's impossible for me to get my own apartment. At 25 years old, you've got to start asking yourself questions, right?"
Currently, there is no minimum wage requirement for women's UCI Continental teams. A recent survey conducted by rider union The Cyclists' Alliance revealed that, outside of WorldTour level, more than 70% of riders earn less than €10,000 a year.
One in four female cyclists earn no income at all.
"In Continental teams, nothing is very structured," Laurance said. "Since 2020, WorldTour teams have had to pay at least a minimum wage to riders [now €32,100]. For the rest of women's cycling, it's a matter of trying to cope with your head underwater."
This July, Laurance rode the Tour de France Femmes avec Zwift for the first time in her career, finishing 120th overall. The disparity in income, she explained, has widened the gulf in ability between riders.
"The idea of starting a race just to get through it had become unbearable," she said. "I was no longer ready to sacrifice my life to earn so little. Now, I'm going to look for a new job."
The Frenchwoman has a degree in communications, and hopes to continue working in the cycling industry, "in a comms role for a team or a sponsor".
She announced her retirement in a video shared on Instagram on Tuesday. Addressing her family directly, the 25-year-old said: "I hope I made you proud."
Laurance has a younger brother, Axel, who is the under-23 road world champion and will step up to Alpecin-Deceuninck's WorldTour squad next season.
Thank you for reading 20 articles this month* Join now for unlimited access
Enjoy your first month for just £1 / $1 / €1
*Read 5 free articles per month without a subscription
Join now for unlimited access
Try first month for just £1 / $1 / €1