Alessandro Ballan sacked by BMC after doping ban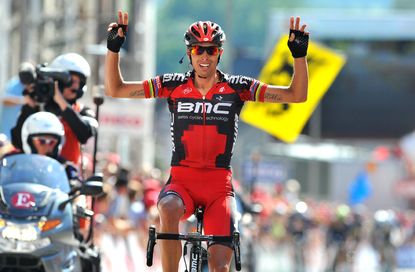 Italian professional and 2008 road race world champion Alessandro Ballan has been sacked by the BMC Racing Team after being served a two-year ban from competition on doping charges.
The Italian Olympic Committee (CONI) heard the evidence against Ballan this week and handed him a two-year suspension on Friday for violating the World Anti-Doping Agency (WADA) code for the use or attempted use of banned substances. BMC reacted by terminating his contract.
"In accordance with the BMC Racing Team's strict anti-doping policy, Ballan is no longer a member of the BMC Racing Team, said president/general manager Jim Ochowicz," read a brief statement issued by BMC on Friday.
Ballan had been investigated as part of the Mantova operation centred on the activities of his former Lampre team. He had been accused of taking a blood transfusion at the Montichiari clinic of physician Fiorenzo Egeo Bonazzi in 2009. Bonazzi was handed a four-year ban by CONI - less than the expected seven-year suspension - whilst pharmacist Guido Nigrelli was banned from being involved in cycling for life.
Ballan had previously been suspended by BMC whilst he was being investigated on two occasions, missing Paris-Roubaix in 2010 and the Giro d'Italia in 2011. In addition to the 2008 world title, he took several high-profile victories including the Tour of Flanders in 2007 and a stage of the Vuelta a Espana in 2008.
Now the 34-year-old faces the end of his career with no team and a tarnished reputation.
Thank you for reading 20 articles this month* Join now for unlimited access
Enjoy your first month for just £1 / $1 / €1
*Read 5 free articles per month without a subscription
Join now for unlimited access
Try first month for just £1 / $1 / €1