Bobridge and co. ready for team pursuit showdown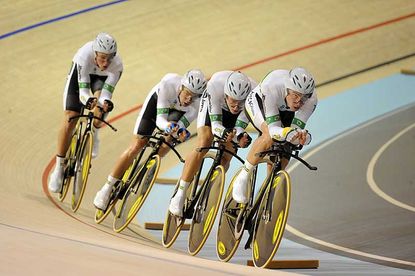 The rivalry between the Australian and British team pursuit squads has been a highlight of international track racing since the Athens Olympics in 2004, and is set to continue in Melbourne next week.
Australia have got the better of Great Britain four times out of the last five in international competition. The only time GB came out on top was against a young, inexperienced Australian team at the Manchester world cup in 2011 (see table below). Australia are the reigning world champions, but Great Britain are reigning Olympic champions and world record holders.
The two nations will go in to this year's world championships in the Hisense Arena in Melbourne with what should be their Olympic line-ups looking to score one last psychological blow before the Games.
"The British aren't our only competition at the moment, you've got Russia, you've got New Zealand, and we get excited every time we win." Said Jack Bobridge, Australia's key rider and individual pursuit world record holder. "It's not just about beating the British, it's about beating everyone."
In February, Bobridge was one of the four riders who won world cup gold in the London test event, beating the British on their own track, in front of a home crowd. "We accomplished what we wanted, to go over there and win. It wasn't just winning it we wanted to take what we could out of the track and experience it," he said. "Winning was a bonus, getting them on their brand new track was even better."
Much has been made of Great Britain's practice session last week where they rode at world record pace over a 2,750m test run at the Darebin track in north east Melbourne.
The footage was uploaded on to Youtube by Victoria Cycling but Bobridge was keen to play down the significance of the GB training session, and did not want to make too many comparisons. "We don't know the extent of the conditions, or how fresh they were, but they're definitely travelling well."
"They train different to us leading in to competition, they've also travelled and we haven't had to. We've trained right through so at this point in time you can't really compare the efforts or times."
"We train quite similarly, but we don't know exactly what they're doing. We've [only] seen one effort so we can't really compare until after qualifying, that's when we know where each other are."
Bobridge refused to be drawn on the times that the Australian quartet were doing in training, saying; "We don't like to share times. We're riding well together, we're all fit and healthy."
He did admit that they would have to go faster than the 3:54.615 minute ride they did in London (their fastest ever time) to ensure the win in Melbourne and perhaps faster still in London.
Qualifying for the men's team pursuit is on Wednesday afternoon, with the finals in the evening.


Recent Australian and British performances in international competition
London world cup, Feb 2012
Australia (gold) 3:54.615
Great Britain (silver) 3:56.330
Track world championships, March 2011
Australia (gold) 3:57.832
Great Britain (bronze) 4:02.229
Manchester world cup, Feb 2011
Great Britain (gold) 3:55.438
Australia (sixth) 4:06.459


Melbourne world cup, Dec 2010
Australia (gold) 3:56.913
Great Britain (bronze) 4:01.456
Track world championships, 2010
Australia (gold) 3:55.654
Great Britain (silver) 3:55.806
Related links
2012 world track championships coverage index
Thank you for reading 5 articles this month* Join now for unlimited access
Enjoy your first month for just £1 / $1 / €1
*Read 5 free articles per month without a subscription
Join now for unlimited access
Try first month for just £1 / $1 / €1