Cycling keeps your immune system strong and body fat levels low into old age, study finds
Study - featured on the BBC News at 10 - highlights the physical and mental health benefits of cycling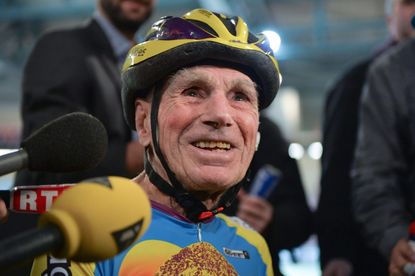 Cycling into old age can prevent decline of the immune system and keep an 80-year-old's body fat as low as that of a teenager, a study has found.
The study, which was featured on the BBC Ten O'Clock News on Wednesday March 8, followed 125 long-distance cyclists. The riders are now all in their 80s but their immune system function is similar to that of 20-year-olds.
The research, published in the Aging Cell journal (opens in new tab), showed that the ageing cyclists produced the same number of T-cells - which help the immune system respond to new infections - as adults still in their 20s, and a separate study revealed that cyclists didn't lose muscle mass, strength, or gain body fat in the same way as non-cyclists.
Co-author of the report, Prof Norman Lazarus of King's College London is 82 himself; he told the BBC: "If exercise was a pill, everyone would be taking it. It has wide-ranging benefits for the body, the mind, for our muscles and our immune system."
>>> How to go faster as you get older
Prof Janet Lord, director of the Institute of Inflammation and Ageing, at the University of Birmingham and also a co-author, added: "The immune system declines by about 2-3 per cent a year from our 20s, which is why older people are more susceptible to infections, conditions like rheumatoid arthritis and, potentially, cancer.
"Because the cyclists have the immune system of a 20-year-old rather than a 70- or 80-year-old, it means they have added protection against all these issues."
T-cells are produced in the thymus, a gland in the chest, and it normally shrinks in size in adulthood - but the endurance cyclists didn't appear to suffer the results.
"Being sedentary goes against evolution because humans are designed to be physically active," said Steve Harridge, co-author and professor of physiology at King's College London.
"You don't need to be a competitive athlete to reap the benefits - or be an endurance cyclist - anything which gets you moving and a little bit out of puff will help."
The BBC News feature followed reporter Fergus Walsh as he met a group of Surrey-based Audax members, out for a 100km ride in the chill of early spring.
He met Brian Matkins, an 82-year-old who said: "One of the first results I got from the medical study was I was told my body fat was comparable to that of a 19-year-old."
There are plenty of examples of cyclists who have continued riding themselves into great health in their later years. It was only at the age of 106 that multiple Hour Record holder Robert Marchand announced his retirement from competitive cycling, having covered 22.547km to set a new Hour Record in the 105+ age category.
Of course, it's not all about physical health - Prof Lazarus added: "Exercise affects your mind, it affects your immune system, it affects our heart, it affects your muscles, it affects your well-being."
Pam Jones, 79, explained her motivations, saying: "I do it for my health, because it's sociable, and because I enjoy the freedom it gives you."
Thank you for reading 5 articles this month* Join now for unlimited access
Enjoy your first month for just £1 / $1 / €1
*Read 5 free articles per month without a subscription
Join now for unlimited access
Try first month for just £1 / $1 / €1