Dan Hunt: The Big Interview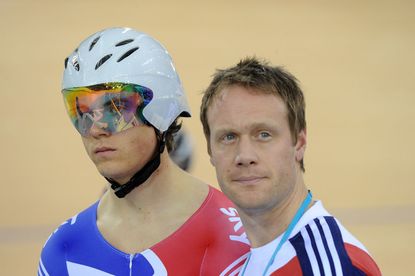 Get The Leadout Newsletter
The latest race content, interviews, features, reviews and expert buying guides, direct to your inbox!
Thank you for signing up to The Pick. You will receive a verification email shortly.
There was a problem. Please refresh the page and try again.
Dan Hunt, who recently left his role as a Team Sky directeur sportif to work for the Premier League's Elite Player Performance Plan, was one of the masterminds behind Great Britain's success at the Beijing and London Olympics
An expert in Exercise Science and Physiology, Hunt joined British Cycling in 2005 to transform the failing women's endurance squad. This led to Rebecca and Wendy Houvenaghel taking a one-two in the individual pursuit at the 2008 Games. He switched the men's squad in 2009, and helped them win the world and Olympic titles last year. Hunt then became a full-time DS at Sky for 2013, and managed the team at the race including the Giro d'Italia.
He recently spoke to Cycling Weekly about his time in cycling, and why he decided to switch to football.
CW: Can you tell us how the move to the Premier League came about?
DH: It all happened very quickly. I was approached on a Tuesday, had a meeting with them on the Friday, and then on the following Tuesday I met Dave in Manchester and told him the news. His reaction was great, as you would expect. I think he was quietly quite proud, after all he was the person who took the punt on me in 2005. I've grown under him, and it's quite incredible to think that someone who started off with the women's team and worked their way through the BC and Sky ranks is off to work in football.
CW: Do you see there being many transferable skills between the jobs and sports?
DH: That's the big question. I wasn't an expert in cycling when I started, but I learnt about it. I immersed my self in it. To me, the ability of create and sustain performances is transferrable across sports. I think that successful teams and athletes all follow that same process and have similar characteristics.
I'm sure that, in terms of what I'll be working with initially, there will be some parts that are world leading, but others that maybe aren't so good. That's where I hope I'll be able to impart some wisdom. Yes, there's an element of risk involved, but there was when Dave took me on in 2005. I was this idiot who didn't know anything about cycling, didn't have a cycling background, but within two-and-a-half years, we were winning medals at Beijing.
CW: Looking back to your time at BC and Sky, what were your highlights?
DH: I'm fortunate that there has been so many. [The] Beijing [Olympics] was the first time that the whole team had experienced such collective success. That was the start of everything really. The achievements were collective; you know when you're in a really driven, motivated team, and that's what we had. The Rebecca Romero [pctured left with Hunt] project in particular was extremely exciting, transforming someone from another sport into a top-level rider. London [2012] was a once in a lifetime experience, you will only ever have one home Games during your career, and coming away with the Olympic gold and the world record that will forever stand out. In a way though, I think the worlds in Melbourne last year was more special. Four weeks earlier, the Aussies beat us in the team pursuit in the World Cup in London, and they went in as the favourites to win on home soil that day. We hadn't had the best of cycles until then, so to win by a tenth was incredible. It was one of those "balls on the line" type days. I think that was the day that we won the Olympic gold, actually.
CW: On the other side, what were the hardest moments for you?
DH: Definitely telling Andy Tennant that he wasn't going to ride in the Olympic final in London. I told him 20 minutes beforehand. It wasn't that he had trained any less hard than the rest, and he was a part of the team for the cycle, so it was a really difficult decision. Telling him that, but also remembering there was an Olympic final coming up soon after, was hard.
CW: How much of a challenge was it to get the women's and men's endurance squads to the levels they were in Beijing and London respectively?
DH: A massive change of culture was needed in the women's team when I took over. There was an attitude and a belief that turning up to events and being average and underperforming was OK. We had to change that so people knew that winning was expected of them. It took a long time, even though there were really nine people on that side of the team. I'd love to say I had a concrete plan of how I was going to do it - I walked into Manchester not knowing how long the track even was! - but as long as I was on page two as they were reading page one of the coaching manual, I was confident it would work. Luckily we had the likes of Rebecca and Wendy [Houvenaghel] , who were brilliant and wanted to learn.
Switching to the men's team was a challenge. Whereas the women's endurance squad probably couldn't have got any worse when I started with them, it seemed like the men's team couldn't have got any better. It was a difficult process to find replacements for Brad [Wiggins] and Paul [Manning] from the Beijing team, and Geraint [Thomas] focused on the road for a couple of years, too. We tried Jason Queally, Luke Rowe dipped his toe into it and I remember everyone to a man saying we wouldn't get anywhere with Pete Kennaugh in the team. They all said he was too small, and riders said they didn't like sitting in his wheel because they weren't getting the protection. We looked at that for hours and hours, and it turned out the difference was really small. He'd offer you lap-and-a-half turns, too, so people were actually getting a good ride behind him! He was also our most consistent rider over the 2011/2012 winter.
CW: What will you miss the most about working in cycling?
DH: Two events stand out: the team pursuit final and Roubaix. I love the concept of the team pursuit: two countries saying 'we'll line up our four fastest riders against your fastest, and it's a straight fight to see who crosses the line first. It's so multi-faceted, and it's the essence of sport.
I was DS'ing at Pays Basque this year, and I drove through the night to get to Compiegne [the start town of Roubaix]. I got in a 1am, and the next day I was zone-hopping [travelling from place to place en route while carrying replacement wheels etc] for Sky in the race. I love that it defies the norm of road racing; breaks don't last long, teams can't commit all their riders to closing the gaps down, and it's spectacular. The only thing missing this year was the rain!
CW: How much of a challenge will the new job be?
DH: I'm trying to impact on 20 Premier League clubs. It's going to be a long journey, but I'm one of those people who likes challenges. I don't want a job just to be a job. I don't like to standstill, I always want to prove myself. I've not left Sky because I was unhappy. I was looking forward to next season. I feel like I had gone from being an incompetent DS to being someone who could get the job done! I was hoping to become proficient in 2014 and keep progressing from there! I won't miss the four-and-a-half weeks on the road for a Grand Tour, mind you. I also worked out that I've spent over a year of my life in Majorca, too! But it's an amazing team, and I love what Dave, Rod [Ellingworth] and Tim [Kerrison] are doing. I think it's fantastic. They've helped throw the sport into the spotlight in the UK.
Thank you for reading 20 articles this month* Join now for unlimited access
Enjoy your first month for just £1 / $1 / €1
*Read 5 free articles per month without a subscription
Join now for unlimited access
Try first month for just £1 / $1 / €1
Get The Leadout Newsletter
The latest race content, interviews, features, reviews and expert buying guides, direct to your inbox!
Nick Bull is an NCTJ qualified journalist who has written for a range of titles, as well as being a freelance writer at Beat Media Group, which provides reports for the PA Media wire which is circulated to the likes of the BBC and Eurosport. His work at Cycling Weekly predominantly dealt with professional cycling, and he now holds a role as PR & Digital Manager at SweetSpot Group, which organises the Tour of Britain.