David Brailsford on Geert Leinders, and why telling the truth is only part of the process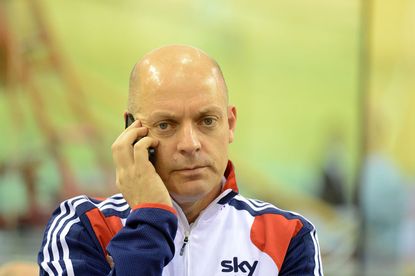 Team Sky principal Dave Brailsford says that he would never have hired controversial doctor Geert Leinders if he knew the full extent of the Belgian's past, but also admitted that he has doubts over what effect a 'truth and reconciliation' process would have on cleaning up the sport.
Leinders was employed on an 80-day-a-year contract with Sky until last October after he was linked to alleged doping practices during his time with the Rabobank team.
Drawing parallels to Lance Armstrong's recent confession, Brailsford said of Leinders: "Hindsight is a brilliant thing, and what we've all learnt is pretty horrific. Had we known then what we know now [about Leinders], we wouldn't have touched the guy for sure.
"We went through what we thought was the right procedure - we interviewed the guy, we sat down with Steve (Peters, Sky's Psychiatrist) and it's well documented what we did. Had we have had hindsight we wouldn't have done it."
Hours before the UCI confirmed its intention to set up a Truth and Reconciliation commission in a bid to examine the sport's doping past, Brailsford said such a policy will only be successful if confessions are followed up in the correct way.
He said: "You've got to think about what's the outcome. Everybody telling the truth doesn't make things better - acting upon what you find and doing something tangible with that information so it doesn't happen in the future will only make it better. Everybody telling the truth which then sits in a pot isn't going to change anything.
"My personal opinion is if you get 25 guys to tell you how to rob a bank, and then 100 guys tell you how to rob a bank, the majority of what you learned on how to rob a bank would have come from the first 25. It's the law of diminishing returns.
"If you're trying to establish all the individuals involved, who then come clean and are forgiven, what have we learned? You talk about culture. How come so many people fell into his mindset? If you get an expert to look into this and why so many people fell into this culture and you make something tangible out of it to ensure it wouldn't happen again, for sure is worth it.
He added: "Truth on its own is only half the equation. You've got to decide what your outcome goal is. If it is to minimise the risk of doping in this sport then you know what information you may need. I'm not sure anybody's got the outcome worked out yet."
Related links
Team Sky riders and staff must sign anti-doping policy
Thank you for reading 20 articles this month* Join now for unlimited access
Enjoy your first month for just £1 / $1 / €1
*Read 5 free articles per month without a subscription
Join now for unlimited access
Try first month for just £1 / $1 / €1