Dr Hutch: The best numbers in cycling are the ones you can just make up
Cycling is a numbers game, says Dr Hutch, and the more complicated the figures the better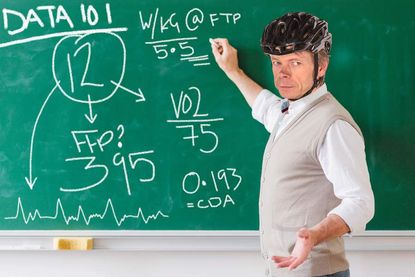 (Image credit: Alamy/Future)
Get The Leadout Newsletter
The latest race content, interviews, features, reviews and expert buying guides, direct to your inbox!
Thank you for signing up to The Pick. You will receive a verification email shortly.
There was a problem. Please refresh the page and try again.
In response to his non-selection for the Vuelta a España, Pavel Sivakov complained that to the INEOS team, riders were just numbers. To which I say, what did you think you were number 14?
It's worse than that. To a big steam roller of a team, you're just a number that's made up of other numbers. "This is number 12. His FTP is 395, his VO2 is 75, his W/kg at FTP is 5.5 and his CdA is 0.193. We think his mum calls him Kevin, but we don't really care."
Cycling is a data-obsessed sport. It always has been. The same part of the human psyche that makes a person want to ride a bike also makes them want to count things.
What those things might be has changed as the decades have ticked by. But there's a simple rule: if you want to find the most important metric for any era, find out what was the thing we'd most recently learned to measure.
For instance, in the very early days the question was how often you'd fallen off. You had to get that number down to less than twice an hour if you were going to call yourself a cyclist.
As soon as we'd learned to stay upright, the question became how far we'd stayed upright for. This was easy to work out, because you could use milestones, signposts or just ask a passing yokel. In the 19th Century, it was actually the only cycling-related thing you could measure without having a member of the Royal Society to help.
That's how simple distance covered became the only training metric. Mileage was the almost sole concern of cyclists, coaches, team managers and even magazines until the 1990s. The further you'd ridden, the better you were.
As time went on riders switched from counting milestones to the cyclometer, a mechanical device fixed to the front fork, and then to basic computers. These were expensive and clunky, but had the outstanding merit that if you accidentally-on-purpose muffed the calibration they would over-read, making you fitter for no extra effort.
The next development was the heart rate monitor. This allowed everyone to work out their heart rate zones. The phrase, "I did 200 miles last week, and saw a lovely herd of deer outside Saffron Walden," was superseded by "Last week I did six hours zone two, two hours zone three, an hour of zone four and an hour of active recovery. Here, look at this tiny little graph on my computer." The actual training, of course, did not change. But it had become "scientific".
Then, a little later, powermeters arrived to make post-race conversations even less interesting, which is how we could tell that they were yet more scientific. The ability to measure how hard you're riding with a high degree of accuracy and to filter out tactics, pacing, experience and motivation has allowed us to more or less ignore the "cycling" bits of cycling. We have become, as a group, more obsessed with clinging on to power than Donald Trump.
More recent upgrades have included some quite sophisticated torque analysis that shows exactly how much each foot applies at each part of the pedal stroke. It seems likely that these developments will make you both a faster rider and an ever more enchanting conversationalist.
But the really big current shift is the ability to measure aerodynamic drag. This has everything a cycling nerd has ever wanted. There is a single number (CdA) to brag about. It is so hard to measure definitively that you can, in practice, just make it up. And you don't have to train any harder to improve it, you just have to buy more stuff. It's perfection.
It's hard not to feel that the first guy to say, "Hey, tell you what, I haven't fallen off for over fifteen minutes!" would be pretty proud of us.
Thank you for reading 20 articles this month* Join now for unlimited access
Enjoy your first month for just £1 / $1 / €1
*Read 5 free articles per month without a subscription
Join now for unlimited access
Try first month for just £1 / $1 / €1
Get The Leadout Newsletter
The latest race content, interviews, features, reviews and expert buying guides, direct to your inbox!
Michael Hutchinson is a writer, journalist and former professional cyclist. As a rider he won multiple national titles in both Britain and Ireland and competed at the World Championships and the Commonwealth Games. He was a three-time Brompton folding-bike World Champion, and once hit 73 mph riding down a hill in Wales. His Dr Hutch columns appears in every issue of Cycling Weekly magazine