Five things I learned from going tubeless on my road bike
Reasons to consider ditching tubes for road cycling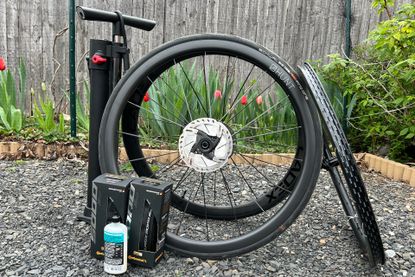 (Image credit: Greg Kaplan)
Get The Leadout Newsletter
The latest race content, interviews, features, reviews and expert buying guides, direct to your inbox!
Thank you for signing up to The Pick. You will receive a verification email shortly.
There was a problem. Please refresh the page and try again.
Road tubeless tire and wheel technology is nothing new for mountain, cyclocross or gravel bikes. Road cyclists have been slower to adopt this technology—and I am firmly in this camp—until somewhat recently.
Initially, I was skeptical and did not see a need to go tubeless on the road. My rationale was a lack of choice of tire options, the perception that tubeless tires are harder to install and messier to maintain than clinchers, and I know how to change a tube quickly. As a cyclist who started racing on tubulars and moved to clinchers years ago, I just did not know much about using tubeless tires and sealant for my wheels, but I saw plenty of YouTube videos of sealant mishaps, and heard some riders complain about maintenance woes.
While I'm not a weight-weenie and know that aerodynamics are more important than weight for road cycling, I'd claim that tubeless tires and sealant weigh significantly more than clinchers and tubes. According to my scale, a 28mm Continental GP 5000s tubeless-ready tire weighs 264g; 50ml of latex sealant weighs about 50g. A similarly sized Continental GP 5000s with a Vittoria latex inner tube tips my scale at 300g. The combined 28g additional weight in the tubeless setup is insignificant considering the total weight of me and my bike—81,000g.
Another factor in my reluctance to go tubeless was the lack of options and availability of tubeless road tires. After both Sonny Colbrelli (Bahrain-Victorious) and Lizzie Deignan (Trek-Segafredo) won the delayed 2021 Paris-Roubaix racing on tubeless tires in very challenging conditions, the nascent road tire tech was at once mature enough for widespread use in the pro ranks.
A quick glance at major bike manufacturers' websites shows that tubeless and tubeless-ready wheels and tires are now standard equipment on entry-level bikes costing less than USD 1,000 and pro-level bikes costing more than USD 15,000 alike. I can use road tires as narrow as 25mm or as wide as 32mm (as my bike frame allows), for use in nearly any weather condition or road surface.
While I usually like to be at the cutting edge of the latest and greatest cycling tech, I was a tubeless tire late-adopter. These are five things I learned after making the switch from tubed clinchers to tubeless tires on my road bike.
1. Tubeless tires cost more than clinchers—but there are many more options
Tubeless tires cost more than comparable clincher tires, but more tubeless tire options are available. While tread compound and profile may be similar to clincher variants, tubeless tires' airtight carcass and bead require greater precision and care to produce, and any increased costs are passed to consumers. I begrudgingly accepted that my bike might weigh a few grams more while my wallet a few grams less.
I always want to have at least a full set of tires for each of my bikes on reserve, so when I see tubeless tires go on sale, even if I'm only saving the cost of shipping or the equivalent of sales tax, I consider buying them.
2. Tubeless tire installation requires learning new skills

Tubeless tire installation is slightly different from throwing a clincher on a wheel, stuffing an inner tube into it, and then rolling out. I learned and practiced a new process for mounting tubeless tires, which can be tricker to get onto rims than clinchers. The most effective method for slipping tires onto rims is to get the tire beads into the rim center channel. The first few times I stressed my thumbs and even broke a few tire levers (but without fear of pinching inner tubes) even when applying pro mechanics' tips and tricks for mounting tires to wheels. I learned through experience that some tires just have a very tight fit.
I'm 100 percent successful in seating tires onto rims with some patience (and maybe some swearing, too) and using a plastic tire lever when needed. I use a pump with a charging chamber that has a max capacity of 160PSI for effectively seating tires. I've not yet tried using any kind of spray-on application, or using a specially-made tool for tire installation. Putting a wrap or two of teflon plumber's tape around the valve threads where it's held in place by a nut to help prevent air from escaping once a tire is mounted. Some wheel manufacturers maintain a list of preferred tires, as well as tires to avoid, so I make sure to find out which tires should not be used with some of my wheels and look for high-performing alternatives.
Getting sealant on my hands, rims, spokes, tires, and floor was inevitable when swapping tires or topping off sealant until I started using an injector to force sealant into the tire through the valve. I always take care to shield my brake rotors and cassette with a rag to prevent any sealant contamination.
Admittedly, sealant is more messy to work with than an inner tube, and I still struggle with getting some impossibly snug tires onto some rims. But the trade-offs gained—especially the puncture self-healing offered by tires sealant—is well worth the learning curve.
3. Tubeless tire inflation is a lot lower than clinchers but makes for a smoother ride

Another advantage to using tubeless tires is running a lower tire pressure for better grip and more comfort. Previously accustomed to inflating 26mm clincher tires to 80PSI, I had to realign my expectations for tubeless tires. Through experience I found that different tire brands with similar widths require different inflation pressures. I use four less PSI in a 28mm Conti 5000s TR than a comparable Schwalbe Pro One. This may not seem like a lot, but the difference accounts for a significant percentage and just feels right when riding. Like latex inner tubes in clinchers, tubeless tires require topping off air prior to each ride.
Finding the optimal tire pressure is as much art as science. Staring with using a tire pressure calculator, which accounts for my weight, tire size, road surface, and weather conditions, then did a few rides to evaluate how my bike handles and how the ride feels. Asking other tubeless tire aficionados for their closely guarded tire pressure secrets can be hit or miss.Through experience, I've learned to not be afraid of underinflating tubeless tires by a few PSI–something I never do with tubed clincher tires.
4. Tubeless tire repair and maintenance is different from clincher tires
I used to brag that I could replace an inner tube in about two minutes while standing roadside. I've not been timed while plugging and inflating a tubeless tire, and this is a skill that I've only practiced when needed. I always ride with a tire plugging tool and a few CO2 cartridges, as well as a spare TPU tube, like a Tubolito, just in case a tire plug won't get me home. I don't foresee intentionally putting holes in tubeless tires just to practice using a tire plugging tool, but I've found through experience that using a road tire plug with a pointy tip works best. Asking friends for tire plugging tips and also watching a few YouTube videos on how to repair a tubeless tire at home is my go-to for learning new skills.
One of the cycling sins that I remain guilty of is not topping off tubeless sealant on any schedule. Different sealant manufacturers provide different recommendations about when to top off tire sealant, which may dry inside tires. Most modern tubeless ready wheels and tires have an airtight interface at the rim, so the primary purpose of sealant is to plug punctures when they happen.
5. I prefer tubeless tires instead of tubed clincher tires

I have two bikes that still need standard clinchers and tubes, but I much prefer the ride quality and the feeling of puncture protection offered by my bikes with tubeless tires. One of my reasons for not moving to tubeless tires sooner was lack of tubeless tire size and tread options for hooked and hookless bead rims. This lack of options was not previously a showstopper, but it was frustrating. Some manufacturers were slow to adopt a standard that offered compatibility for hooked and hookless bead tires, but now, there are so many choices from Specialized, Vittoria, Schwalbe, Pirelli, Continental, Goodyear, and others.
There is a road tubeless tire of nearly any width, for almost every purpose, and at a wide range of price points.
These are the tubeless tires I'm riding
I've been a long-time fan of Continental Grand Prix 5000 clincher tires, so I was quick to put the second generation of the tubeless variant on a few sets of my wheels. At the advice of a few wheel manufacturers and also a few friends who have more experience with tubeless tires, I also wrapped a set of wheels in Schwalbe Pro One tubeless tires. With even more options available from these two tire brands I now have more tire choice than wheelsets—which is not the worst first-world problem to have.
For the longest time I didn't know what I didn't know about tubeless tires. Before making the switch to tubeless, I was reluctant and not sold on the application for road riding. What I learned about tubeless tires is they offer a more comfortable ride, are excellent at flat prevention, offer more options than clinchers, and yes, cost a little more and weigh a little more, but the switch is worth it.
Thank you for reading 20 articles this month* Join now for unlimited access
Enjoy your first month for just £1 / $1 / €1
*Read 5 free articles per month without a subscription
Join now for unlimited access
Try first month for just £1 / $1 / €1
Get The Leadout Newsletter
The latest race content, interviews, features, reviews and expert buying guides, direct to your inbox!
Greg has been on and around bikes since his early teens. He got his start when tubulars and freewheels were still a thing, while working at local bike shops, and dabbling in the Philadelphia racing scene. Greg still geeks-out on bikes, cycling gear, apparel, and accessories as much now, as when he first discovered the sport. Greg has been on staff at VeloNews and Bicycling, and also was a contributor at Active.com.