Lizzie Deignan: Remembering Paris-Roubaix
From the archives: Ahead of the 2022 edition of Paris-Roubaix Cycling Weekly caught up with Lizzie Deignan to reflect on her victory in the first ever women's edition of the race.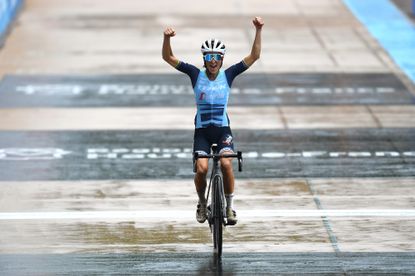 (Image credit: Getty)
Get The Leadout Newsletter
The latest race content, interviews, features, reviews and expert buying guides, direct to your inbox!
Thank you for signing up to The Pick. You will receive a verification email shortly.
There was a problem. Please refresh the page and try again.
This feature originally appeared in the 14 April 2022 issue of the magazine.
What's the proper way to toast one of the most banzai lone rides in all the history of women's cycling, nay all cycling? If you've become the first ever queen of the Queen of the Classics and endured all the punishment and mud that the cobbles of northern France can throw at you, what is the meal befitting of such a champion? Perhaps champagne and caviar. Maybe a steak of kobe beef. Such luxuries are not for 2021 Paris-Roubaix winner Lizzie Deignan.
"That night we stayed in a budget Ibis, next to a service station in the UK," she recalls. "It was about one o'clock in the morning, and the only thing that was open was a McDonald's. So I got a couple of bags of fries and a Diet Coke. That was my celebration."
Deignan, now expecting her second child, rates her 80km solo ride to become the first ever women's winner of Paris-Roubaix as among the top three races she's ever done on a bike; the 2012 Olympics where she was narrowly pipped by Marianne Vos, and her Worlds win in 2015 are the others. As we ask her to recount the events of that day and her thoughts and emotions you can hear a touch of wonder in her voice still.
Until that day in October, 2021 had been something of a year to forget for the Yorkshirewoman. She'd racked up a win at the Tour de Suisse but none of her main goals had come to pass. It was "very disappointing".
"I had definitely written off the season as one of those years that it didn't go the way I wanted it to," she says. "But obviously all that changed on one race day. That is the benefit of a bit of experience, you do realise that as long as you keep chipping away and knocking at the door something good will come."
Come the morning of Paris-Roubaix in Denain she was so relaxed she had a nap in the bus on the way to the start. It's not something she's ever made a habit of. "I can never nap, it is one of those things as a new mother that they always tell you to do, 'Sleep when the baby is sleeping.' I've just never been able to do it," she says.
Just outside Denain the race hit its first cobbled secteur, a historic moment. On the approach, Deignan sprinted all out and got a gap. "I was sort of surprised no one came with me, but then I realised it was Lauretta Hanson, my team-mate, on my wheel and I knew she would have left the gap. You would have expected other people to hold the gap, but people just eased up," she says.
Under pressure
The Trek-Segafredo team recced the Paris-Roubaix course earlier in the year with teams of people from Trek and tyre supplier Pirelli, though Deignan admits she wasn't a huge amount of help in the preparation. "There are definitely riders who are brilliant at giving feedback - specific feedback - on equipment, I am not one of them," she says.
"My only feedback was that I wanted my tyre pressure to be as low as possible." Running one of only three tubeless set-ups available to the team on the day would be a help with that, but tyre pressures had been a bugbear of Deignan's throughout the season. She'd often get directed to run tyre pressures according to the manufacturers' specifications which she points out, don't account for lighter female riders.
"For me it's alright telling me something is really fast. But I need something to be comfortable too," she says.
With her other team-mates out of position and fighting to move up on the cobbles Deignan was largely unaware that she was putting significant time into the peloton on that first secteur. Cycling Weekly wonders if this was when she noticed how good her legs were that day? "I didn't feel super or anything, but I was in a position of being a worker. It's a very freeing feeling because you don't actually care how your legs feel because the responsibility is not on your shoulders. Whereas when you're a leader, you're like, 'Oh no, I don't feel great.' You have a lot more mental games going on.
"The first time I thought, 'Oh, I'm on a good day,' was when Ina [Yoko Teutenberg, DS] said down the radio, 'OK, Lizzie you've got a gap, but I just need you to ride it 70%.' I thought, 'I'm riding pretty tempo.' And I looked down, and I was already doing 290 watts and I was feeling easy at threshold."
The following secteurs of cobbles were about finding her rhythm. The night before her room-mate Ellen van Dijk had been studying the course in detail, something Deignan just says increases her anxiety. "There were points in the race where I thought, 'I should have probably looked at what Ellen was looking at,' because I didn't quite know how hard the coming sections were going to be. I had some memory of what was coming. But I had not studied specifically where there was going to be ruts or things like that," she recalls.
As the race exited secteur 12 (the four star Auchy to Bersée) Teutenberg in the team car was able to come alongside to supply her with fuel for the first time. "I looked down and was doing 290 watts, feeling easy at threshold"
She was aware she needed to eat more as a solo rider but it's something she finds difficult at the best of times. Topping up the tank She says: "I'm always eating less than a nutritionist would tell you to but I simply can't eat that much. Particularly at the end of the season I really struggle to stomach gels or energy bars anymore. So I'm often eating waffles or rice cakes."
Come the five-star Mons-en-Pévèle secteur at 48km to go Deignan was beginning to entertain the possibility of victory. "It was about that point where Ina said, 'OK, let's try to take it to 100%.' And I thought, 'Well, yeah, that's already happened, Ina,'" Deignan recalls. Not that Teutenberg had been in her ear constantly. "She kind of left me too. She knows me quite well now. And as with any rider in that situation it's obvious that you're in time trial mode. It's not really about psyching you up because actually, being over-psyched up in that situation isn't helpful."
But it was on this secteur that she had her first squirrelly moment with the bike sliding out on the mud-slicked cobbles, something she describes as "a gentle reminder that you're not invincible". She adds: "I was always conscious, right up until the end, even right on the velodrome because it was so slippery, that I could crash."
Watching Deignan ride it's clear she's using a smaller gear than you might expect on the cobbles – we ask why. "You're not the first person to mention it, a couple of the men on the team asked, 'What gear were you using?'" she says in a tone that conveys a level of friendly, gentle mockery. Her reply: "Well, you win a cobbled Classic and then come and ask me." She says her 1x set-up which she'd not used before may have been a contributing factor but that a fear of "getting bogged down" was the biggest reason.
As the race powered towards the back-to-back key secteurs of Camphinen- Pévèle and Carrefour de l'Arbre starting at 20km to go Deignan's gap held firm around the two-minute mark; behind her the cooperation between the chasers was, secteur by secteur, cracking.
Deignan took some "mental stability" from the knowledge that if she was caught her team-mates could attack but wasn't aware of the chasers' waning cooperation. "The only thing I was conscious of was Ina shouting down the radio at Ellen [van Dijk], Elisa [Longo Borghini] and Audrey [Cordon- Ragot] to 'be at the f***ing front' on every cobbled secteur and, 'what the f**k are you doing?' when they weren't."
By now Deignan's eating, which she was doing on tarmac sections as she tried to gather herself, was becoming something of a problem. "It was about 25km to go where I started to throw up. I'd obviously reached the limit of what my stomach was capable of digesting. Ina came up to me in the car and I said, 'Ina, I'm vomiting,' and she said, 'Well, what did you expect?' Typical Ina." Deignan asked for, and received, a flat Coke to try and calm her stomach.
It was on Camphin-en-Pévèle where Deignan came closest to falling off, skidding to one side of the cobbles and then back the other way as she wrestled the bike into a straight line. "I've had so many people say to me, 'You're so skillful,' but honestly, I'm not. I just I had an angel on my shoulder that day with the good legs and the good skills."
As Roubaix neared the crowds got bigger. "There was a guy from Yorkshire on the side of the road and who shouted, 'Do it for the north,' which really made me laugh." She could use the encouragement as behind Vos had attacked the chasing group and was beginning to take time out of Deignan.
"I knew that she would take a chunk of time out of me," says the Yorkshirewoman, who was starting to cramp in the closing stages. "But then I also started to look at my power, my speed and I started to work out mathematically that, it's not possible [for her to catch me], as long as I make it over these cobbles with a certain amount of time ahead, it's still OK."
Deignan's maths would prove right. Vos swiftly ate into Deignan's two minute lead, cutting it to around 1.20, but she could get no further.
When did Deignan become confident she was going to win? "When the bell rang in the Roubaix Velodrome and I looked across and she still wasn't in the velodrome, I thought, 'OK, I've got it.' Until then I could just feel my tyre pressure on the tarmac (see box); there was nothing in my tyres and I could have punctured at any time." She didn't know it at the time but she was right to be fearful as her team car had punctured so assistance would be slow.
One lap after that bell she raised her bloodied hands in victory – she hadn't been aware of their worsening condition at all during the race – and was promptly lost for words when the TV cameras turned to her.
That morning she'd had no expectation of making history, but that's just what she'd done. The significance was not lost on her; at the time she said: "We didn't have a chance to dream for so long; it's always been a men's race and I am just so proud that this is where we are, that women's cycling is on the world stage now.
"I am proud that my daughter can look at the [cobblestone trophy]." To do so though, Deignan reveals, her daughter will have to visit her grandparents. "It travelled back to the UK with us," she says explaining that two days after Roubaix she started the Women's Tour in Bicester, Oxfordshire. "It was quite a heavy thing and I was only flying with hand luggage back to France [where she lives in Monaco]. So I gave it to my parents in the UK. It's in their kitchen somewhere."
Deignan is not a collector, something she attributes to years spent in small apartments and has precious few other mementos of the day. There is one she now somewhat wishes she'd kept. "One of the members of the team asked me, could they donate the race numbers to, I think it was the Roubaix museum, and I just said yes. At the time I didn't think about it. But I sort of wish now I'd kept my numbers because I won Flanders with number 13 and I won Roubaix with number 13 so it would have been cool to have both." She'll have to settle for visiting the museum on the way back to the cobble at her parents' in Yorkshire.
Thank you for reading 20 articles this month* Join now for unlimited access
Enjoy your first month for just £1 / $1 / €1
*Read 5 free articles per month without a subscription
Join now for unlimited access
Try first month for just £1 / $1 / €1
Get The Leadout Newsletter
The latest race content, interviews, features, reviews and expert buying guides, direct to your inbox!
Having trained as a journalist at Cardiff University I spent eight years working as a business journalist covering everything from social care, to construction to the legal profession and riding my bike at the weekends and evenings. When a friend told me Cycling Weekly was looking for a news editor, I didn't give myself much chance of landing the role, but I did and joined the publication in 2016. Since then I've covered Tours de France, World Championships, hour records, spring classics and races in the Middle East. On top of that, since becoming features editor in 2017 I've also been lucky enough to get myself sent to ride my bike for magazine pieces in Portugal and across the UK. They've all been fun but I have an enduring passion for covering the national track championships. It might not be the most glamorous but it's got a real community feeling to it.