GB squads for Melbourne and Cali World Cups announced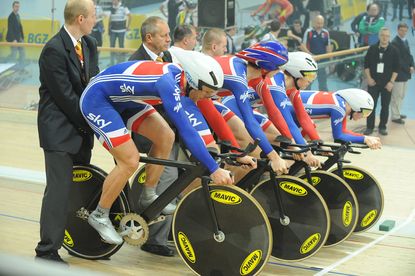 All of Britain's track cycling big hitters will be rolled out at the opening two rounds of the 2010/2011 UCI Track Cycling World Cup in Melbourne, Australia, and Cali, Colombia in December.
As previously announced by the Melbourne race's organisers, British Cycling will be sending in a full-strength men's team to Australia over December 2-4.
The two rounds will offer riders a chance to accrue valuable qualification points for the 2012 Olympic Games in London.
Sprinters Sir Chris Hoy, Jason Kenny and Matt Crampton will be joined in Melbourne by endurance riders Steven Burke, Ed Clancy, Jason Queally, Luke Rowe and Andy Tennant. Victoria Pendleton and Jess Varnish will contest the women's sprint events, but no British women will take part in endurance disciplines.
Two weeks after the Melbourne event, Team GB travels to Colombia, South America, for round two in Cali (December 16-18). A more compact men's team will be fielded in Cali, comprising of sprinters Sir Chris Hoy, Matt Crampton and Jason Kenny with lone endurance rider Ed Clancy.
The women's endurance squad will get a chance to test its legs after missing the Melbourne round, with Katie Colclough, Wendy Houvenaghel and Laura Trott joining the sprint duo of Victoria Pendleton and Jess Varnish.
Team GB coach Shane Sutton commented: "We are aiming to gain as many Olympic qualification points as we can as early as we can in the season, but it's likely that other nations will be taking the same approach which is why we've decided to send a full strength squad to contest the first two rounds of the World Cup season.
"The whole squad has good form at the moment, and the recent European Track Championships has given us an indicator of what is required to be competitive at the World Cups."
Team GB: Melbourne (December 2-4, 2010)

Men
Steven Burke
Ed Clancy
Matt Crampton
Sir Chris Hoy
Jason Kenny
Jason Queally
Luke Rowe
Andy Tennant
Women
Victoria Pendleton
Jess Varnish
Team GB: Cali (December 16-18, 2010)
Men
Ed Clancy
Matt Crampton
Sir Chris Hoy
Jason Kenny
Women
Katie Colclough
Wendy Houvenaghel
Laura Trott
Victoria Pendleton
Jess Varnish
Track cycling: 2010/2011 major events
December 2-4 2010, World Cup round 1, Melbourne (Australia)
December 16-18 2010, World Cup round 2, Cali (Colombia)
January 21-23 2011, World Cup round 3, Beijing (China)
February 18-20 2011, World Cup round 4, Manchester (Great Britain)
March 23-27 2011, Track Cycling World Championships, Apeldoorn (Netherlands)
Related links
GB send full-strength men's team to Melbourne World Cup
Subscribe to Cycling Weekly: The perfect Christmas gift>> (opens in new tab)
Thank you for reading 5 articles this month* Join now for unlimited access
Enjoy your first month for just £1 / $1 / €1
*Read 5 free articles per month without a subscription
Join now for unlimited access
Try first month for just £1 / $1 / €1